Advance with a BSN Degree from UCF
Nationwide, there is a call to increase the number of RNs with a Bachelor of Science in Nursing (BSN) to 80 percent by 2020.
Nurses with BSN degrees are:
in high demand,
better prepared to manage the increasing complexity of 21st century healthcare, and
better positioned for advancement in clinical and leadership roles.
Our Bigger is Better.
The UCF College of Nursing offers fully accredited bachelor's degree programs at the main campus in Orlando as well as regional campuses with program options to suit your needs. With academic excellence and nationally recognized faculty, the college prepares nurse leaders for the future of healthcare.
Advance your future in nursing today.

UCF educates the most newly licensed BSN nurses in the state university system – 92% stay in Florida.

Nursing Honors in the Major students took home top honors in research from UCF 10 years in a row.
Find your path to a bachelor's degree in nursing
Please note: In an effort to serve our students safely and efficiently, the College of Nursing is conducting all advising appointments via phone or Zoom. Once an appointment has been scheduled, students will receive a confirmation email with their Zoom advising appointment call-in details. Students should contact their advisor using the provided Zoom web link or call-in number at their scheduled appointment time. Please continue to monitor the university's Coronavirus (COVID-19) website for updates.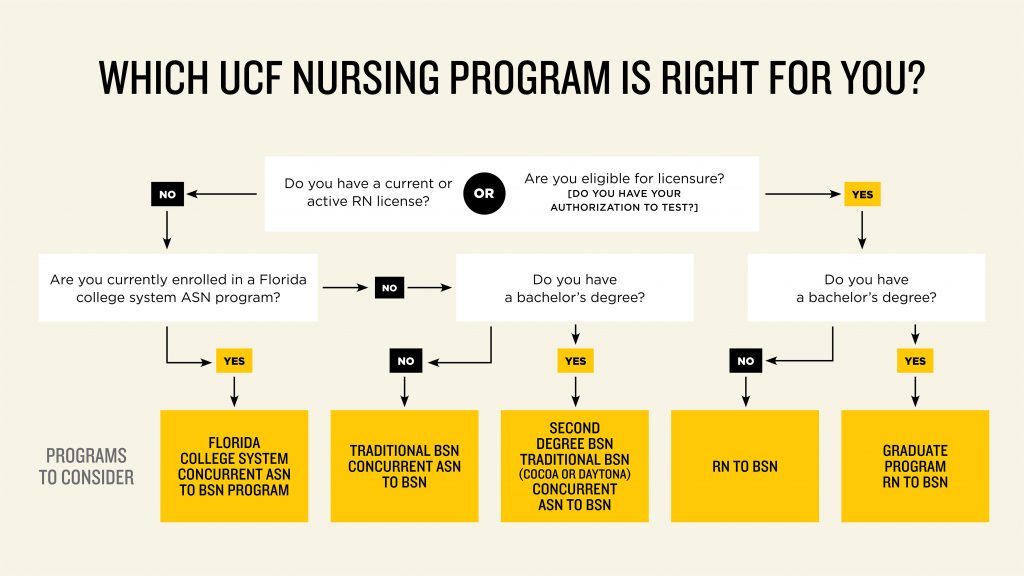 ARE YOU AN RN WITH A NON-NURSING BACHELOR'S DEGREE?
There's a graduate program available for you. Licensed RNs who have completed an AS in Nursing or diploma nursing program and have earned a non-nursing bachelor's degree may apply to an MSN or DNP program with prerequisite courses.
BSN Program Objectives
The BSN graduate will be able to:
Integrate concepts from liberal education with nursing curriculum to enhance critical thinking and implementation of quality care.
Integrate principles of leadership and management through intra- and inter- disciplinary collaborations to address client needs and outcomes.
Foster scholarship in nursing practice through identification of emerging health care problems, appraising current evidence, and its potential for application to improve outcomes.
Demonstrate effective professional communication as part of an interdisciplinary team, collaborating to provide for optimal health outcomes.
Analyze the health care policy process for the improvement of health care for all.
Demonstrate competence in the management of information and the application of technology to deliver quality care.
Develop health promotion and disease prevention interventions at the individual and population level to improve health.
Actualize professional values such as altruism, autonomy, integrity, social justice, and respect for human dignity.
Provide the highest quality of nursing care across the lifespan and continuum of healthcare environments.
Access to Excellence
Renowned UCF Faculty. Esteemed UCF Degrees. Options Designed for You.