Funding Your UCF Nursing Degree
At UCF, we believe a college education should be accessible and affordable for all students.
It's why Forbes named UCF a "A Best Buy College" and the College of Nursing has been recognized nationally as a "best value." Scholarships and aid are available through UCF for undergraduate students, including nursing pending, and graduate students.
$150K+

in Scholarships Available

To ease the burden for our students, the College of Nursing actively pursues and offers specific scholarship and aid opportunities, such as the Helene Fuld Health Trust Scholarship for Second Degree BSN Students and the Nurse Faculty Loan Repayment Program for PhD Students.

In fact, the UCF College of Nursing awards more than 100 scholarships annually to upper-division BSN and graduate nursing students.

Scholarship applications are closed and will reopen in Spring 2023.
---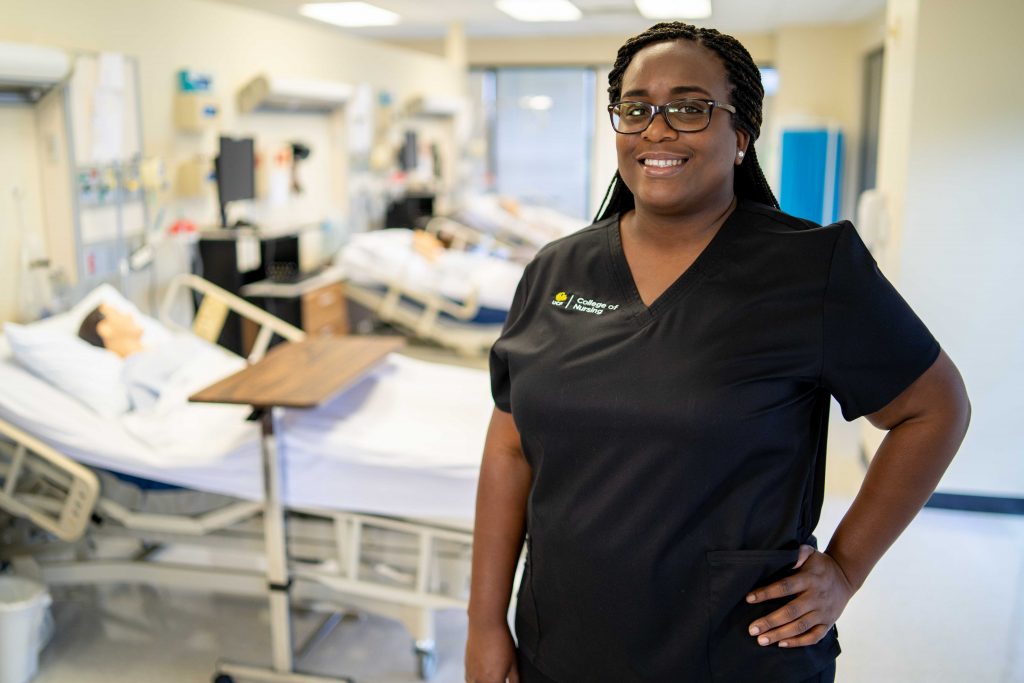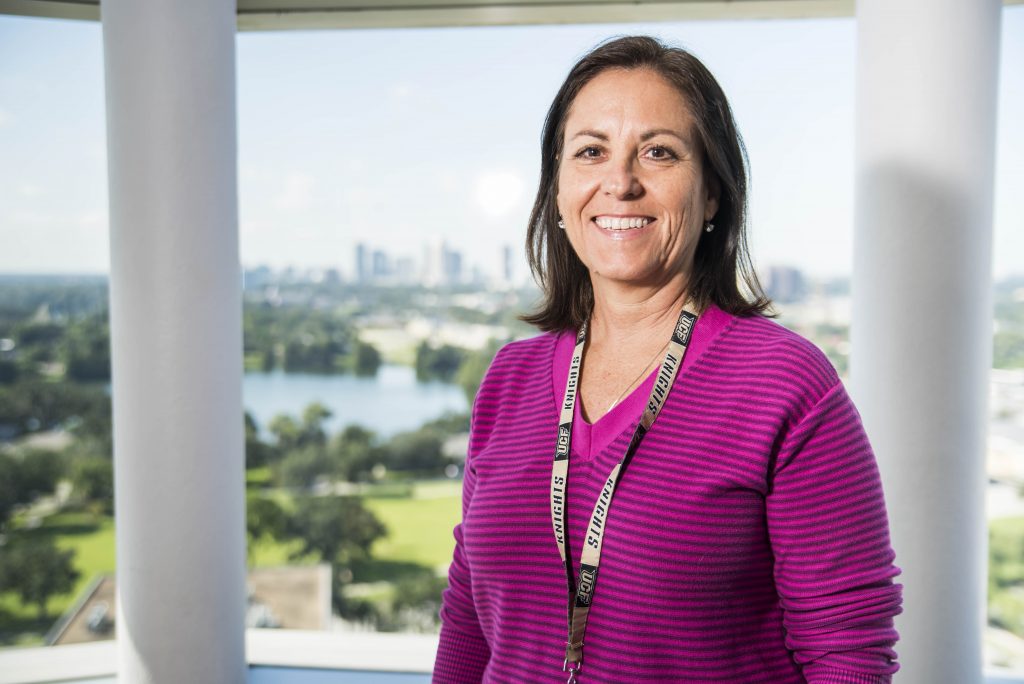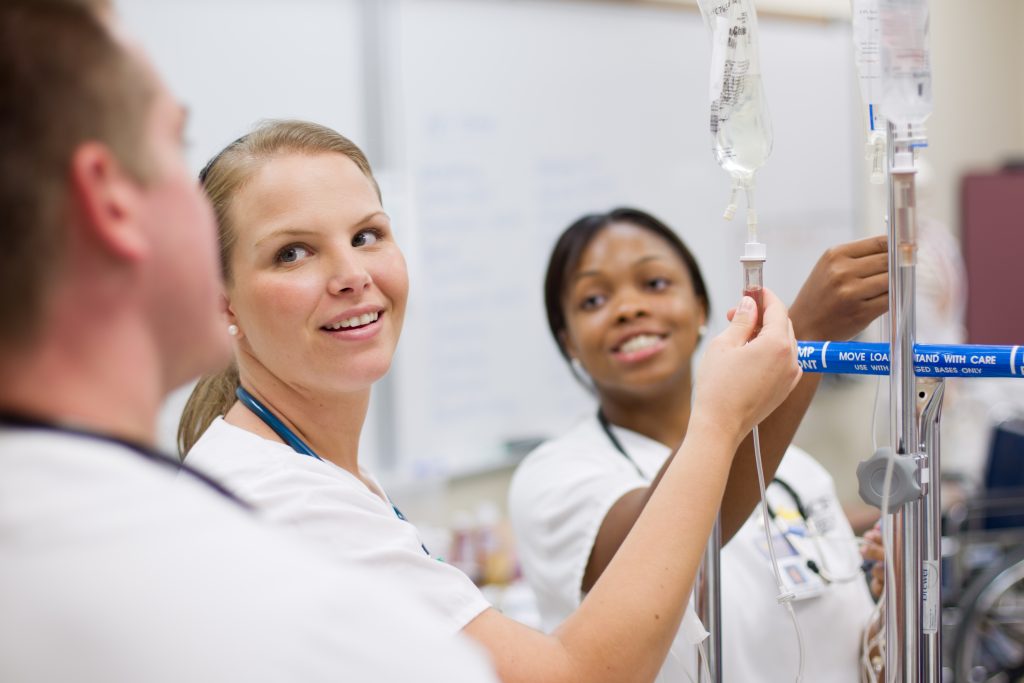 Funding Your Nursing Education
Upper-division BSN and graduate students may also qualify for exclusive nursing scholarships and federal aid opportunities.
Concurrent ASN to BSN students will become eligible for nursing scholarships and aid at UCF after completing the ASN degree portion of their program.
---
Nursing Scholarship FAQs
Scholarship applications are closed and will reopen in Spring 2023.
I am a UCF student who wants to study nursing – can I apply?
These scholarships are only open to upper-division undergraduate students and graduate students currently enrolled in College of Nursing programs. For more information on other scholarship opportunities:
Please note: Concurrent ASN to BSN students will become eligible for nursing scholarships at UCF after completing the ASN degree portion of their program.
Does it matter which UCF campus I attend or if I'm in an online program?
No, students enrolled in a College of Nursing upper-division BSN program on UCF's Orlando, Daytona or Cocoa campus as well as students enrolled in the online RN to BSN, or in an online or hybrid graduate program are eligible to apply. However, some scholarships may have residency or campus requirements.
If you are a student enrolled in a concurrent nursing program, please see question below.
What if I am enrolled in a concurrent nursing program through a state college?
Students enrolled in the UCF Concurrent ASN to BSN programs at Seminole State College, Valencia College or any Florida College System institution are not eligible for financial aid at UCF. Contact the Financial Aid Office at your state college for information on federal aid and scholarship opportunities.
Concurrent ASN to BSN students will become eligible for College of Nursing scholarships at UCF after completing the ASN portion of their program.
How do I find out about available scholarships?
Visit the Scholarship Application Portal where you will create a login and password. Enter your personal and academic information to see if you meet any scholarship criteria.
A20, UCF's scholarship portal, lists university scholarships as well as some external scholarship opportunities. Additional external scholarship opportunities include:
Graduate students may find external grant opportunities in our Research Resources.
Do I need to include my resume?
Some scholarship applications may require you to upload a resume detailing extracurricular activities, organizations, clubs, leadership experience, community involvement and volunteer activities.
Do I need to write any essays?
Some scholarships may require applicants to write an additional one-page essay specific to the focus of that scholarship. It is your responsibility to make sure that all required documents are included with each scholarship application as the Scholarship Application Portal will not notify you if something is missing. Incomplete applications will not be considered
Do I have to show financial need to apply for a scholarship?
Criteria varies for each scholarship. Some scholarships are need-based, others may give preference to those demonstrating financial need and others do not take financial need into consideration. All students are required to complete the Free Application for Student Financial Aid (FAFSA). Most graduate student scholarships do not have financial need criteria.
How do I apply for scholarships?
You apply directly through the Scholarship Application Portal during the published application cycles (see below). Please read scholarship criteria before beginning the application process.
When do I apply for College of Nursing scholarships?
There is one application cycle annually that will occur in mid-spring semester for the following academic year funding. All admitted and enrolled BSN, MSN, DNP, PhD and graduate certificate students are encouraged to apply.
The upcoming application cycle is:
How will I know if I am awarded a scholarship?
All scholarship applicants will receive an email if a scholarship has been awarded. The email will include the name of the scholarship and the scholarship amount.
Applicants can expect to receive the email in June.
I was awarded a scholarship! What do I do next?
Congratulations! First, you will need to promptly accept the award via myUCF. All scholarship funds will be deposited to your UCF student account.
All scholarship recipients are required to attend the college's annual scholarship luncheon held in the spring. All scholarship recipients are also required to write a professional, handwritten thank you note to the donor in appreciation of your scholarship award. Additional information will be provided when students are notified of their award.
When will scholarship monies be awarded?
Scholarship funding will be split equally in half to cover fall and spring semesters unless the student is graduating in December in which case, all funding will be applied to fall semester.
The first disbursement will occur in August prior to the fall fee payment deadline. All scholarships will first apply to any remaining balance on tuition and fees. If there is no remaining balance, then students will receive a direct deposit or check for the remainder.
Why don't I see my scholarship award accepted in myUCF?
The College of Nursing sometimes needs to wait for funds to be received from donors. If there is a delay in the funding, you will have a pending award show up in myUCF. If there is a pending award at the time of the fee payment deadline, your deadline will be extended. You will not be responsible for payment of tuition and fees until your scholarship is fully awarded.
Why didn't I get a refund?
Your scholarship will cover any remaining balance of tuition and fees first. If your scholarship is above the amount of your remaining tuition balance then you should receive a refund. If you do not receive a refund, it may be because you are not registered for enough credit hours to be awarded the full amount of the scholarship. Please send an email to conscholarships@ucf.edu if you feel this applies to you. In some instances, exceptions can be made to the credit hour requirements.