Our new, permanent home at UCF's Academic Health Sciences Campus at Lake Nona is more than a building.
It is MORE space with 90,000-square-feet of state-of-the-art facilities – doubling our current leased space in Research Park – to make MORE of an impact on the future of nursing.
---
MORE

Space to Educate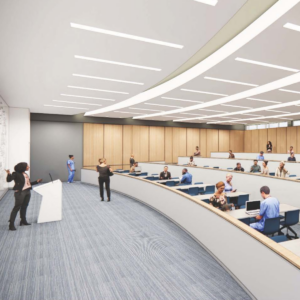 UCF produces the most newly licensed RNs in the State University System of Florida, but that's not enough.
The Florida Hospital Association projects a state shortage of 37,400 RNs by 2035. To address this shortage, an additional 2,300 RNs would need to enter the workforce in Florida each year. Fueling the challenge is a lack of nurse educators to teach and a lack of space to grow programs.
With an expanded, permanent teaching space, UCF can admit more qualified students into our BSN programs to educate more Knight nurses who are renowned for their compassion and clinical excellence.
Through funding support, the college will add more faculty members to prepare and mentor future Knight nurses. In addition, UCF College of Nursing will increase the capacity of our graduate programs to create a pipeline of nursing faculty to educate future generations.
---
MORE

Potential to Innovate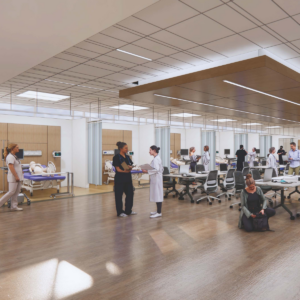 Inside the new building will be flexible instructional space, space to study and collaborate, and innovative simulation and skills labs.
With nearly three times the lab space, including dedicated space for virtual reality education and structured clinical examination, UCF College of Nursing will continue to lead the charge in educational excellence to prepare Knight nurses for practice.
Expanded facilities will allow the college to leverage our global expertise in healthcare simulation, continuing to develop best practices in the emerging field and providing valuable evidence-based, hands-on simulation education experiences for students.
---
MORE

Opportunity to Collaborate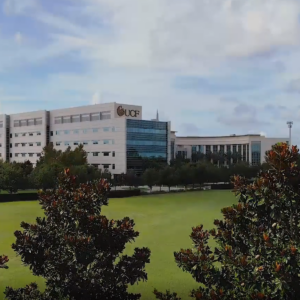 With the addition of the UCF College of Nursing building at the UCF Academic Health Sciences Center, UCF will fully realize it's its bold vision to revolutionize health education, innovate research and advance patient care to benefit the health of our communities.
Located approximately 25 miles south of the main UCF Orlando campus, the 50-acre, state-of-the-art UCF Academic Health Sciences Campus at Lake Nona is home to the UCF College of Medicine and Burnett School of Biomedical Sciences.
The UCF Academic Health Sciences Campus at Lake Nona is located in Orlando's Medical City, a hub of healthcare innovation. Our neighbors will include the UCF Lake Nona Medical Center, UCF Lake Nona Cancer Center, the University of Florida Pharmacy College, a Veterans Affairs Medical Center, a Nemours Children's Hospital, Johnson & Johnson Performance Institute, and more.
*Renderings are conceptual in nature and subject to change.