Released on May 6, 2021

This week, 434 UCF nursing students graduated with their degree or certificate, and earned the title of Knight nurse.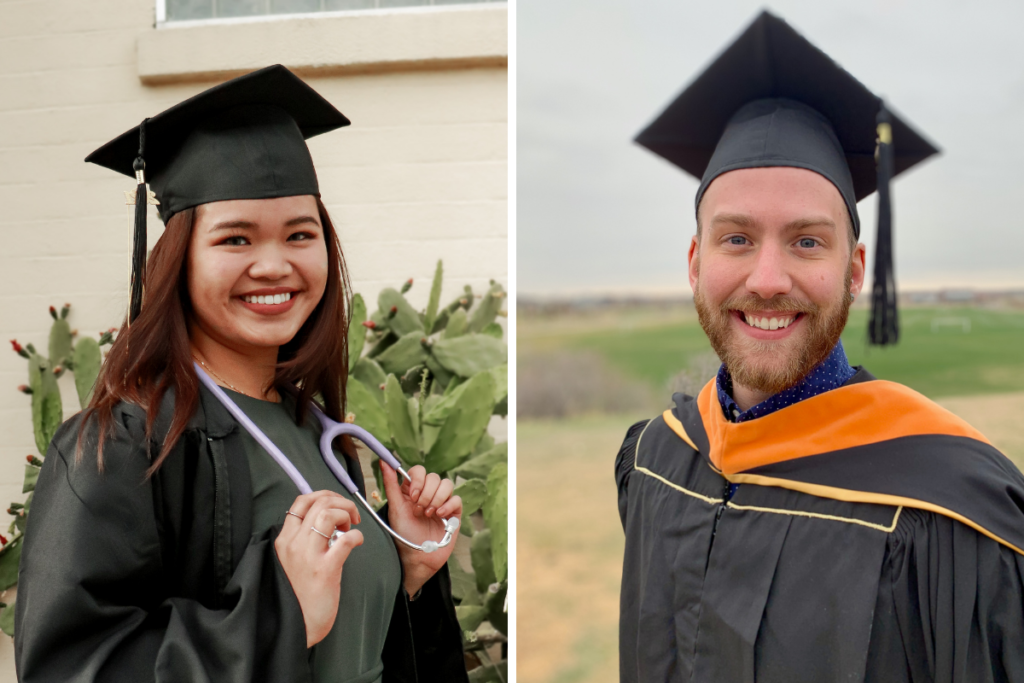 The spring Class of 2021 has truly exemplified the UCF calling to "Charge On!" – having completed the last year of their degree during the COVID-19 pandemic.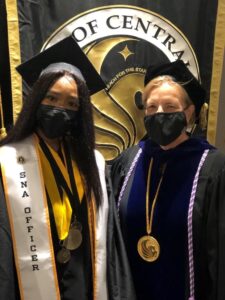 In total, the College of Nursing awarded: 390 bachelor's degrees (BSN), 28 master's degrees (MSN), eight doctorate degrees and nine graduate certificates*. Students graduating with a bachelor's degree included those from the Traditional BSN program, Concurrent ASN to BSN programs, and online RN to BSN program.
The nursing graduates were celebrated during a virtual recognition ceremony earlier this week and at today's in-person commencement, the first at UCF in over a year.
Spring 2021 BSN Graduates
After only their first semester in the nursing program, COVID-19 emerged and the traditional BSN graduates experienced the rest of their time in the program via virtual and hybrid learning where video calls, face masks and shields became the new normal.
Through it all, the graduates persevered and showed the community what it means to be a Knight nurse – continuing to strive for excellence and showing compassion. These graduates – nearly 200 in total across three campuses – played an important role in our nation's history and joined a nationwide effort to help administer the COVID-19 vaccine in Central Florida.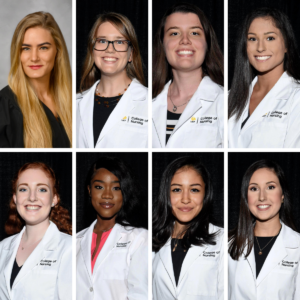 Honored at this week's recognition ceremony were several high-achieving BSN graduates, including eight students who achieved a perfect 4.0 overall GPA in the rigorous program:
Mary Henwood
Amber Keller
Amanda Lynch
Catherine Pappas
Shelby Reeves
Sadie Richards
Amanda Vazquez
Hope Wegge
Spring 2021 also included 42 University Academic Honors with a GPA of 3.8 or higher, 15 Summa Cum Laude, 13 Magna Cum Laude, and 14 Cum Laude nursing graduates. Additionally, 19 students graduated from the Burnett Honors College with Honors designation, including 13 who completed an Honors Undergraduate Thesis.
Among the students who conducted research and published an original Honors thesis was Shelby Reeves (pictured above bottom left). Her thesis, "Exploring the effects service dogs have on veterans with PTSD," was inspired by her own experiences working with animals and witnessing the positive effects they can have on mental health, confidence building, and attitude.
Also recognized during the ceremony were four outstanding BSN students who were honored with awards from the college's healthcare partners:
Madison Jarocha, Orlando campus, Orlando Health Student Excellence Award
Hope Wegge, Orlando campus, AdventHealth Orlando Mission of Excellence Award
Ravika Persaud, Daytona campus, AdventHealth North Mission of Excellence Award
Jordan Dubocq, Cocoa campus, "Wellness Starts with We" Health First Student Award
Peter Oliver, Cocoa campus, Parrish Medical Center's S.L.I.C.E.S. Student Nurse Award
Additionally, Josée Etienne, Orlando campus, was awarded the alumni chapter board's inaugural Diversity, Equity and Inclusion Award for her outstanding promotion of diversity, equity and inclusion in and outside of the classroom. Her Honors Undergraduate Thesis on neonatal mortality rates in developing countries is based on her own life story as a premature baby born in Haiti. Together with graduating senior and Founders' Day Award recipient Chloe Frye, Etienne wrote a Student Nurses' Association resolution to support increasing awareness of the lack of pain assessments in patients of color – the resolution passed at the national level this past spring.
Spring 2021 MSN and Doctoral Graduates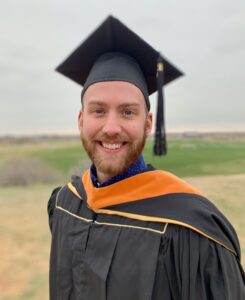 For graduate students, the pandemic didn't change many of their learning environments as the degree programs are online or hybrid-online to offer convenience and flexibility for nurses to advance their career while still working.
Over 1,800 miles away from Central Florida in Colorado, Justin Grace '16BSN pursued his Nurse Educator MSN from UCF – ranked No. 8 in the nation. "I knew the quality of education and level of instruction would be similar to what I experienced during my undergraduate time at UCF," he says. "The college's faculty have seen me develop and grow as a nurse, and continue to support me as I now start my next chapter as a nurse educator."
In Orlando, the pandemic added challenges for BSN to DNP Family Nurse Practitioner program graduate Mariam Castaneda that many parents across the nation can relate to. The mom of three found herself continuing her children's education virtually at home while balancing her studies – often waking early and going to sleep late and leveraging the flexibility at her husband's job and the support of a close friend to watch her children during her clinicals. Thanks to her effort, dedication and the support of loved ones, she's achieved her dream.
"I took advantage of the opportunity this country offers and I worked hard to reach it," says Castaneda who came to the U.S. at age 17 from Cuba with a very limited knowledge of the English language. "I am the only person in my family to have reached this level of education. I really wanted to make my parents proud and show them that all their sacrifices were worth it."
Castaneda is one of six DNP graduates this semester who have made contributions to patient care with their independent DNP scholarly projects, and will continue to make an impact by improving patient outcomes as clinical providers and leaders.
Spring 2021 DNP Graduates
BSN to DNP, Family Nurse Practitioner
Mariam Castaneda, DNP, RN
"Evaluating Knowledge Retention and Recall of Outpatients with Type 2 Diabetes after Receiving Written and Verbal Education"
Post-Master's Advanced Practice DNP
Laura Fontanez, DNP, APRN, FNP-BC
"Improving the Accuracy of Obesity Diagnosis in Primary Care"
Cintli Jauregui, DNP, APRN, FNP-C
"Improving Parents' Knowledge on EpiPen Use in a Pediatric Primary Care Setting"
Myriam Pinchinat-Vassor, DNP, APRN, ANP-BC
"Non-pharmacological Educational Interventions: Management of Disturbing Behaviors in Patients with Dementia in a Long-Term Care Facility"
Niomi Senatus, DNP, APRN, FNP-C
"An Educational Intervention for Cervical Cancer Prevention in Haitian Women who Speak Kreyol"
Post-Master's Nurse Executive DNP
Kellie Chapman, MSN, RN, CEN, PCCN-K, TCRN
"Implementation of a Virtual Education Program Directed at Emergency Department Nurses to Increase Knowledge of Adult Victims of Human Trafficking"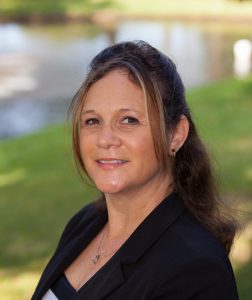 Spring 2021 PhD Graduates
These two Nursing PhD graduates are scholars who will lead nursing into the future by contributing to nursing science and answering the national call for more nursing faculty.
Peggy P. Hill, PhD, RN, CHSE
"Remembering to Resume: Simulation-Based Education to Teach Nursing Students to Manage Interruptions"
Angela Christine Keith, PhD, RN**
"The Influences of Generational Membership and Practice Environment of Nurse Manager Job Satisfaction"
*One graduating student earned both a degree and graduate certificate
**Photo not available
Has the UCF College of Nursing Positively Impacted You?
The mission of the College of Nursing at the University of Central Florida is to prepare nurse leaders and patient advocates through excellence in education, research and service.
Find out how to give back to your college, today!
More Stories