Released on April 8, 2021

Five College of Nursing faculty members and one undergraduate student were among the honorees at this year's event, which recognizes outstanding academic achievements.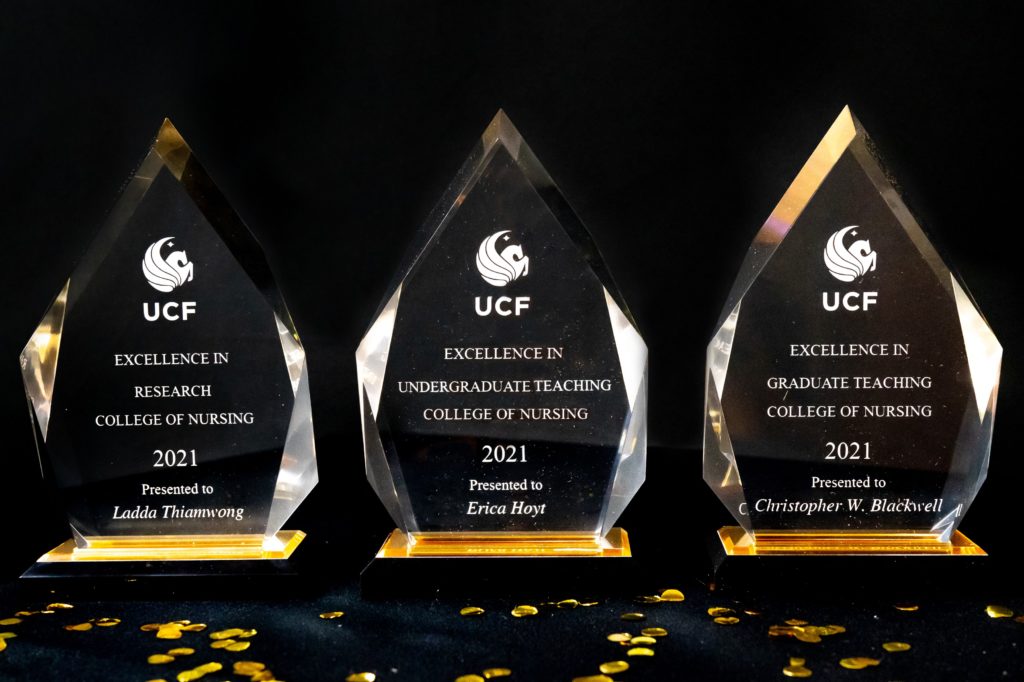 On April 7, UCF celebrated the outstanding academic achievements of faculty members and students at the annual Founders' Day Honors Convocation.
Among the Founders' Day Awards recipients recognized at this year's virtual event are the following from the College of Nursing: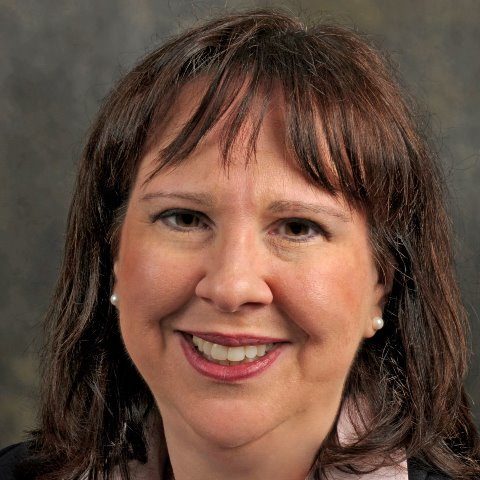 Excellence in Undergraduate Teaching, College Award
Erica Hoyt, '19EdD, RN, CNE, CHSE
Senior Lecturer
Hoyt has been a faculty member at the college for nearly 20 years and is a four-time alumna, including earning a graduate certificate from the college's interdisciplinary Healthcare Simulation program.
A certified healthcare simulation educator, Hoyt recently leveraged her skills and knowledge in the field to ensure a smooth transition of an undergraduate clinical skills course to an online environment during the COVID-19 pandemic. In 2019, she was honored by the Theta Epsilon chapter of Sigma, the honor society of nursing, with an Excellence in Scholarship award for her research which focuses on using simulation and technology to enhance nursing education.
---
Excellence in Graduate Teaching, College Award
Christopher W. Blackwell, '05PhD, APRN, ANP-BC, AGACNP-BC, CNE, FAANP, FAAN
Director, Adult-Gerontology Acute Care Nurse Practitioner Graduate Program, Associate Professor
Blackwell, a three-time alumnus, is the founding and current director of the Adult-Gerontology Acute Care Nurse Practitioner (AGACNP) graduate program. Graduates of the program have consistently achieved a 100 percent first-time pass rate on the national certification exam.
A national expert in the field of LGBTQ health, and board-certified AGACNP and adult nurse practitioner, Blackwell has received numerous honors for his contributions to nursing research, education and practice. His most recent include a national Outstanding Nurse Practitioner Educator award and induction as a fellow of the prestigious American Academy of Nursing. Blackwell is also a Certified Nurse Educator (CNE) and serves as a commissioner on the National League for Nursing Certification Board of Commissioners.
---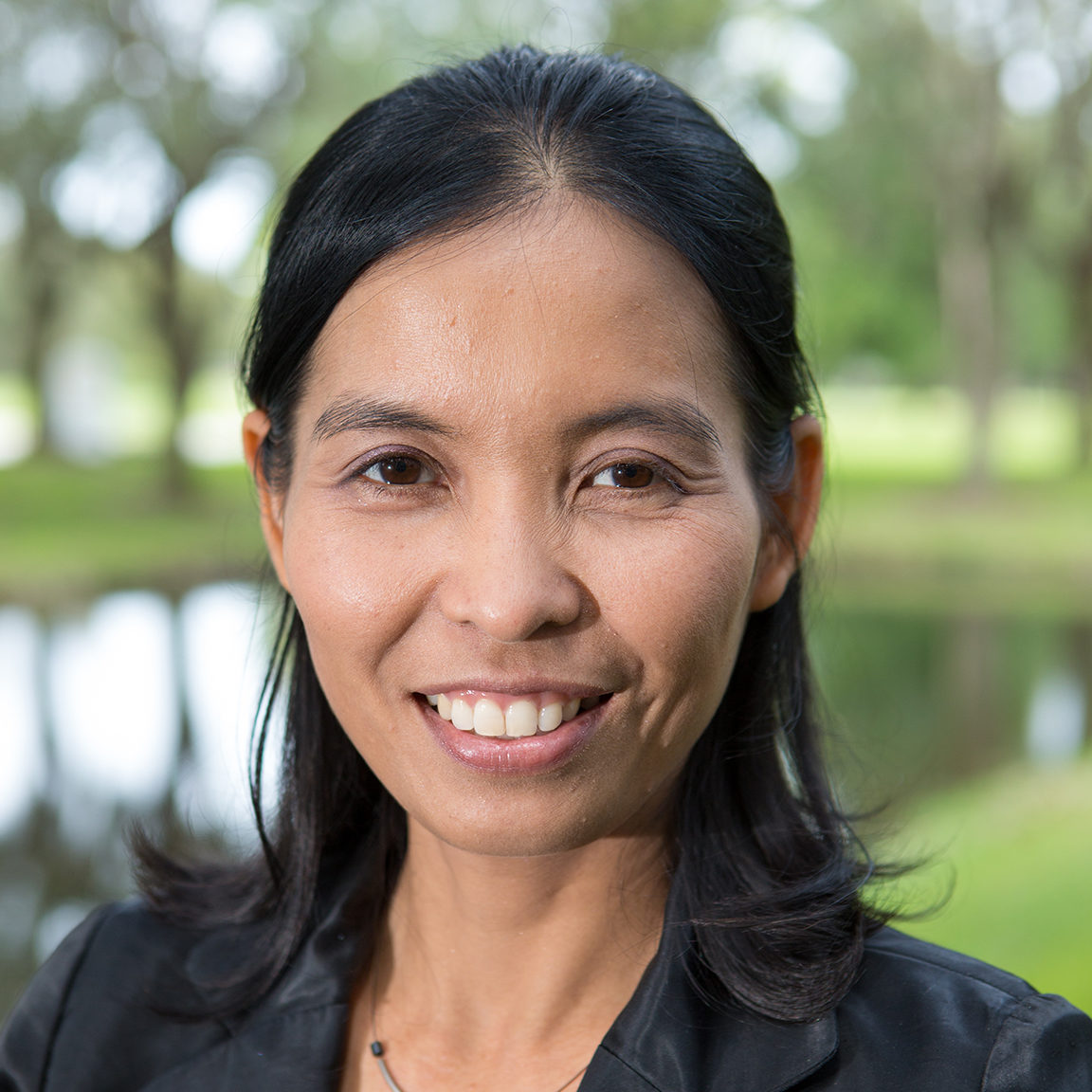 Excellence in Research, College Award
Ladda Thiamwong, PhD, RN
Assistant Professor
An aging expert with 15 years of experience in gerontological nursing education, Thiamwong focuses her research on healthy aging and fall prevention in older adults. She has recently been awarded more than $1.5 million in funding, including two NIH grants. Among her current projects, Thiamwong is leading an interdisciplinary team examining technology-based fall risk assessments for older adults in low-income settings. This project received a Catalyst Award from the U.S. National Academy of Medicine Healthy Longevity Global Challenge.
Thiamwong is a member of the City of Orlando Mayor's Committee on Livability and Healthy Aging, and the UCF Disability, Aging and Technology Research Cluster. In 2018, she was honored by the National Hartford Center of Gerontological Nursing Excellence as a Distinguished Educator in Gerontological Nursing.
---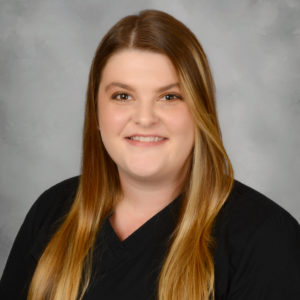 Founders' Day Student Award
Chloe Frye
Traditional BSN Student, UCF Orlando
A senior in the Traditional BSN program, Frye has achieved academic excellence throughout her time at UCF earning Dean's List and President's Honor Roll as well as several nursing scholarships. In addition, she has demonstrated leadership skills and service to the community.
Frye has served as a board member of both the Pre-student Osteopathic Medical Association and the award-winning Student Nurses' Association at UCF Orlando, and has been a volunteer with Clean the World, Second Harvest Food Bank, Matthew's Hope, UCF Knight-thon, and UCF Relay for Life.
In Fall 2020, Frye co-authored a resolution at the Florida Nursing Student Association convention to better support pain assessments for people of color to improve outcomes and reduce healthcare disparities. The resolution passed and is on the agenda for the national convention later this month.
After graduation this spring, the Orlando native plans to continue to serve others working as a registered nurse at a local hospital and eventually further her education to become a nurse practitioner.
I have experienced immense personal growth through a heightened sense of integrity, courage, perseverance and strength at UCF. I will continue to seek more opportunities to serve others in my next role as a Knight Nurse."
---
Faculty Honored for Contributions, Service
Also honored during this year's ceremony was Dr. Susan K. Chase, who was awarded the distinction of professor emerita for her academic contributions to UCF and the College of Nursing, and Dean Mary Lou Sole who received a 30-year service award.
Chase has been a faculty member at the college for more than a decade, and served in leadership roles as associate dean for graduate affairs and chair of the graduate department.
Sole, the Orlando Health Endowed Chair and Pegasus Professor, served in numerous leadership roles at the college before being appointed dean in 2015. Under her leadership, the college has earned national recognition, expanded its academic and research programs, and advanced student success and community service.
---
Has the UCF College of Nursing Positively Impacted You?
The mission of the College of Nursing at the University of Central Florida is to prepare nurse leaders and patient advocates through excellence in education, research and service.
Find out how to give back to your college, today!
More Stories