Released on January 26, 2021
Top 10 in Nursing Education and Top-ranked MSN in Florida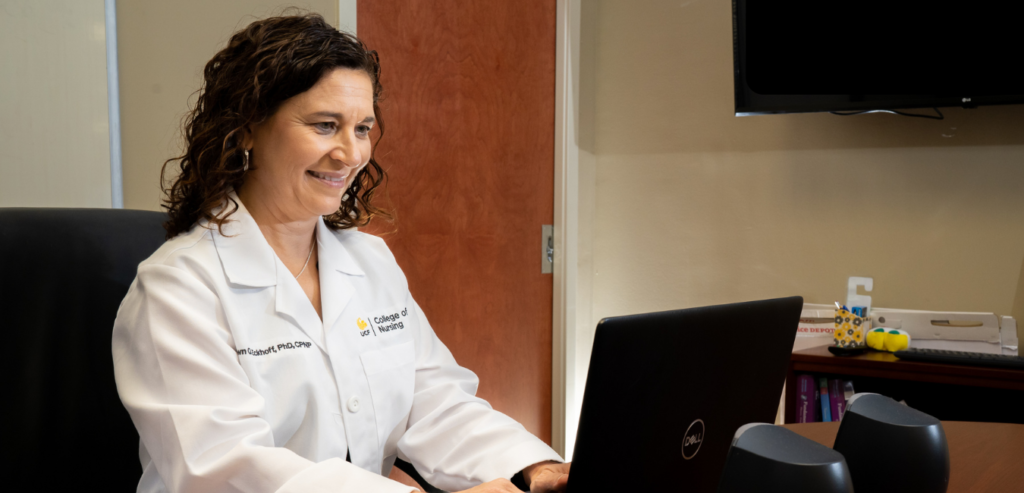 Once again U.S. News & World Report has ranked UCF among the best online programs in the nation for both undergraduate and graduate nursing degrees.
In the 2021 Best Online Programs rankings, UCF is ranked No. 8 for Best Online Nursing Education Master's programs, No. 14 for Best Online Bachelor's Programs, and No. 27 (tie) for Best Online Master's in Nursing Programs. The rankings are based upon student engagement, online learning technologies and support, faculty credentials and training, and the program's reputation among other universities.
"We're honored to be once again named among the nation's best," said Dean Mary Lou Sole. "Led by nationally recognized faculty, our accredited online programs provide a high-quality education that is accessible and affordable for students and nursing professionals ready to advance their careers."
---
Best Online BSN Degrees
This year UCF celebrates 25 years of online learning and its fourth consecutive year in a top-20 ranking among the Best Online Bachelor's programs.
The UCF College of Nursing has also been a leader in online education, launching Florida's first fully online RN to BSN program in 1998. It offers registered nurses a convenient, flexible option to obtain their Bachelor of Science in Nursing (BSN) while continuing to work.
UCF College of Nursing offers an online Concurrent ASN to BSN program for students who have completed their first semester of an Associate of Science in Nursing (ASN) program at a Florida College System institution. The program allows students to start BSN classes online at UCF while simultaneously completing their associate degree and then graduate with their bachelor's degree months earlier than pursuing the degrees separately.
---
Best Online MSN Degrees
UCF is the top-ranked institution in Florida for online master's in nursing programs, and a top 10 in the nation for its Master of Science in Nursing (MSN) Nurse Educator program.
All three MSN programs at UCF are offered online in full- and part-time options. The programs include an MSN in Healthcare Simulation, Leadership and Management, and Nurse Educator.
The highly ranked online MSN Nurse Educator program prepares nurses to teach in higher education, healthcare agencies or in the community. Nurse educators are in high demand as the nation faces a shortage of nursing faculty.
Students in UCF's online MSN Nurse Educator program complete a 180-hour internship and 60-hour practicum courses in their home community.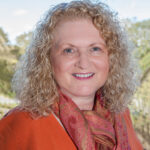 The ability to complete internship and practicum hours in the student's local area, along with the asynchronous online format, make the program more accessible and convenient for nurses across Florida as well as in other states.
A well-published researcher in nursing education, Susan Quelly '07MSN '12PhD is among nine college faculty who have earned the national recognition of Certified Nurse Educator (CNE®).
"The educators at the UCF College of Nursing are leaders in their respective fields and put evidence-based practice at the forefront," said program alumna Kelli M. Lipscomb '11BSN '15MSN. "The MSN Nurse Educator program provided valuable concepts on how to improve patient outcomes and be a leader, which I can now teach to the next generation of nurses so they will be well-rounded caregivers."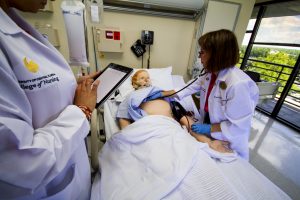 UCF also offers a unique option to students in the MSN Nurse Educator program to expand their career opportunities in the emerging field of healthcare simulation. Students can take three additional courses to earn a graduate certificate from UCF's innovative online graduate program in Healthcare Simulation.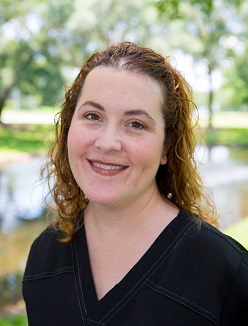 The first in Florida and among only a few nationwide, the program is led by some of the world's foremost healthcare simulation experts. It is offered as an MSN or graduate certificate, which is open to both non-nurses and nurses with a bachelor's degree.
"By learning from the brilliant simulationists at the college, I have been able to infuse simulation into my current role (as a nursing instructor) and champion change using technology on a regular basis," adds Lipscomb who also completed the Healthcare Simulation graduate certificate program.
"My ability to create learning opportunities for nursing students using best practices learned at UCF has helped mold my teaching style and quality. I also learned to be creative, think on my feet and multi-task, which is something I rely on every day, and especially this last year during the uncertainty of the pandemic."
Has the UCF College of Nursing Positively Impacted You?
The mission of the College of Nursing at the University of Central Florida is to prepare nurse leaders and patient advocates through excellence in education, research and service.
Find out how to give back to your college, today!
More Stories