High achievers who are reaching for the stars, and shining bright as beacons of hope and healing. Meet our inaugural 40 Noble Knight Nurse Award recipients who were honored during the UCF College of Nursing 40th Anniversary Virtual Gala on May 15, 2021.
Meet the 40 Noble Knight Nurse Award Recipients
---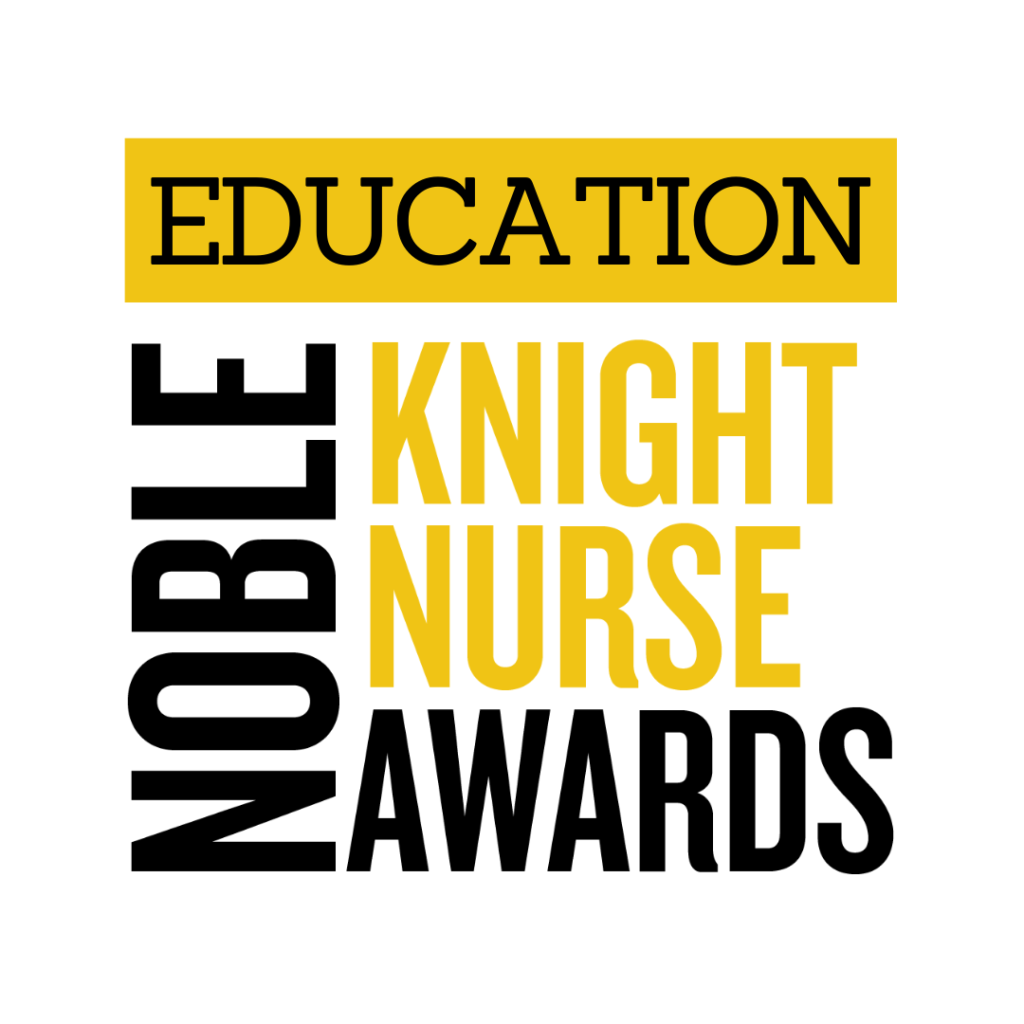 Knight nurses who, as clinical nurse educators and faculty members, share their depth of knowledge through innovative teaching strategies and scholarly research to shape and strengthen generations of nurses.
---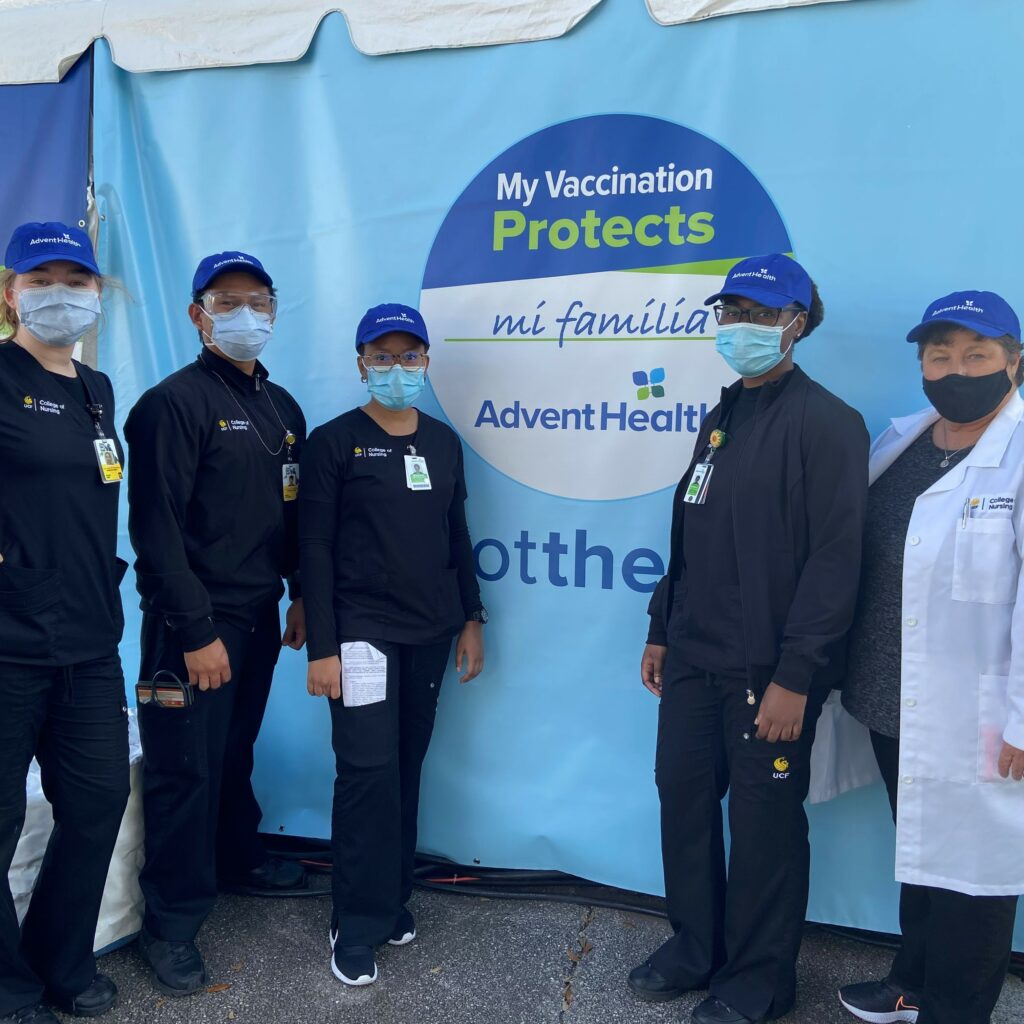 Kelly Allred '07PhD, RN-BC, CNE
As director of UCF College of Nursing's pre-licensure BSN programs since 2017, Kelly Allred has been a driving force behind UCF graduates' exceptional first-time pass rate on the national RN licensing exam (NCLEX-RN), which is continually among the best in Florida and far above the national average. But that's only the latest role Allred has played in an academic career that has spanned 14 years — not to mention an 18-year career as a direct care nurse passionate about surgical and post-anesthesia care. She has published and presented extensively on her research in pain management and nursing education, accepted over $260,000 in funding, and advised dozens of doctoral and Honors in the Major students on dissertations, theses and research projects. In recognition of her extraordinary contributions, Allred received a Mentor/Role Model ICON Award in 2019 from the Florida Nurses Association. Still, she says, it's simply helping future nurses and educators that she gets the most satisfaction from. "I'm most proud of my daily work," she says, "rather than one specific event or milestone. Helping students learn and helping new faculty become comfortable in their roles as educators are what I do every day, and I am proud of that. Watching students learn and grow in the profession is an awesome experience."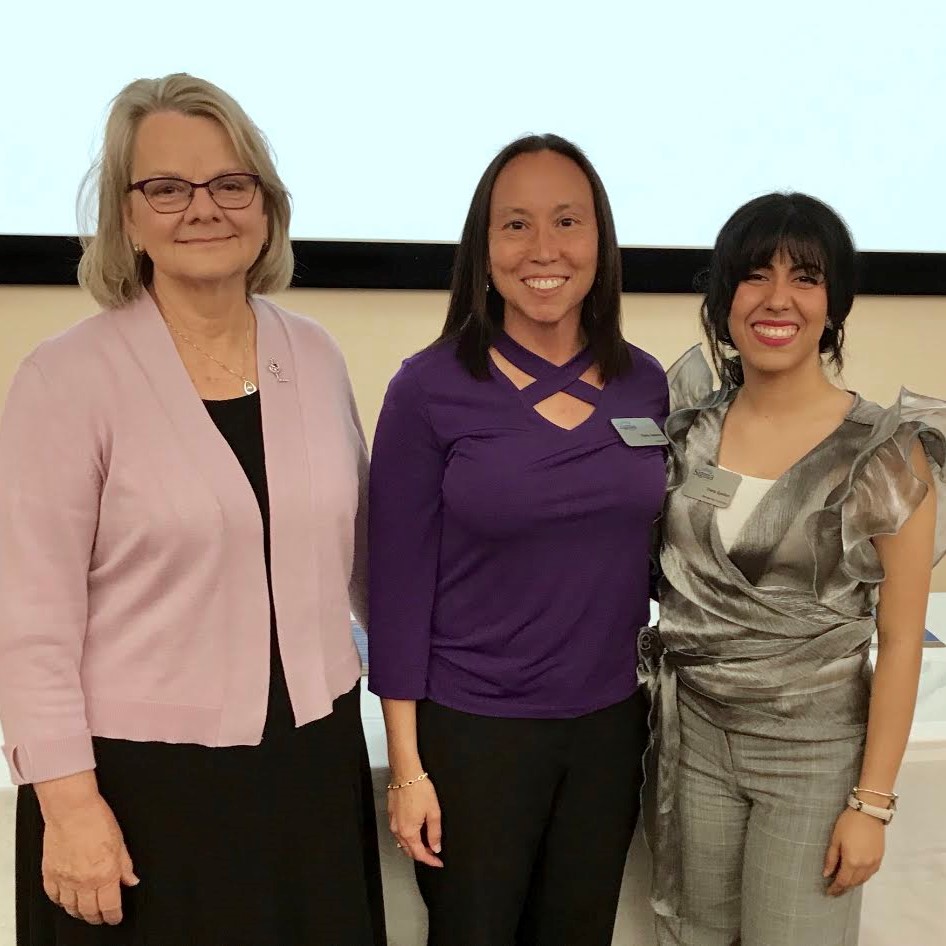 Joyce DeGennaro '03, '09BSN, '13MSN, RN (1979 – 2020)
After returning to UCF to earn a BSN in the accelerated second-degree program, Joyce DeGennaro worked for several years in the transplant ICU at Florida Hospital – providing skilled, compassionate care to critically ill patients. But teaching was her passion, and she returned to UCF again to earn her MSN in Nursing Education and join the faculty. "Ms. D" – as her students called her with respect and pride – was a devoted educator and mentored students both in and out of the classroom. She served as an advisor to the UCF Orlando chapter of the Student Nurses' Association, which under her guidance, won the national Stellar Chapter and state Diamond Chapter awards – and earning her state Advisor of the Year. When she was diagnosed with stage IV breast cancer in 2015, DeGennaro saw it as her greatest teaching tool and continued to teach – documenting her treatments with her cell phone camera and incorporating her experiences "on the other side of the stethoscope" into her classes. "I want to use this mess that I'm having to deal with to make them better nurses for people like me," she said at the time. When she passed away last November, DeGennaro left behind her loving husband, Darren, and two young children. She also leaves a lasting legacy of teaching compassion that will carry on in the lives of her students and the lives of the patients that they serve.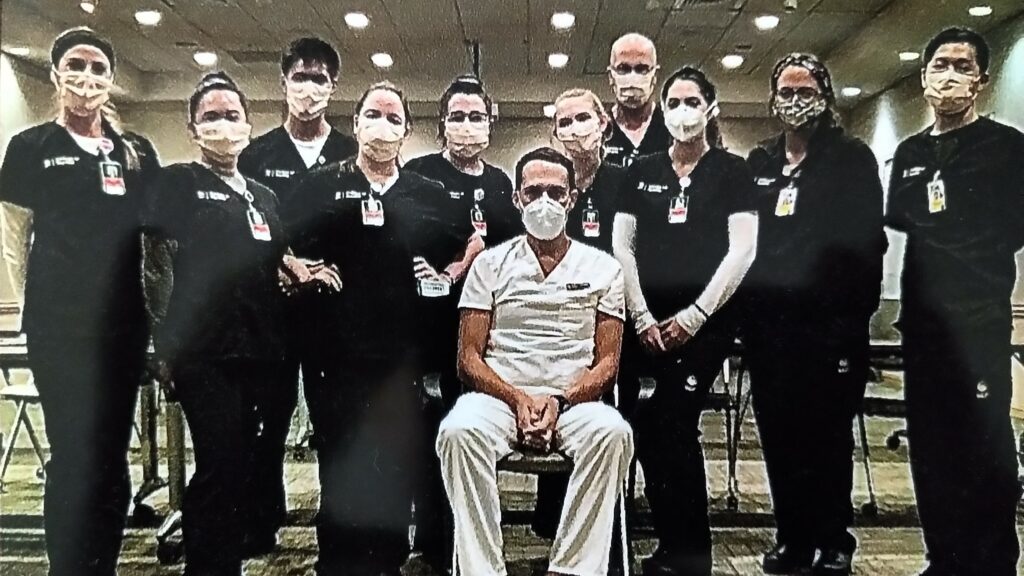 Sotos G. Djiovanis '15BSN, '20MSN, RN, ONC
"I have never had a bad day teaching," says Sotos Djiovanis, who has worked as a trauma and elective orthopedics nurse at Orlando Regional Medical Center since shortly after earning his BSN from UCF in 2015. He also serves as a clinical preceptor and education resource nurse at ORMC as well as an adjunct instructor at the college for a variety of clinical rotations. Known for combining learning objectives with clinical stories from his personal experiences that highlight the emotions, challenges, and solutions common to the profession, Djiovanis is a role model and teaches what textbooks can't. He shares an exceptional rapport with students, who trust in his leadership and judgment. Remarkably, nursing is a second career for Djiovanis. He has earned a "Dr." title, but it is not a nursing degree. It is a 2005 doctorate in oboe performance and pedagogy. He still performs with the Naples and Orlando orchestras. It was not until 2012 that he began taking nursing prerequisites at Lake-Sumter State College. "My work as a nurse educator and preceptor has been my biggest honor," Djiovanis says. "I am proud to be a part of our fine and growing academic community at UCF."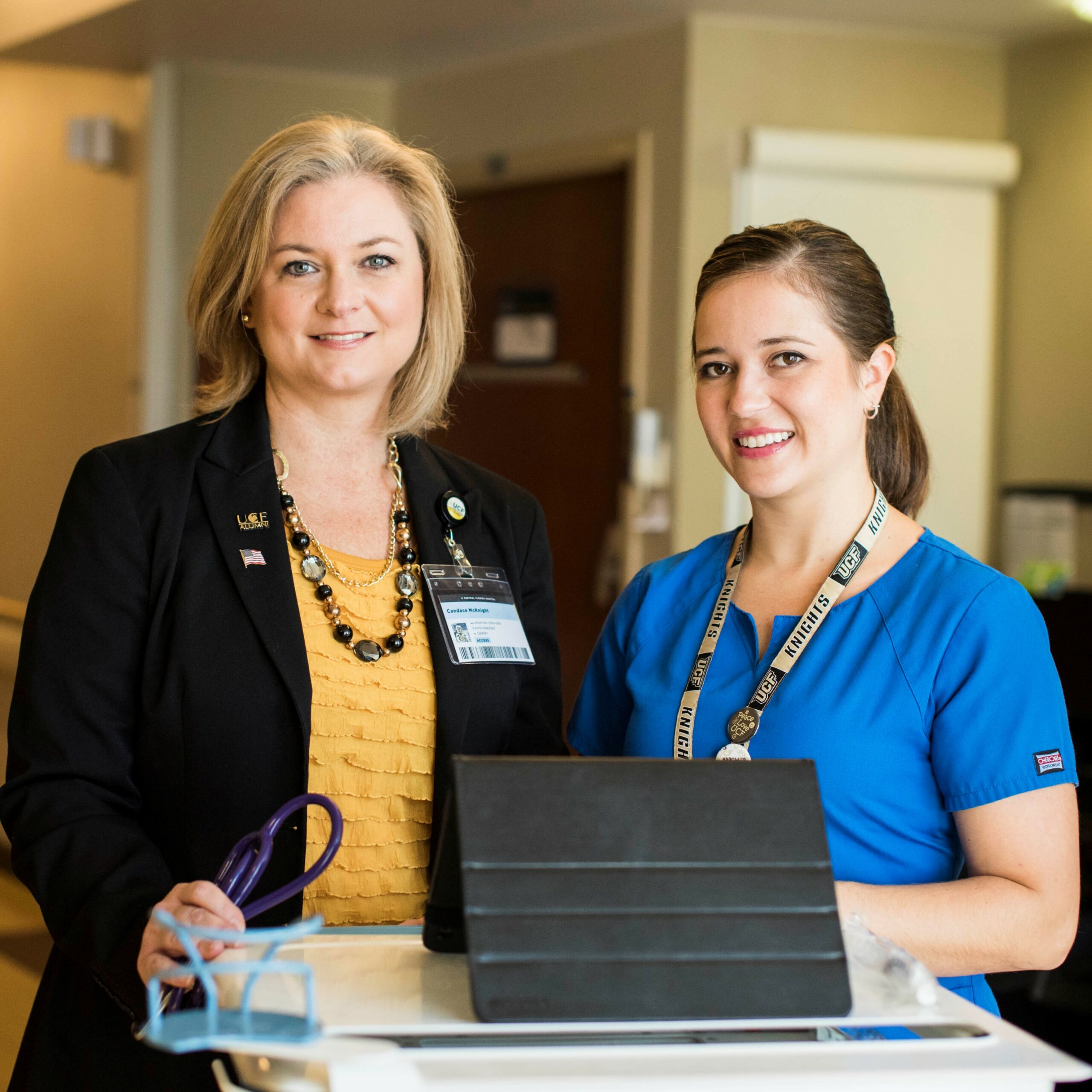 Kate Dorminy '06BSN, '10MSN, RN-BC, PCCN
After earning her BSN from UCF in 2006, Kate Dorminy joined AdventHealth (then Florida Hospital) and, with her "Charge On!" work ethic and attitude, advanced quickly through roles including nurse preceptor, charge nurse, unit nurse mentor, patient care facilitator, nurse educator, administrative manager of nursing education and eventually, in 2014, director of nursing education and professional development, a role in which she implemented numerous evidence-based practice projects, worked to redesign the shared governance model, and developed a year-long graduate nurse training program that remains in use. Along the way, Dorminy earned her MSN in nursing education from UCF in 2010, and then joined the College of Nursing in 2019 as undergraduate clinical education coordinator. Of course, she doesn't limit herself only to that role, choosing to go above and beyond by guest lecturing, teaching labs, facilitating simulation, and becoming an advisor to the award-winning Student Nurses' Association at UCF Orlando. Of all her achievements, Dorminy is most proud of her mentoring and teaching. "Having a role in someone's growth and development is a privilege," she says. "I'm so proud to be a part of the nursing profession, and the opportunity to welcome new nurses into nursing is my honor."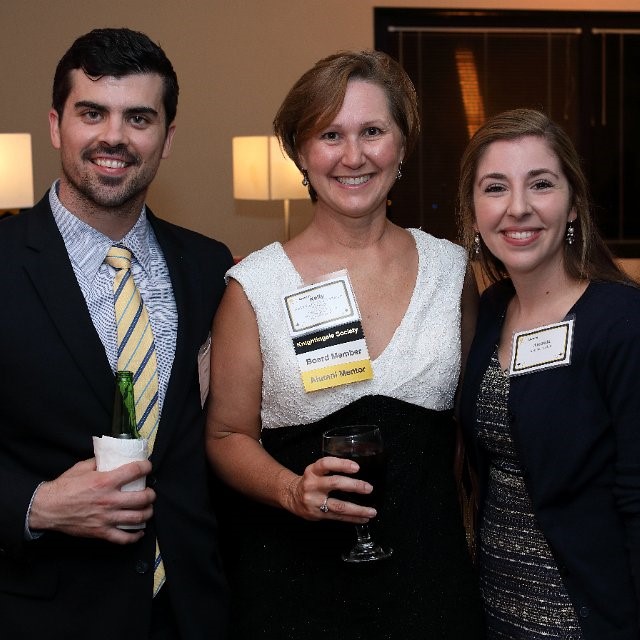 Kelly Carlson Eberbach '15DNP, '17Cert., MBA, RN, CPN, CPEN
"I have strived to empower and nurture the learners of my nursing community as well as those teams we partner with in healthcare," says Kelly Carlson Eberbach. "It is the lightbulb moments, the 'aha' moments and the demonstrations of new skills by others that keep my cup full." Judging by her impact on students and mentees that cup is overflowing. "Dr. Eberbach changed my view of what it means to be a mentor," said one mentee who was matched with her through the Knight Nurse Mentor program. "She amplified my passion for pediatric nursing by sharing knowledge, guidance and her own passion for the area, and gave me the confidence and ability to pursue and attain my dream job as a PICU nurse." In addition to mentoring, Eberbach also educates future and current nurses as an adjunct instructor of nursing leadership and management in UCF's MSN program and as a clinical nurse educator with the emergency department at Nemours Children's Hospital, a role in which she is responsible for the development of education to support the needs of approximately 100 associates. "I have been blessed to be a member of the nursing profession for 34 years," says Eberbach, "and have always lived as a lifelong learner."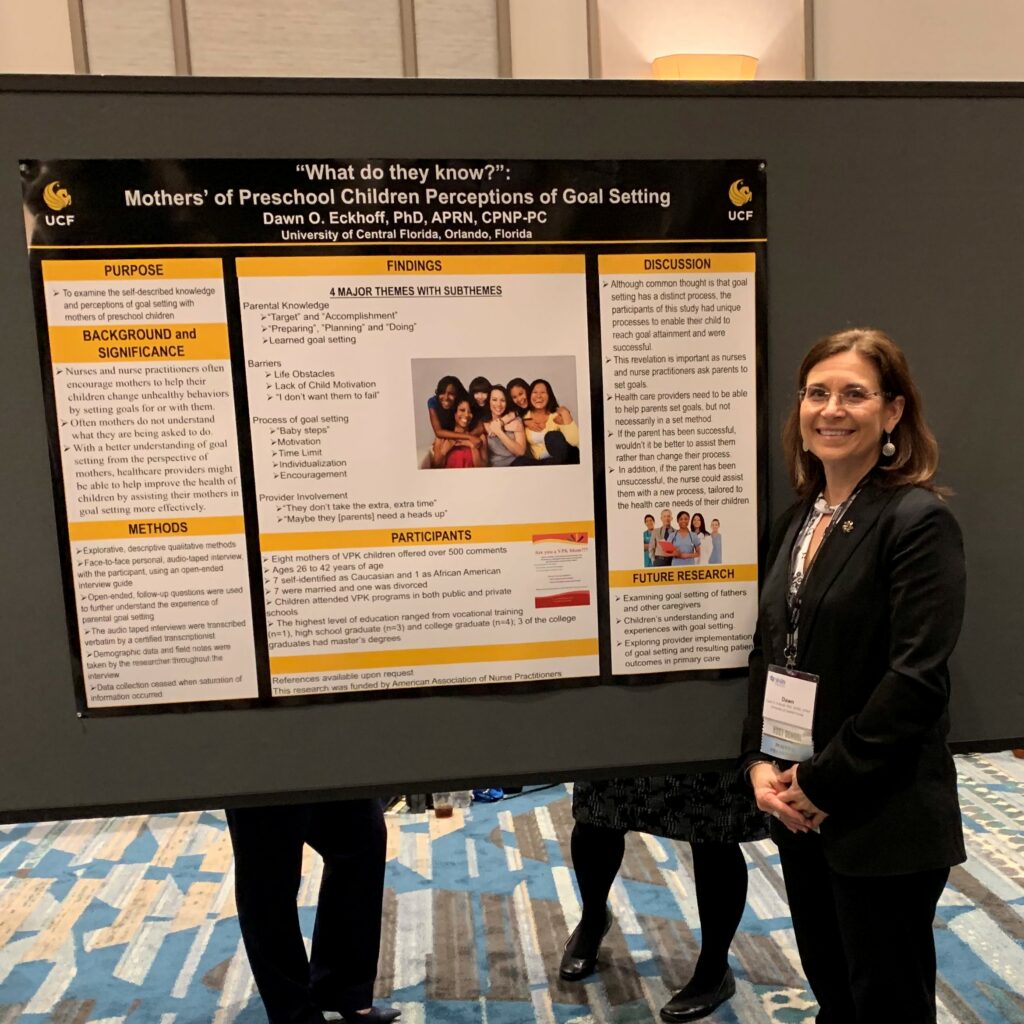 Dawn Eckhoff '18PhD, '20Cert., APRN, CPNP-PC
"Going back to school after 28 years was both daunting and rewarding," says Dawn Eckhoff, who in 2018 earned her PhD at UCF — the proudest achievement of a remarkable career that has also included 26 years of practice as a registered nurse and pediatric nurse practitioner in Brevard County. Without her family, professors and colleagues, though, she might not have made it. "Their support and willingness to help me reach this life goal were unwavering," she says. "The knowledge and skill that my professors and colleagues bestowed on me was remarkable, and when difficult times arose, my colleagues, parents, husband and children were always there to cheer me on and keep me going. It was truly a team effort!" At UCF, where Eckhoff has taught since 2002 — first as adjunct faculty, then as a lecturer and clinical placement coordinator, and now as an assistant professor — she's known for providing that same kind of energetic and unwavering support. "Dawn is a beacon of support to our students, an exemplary teacher and a collaborative partner with our physician practices," says a colleague. "She's always willing to go the extra mile to help out students or other faculty members."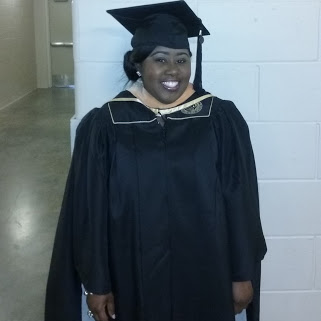 Sherrina Stewart '06BSN, '16MSN
A certified burn nurse with more than a decade of experience, Sherrina Stewart has dedicated herself not only to constantly expanding her own knowledge and skills but also to educating others. An accomplished clinician and researcher, she has served as a nurse preceptor, mentor, charge nurse and research assistant; worked on a rigorous review process of Orlando Regional Medical Center as a burn center; presented at the Southern Region Burn Conference; and co-authored an article on burn care in the Journal of American Society of Ophthalmic Registered Nurses. Since 2015, Stewart has focused primarily on training, both as clinical burn nurse educator at ORMC and as an adjunct clinical instructor at UCF. She also serves as an instructor for the Advanced Burn Life Support course with the American Burn Association, and is a member of the American Association of Critical-Care Nurses, winning the organization's Clinical Excellence Award in 2018. Stewart was inspired by strong role models like her aunt, Tracy Sherrod, also a UCF nursing graduate, who Stewart says showed her as a child the value of nursing. "I vowed to follow in her footsteps," Stewart says, "and it has truly been a great journey discovering my place in this wonderful profession."
---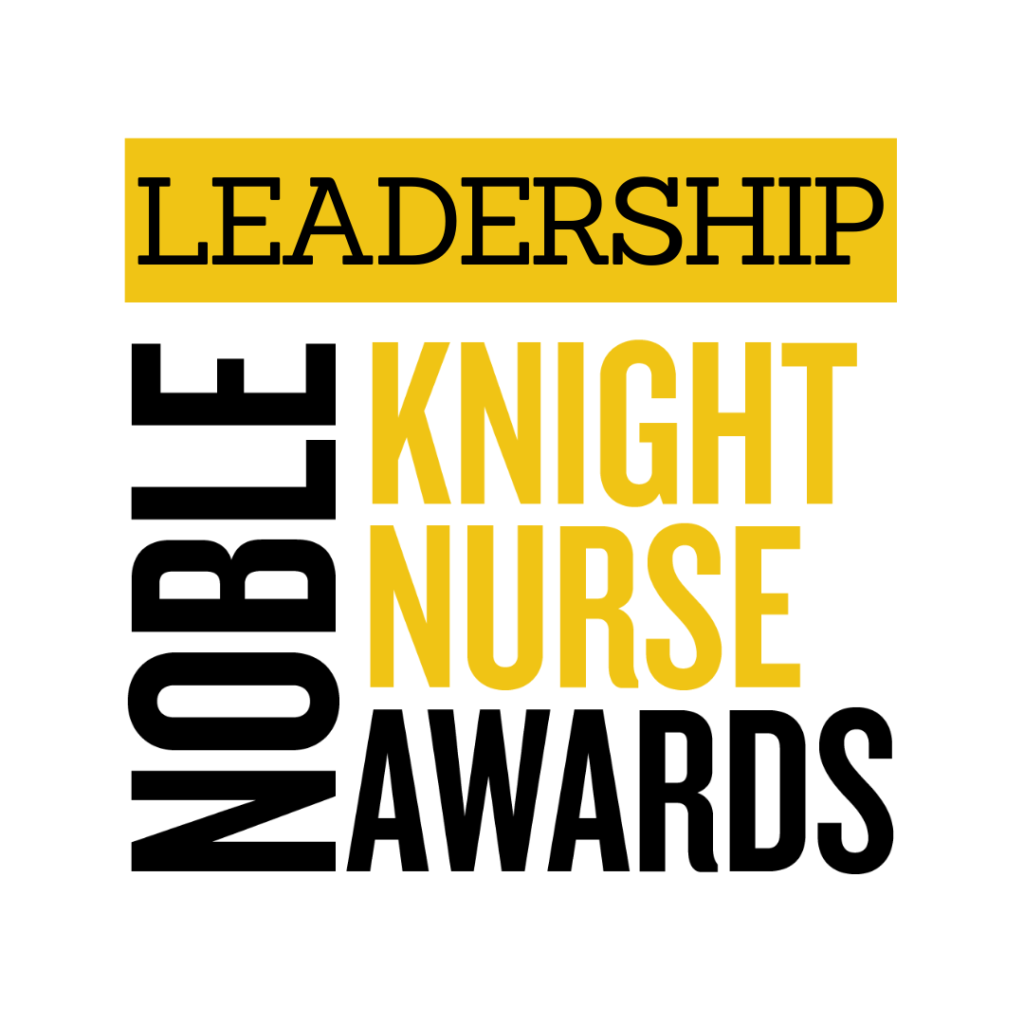 Knight nurses who, as nurse executives and managers, are leading healthcare into the future by setting a golden example in their organizations, fostering an environment of compassionate care and clinical excellence.
---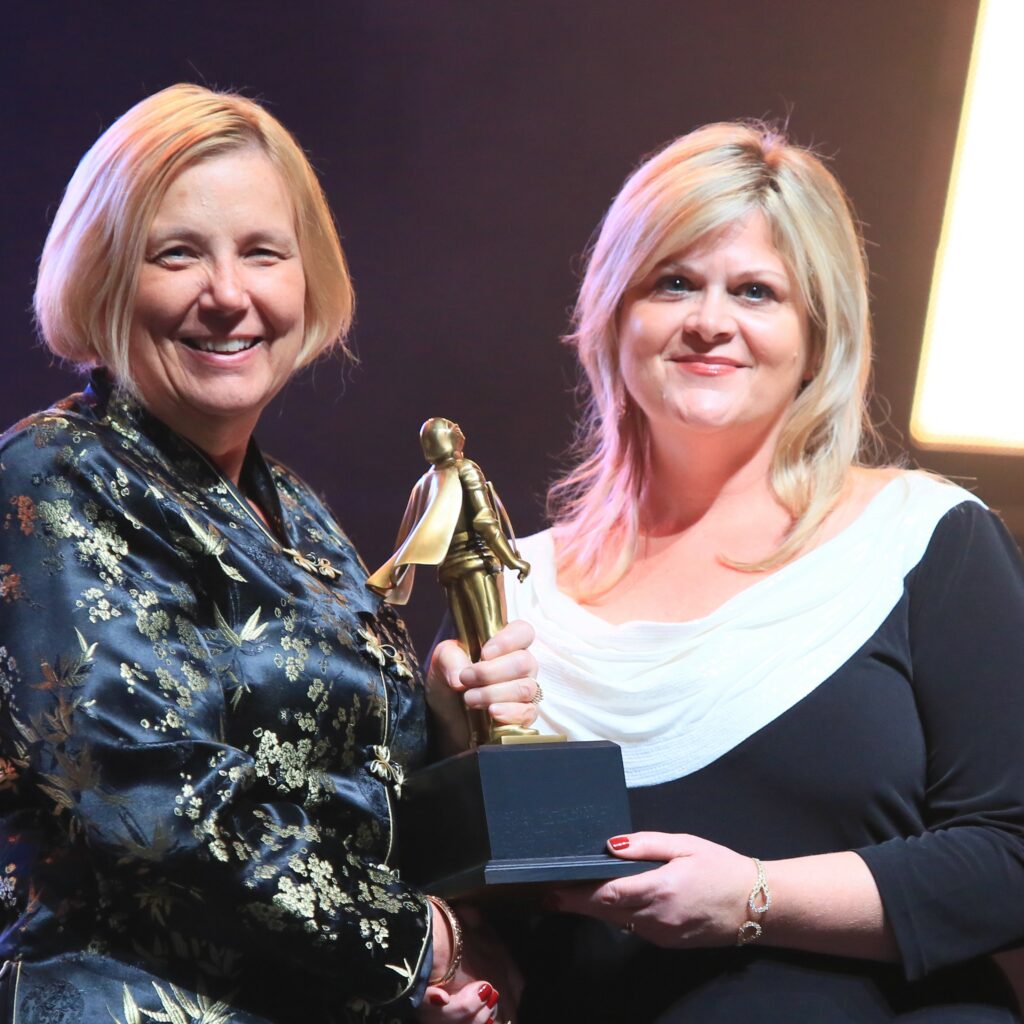 Trish Celano '10MSN, RN
"Every new nurse that joins the ranks of our profession inspires me to strive for excellence in nursing leadership," says Trish Celano. "The future of nursing is dependent on today's expert nurses taking the time to help develop the novice leaders in our midst." That inspiration, combined with a highly effective leadership style and success in achieving quality patient outcomes, has propelled Celano on a remarkable trajectory over the course of her 24-year career at AdventHealth. That career began in 1997 as a staff nurse and flight nurse, and advanced steadily to chief nursing officer at AdventHealth for Children in 2007 where she led the effort to earn its first Magnet designation. In 2011, Celano was named chief nursing officer and vice president of AdventHealth Orlando, an 1,100-bed major tertiary care center, and in 2016 named region chief clinical officer for Volusia, Flagler and Lake counties. In 2019, she was appointed to her current position as associate chief clinical officer, senior vice president and chief nursing executive for the AdventHealth system, which serves more than 5 million patients in 50 acute care hospitals across nine states. Throughout her extraordinary career, Celano has championed professional nursing practice and says her greatest satisfaction is "the pure joy I get witnessing our nurses move through their careers and into leadership roles across the country."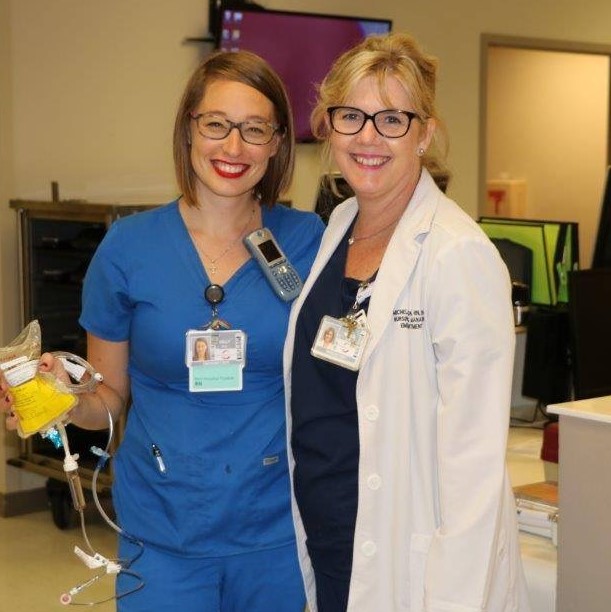 Michele Fackler '00BSN, '12MSN, RN, CEN, NE-BC
"As a leader, I take care of people who take care of people," says Michele Fackler, chief acute care nurse at the Orlando VA Medical Center who is also a 10-year veteran of the U.S. Air Force and Air Force Reserves that was activated during Desert Storm. "There is no higher honor than to serve our front line staff." It's a philosophy that has guided the seasoned operations professional through a series of increasingly responsible leadership positions since earning her BSN from UCF in 2000. After beginning her career as a staff nurse at Orlando Regional Medical Center, she became assistant nurse manager, then emergency department nursing operations manager there and later a manager of the corporate nursing program at Orlando Health. Prior to her current role at the Orlando VA, she held positions as emergency department nurse manager and director of emergency and critical care services at Parrish Medical Center. A skilled team builder, Fackler is "willing to roll up her sleeves and help her staff when needed," says a former colleague. "She has an open-door policy, which is paramount to building a strong, supportive team."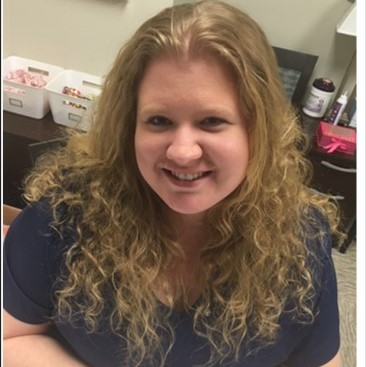 Natalie Harper '07BSN, '20MSN, PCCN
After 11 years of progressively responsible and effective leadership in the intermediate critical care unit at Orlando Regional Medical Center — including two years as nursing operations manager — Natalie Harper was asked if she would consider transitioning to orthopedics. The unit was in need of an exceptional leader to inspire the team. She immediately went to work, using her collaborative leadership style to promote a satisfied, healthy work environment and establish a climate of growth, challenge and development. Harper, colleagues say, is both able and willing to "walk the walk," working closely with the nurses and nursing assistants she serves on a daily basis. "She strives for excellence in a way that's infectious," says one, "making others want to achieve it too." Within a year, orthopedics reported the highest team member engagement rates in the history of the unit. Soon after, the unit was certified through the Joint Commission as a Center of Excellence for hip, knee and spine patients. Earning the certification, says Harper, "was a multi-year and multi-department process, but seeing it come to fruition was amazing!" "Leadership," says Harper, who also volunteers as a Knight Nurse Mentor, "is about making others better as a result of your presence and making sure that impact lasts in your absence."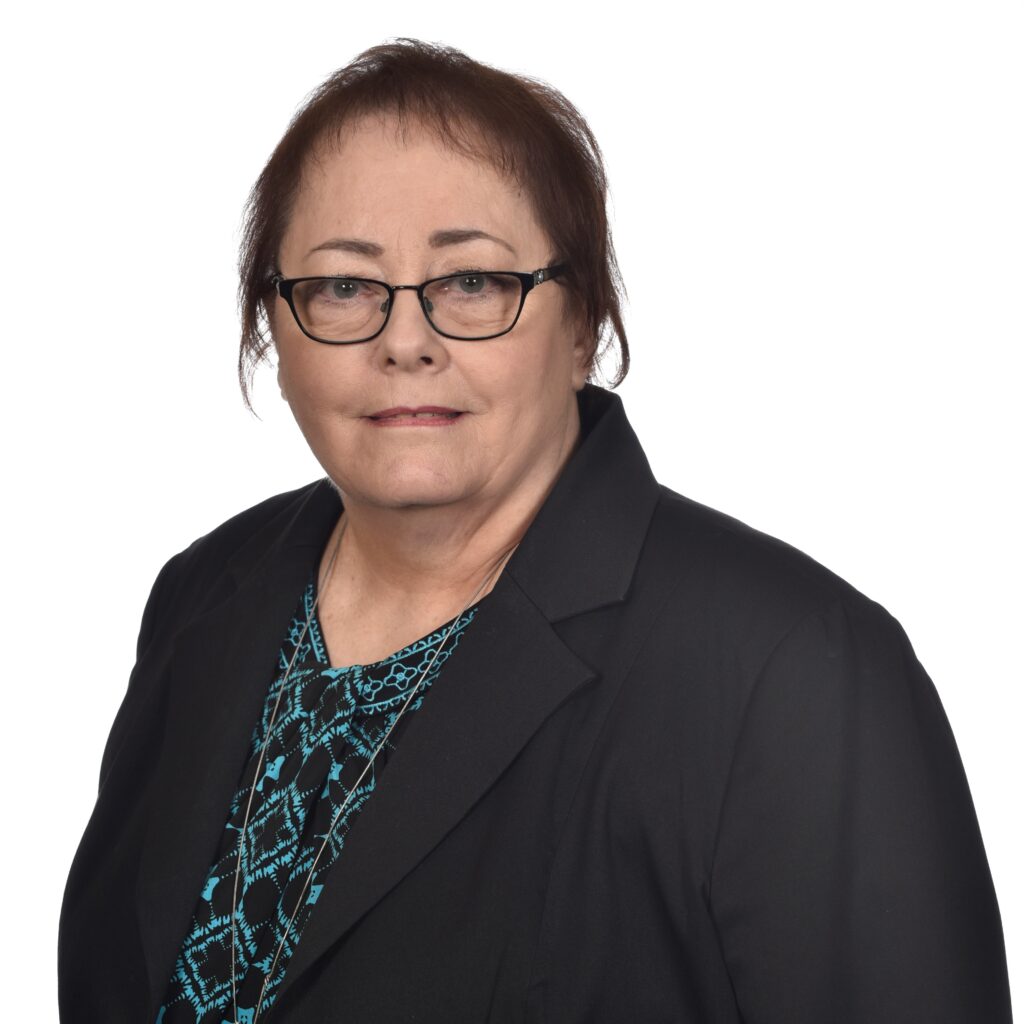 Louise Kaigle '01BSN, '02MSN, RN, ONC
During a career that spanned 45 years, including 30 in leadership at Arnold Palmer Hospital for Children and Winnie Palmer Hospital for Women and Babies, and 10 as chief nursing officer for Arnold Palmer Medical Center (comprising both hospitals), Louise Kaigle served to advance her patients, her nurses and her profession. As CNO, her greatest accomplishment was transforming the culture of nursing at Arnold Palmer Medical Center and empowering nurses on the journey to achieving Magnet designation in 2013. The medical center was re-designated in 2018, also under Kaigle's leadership. Like all great leaders, Kaigle, according to colleagues, encouraged and inspired others to achieve outcomes they might not have considered otherwise. After she set a goal to advance professional development at Winnie Palmer Hospital, BSN rates grew to 73 percent while specialty certification rates grew to 51 percent — far surpassing the mean even for Magnet-designated hospitals. At the same time, she was recognized with a DAISY Award honoring her compassion in leadership. Kaigle, who retired last year, drew her greatest satisfaction from other nurses. "I have always been inspired," she says, "by the many moments in which I have had the opportunity to witness the practice of nurses at all levels and in a variety of settings."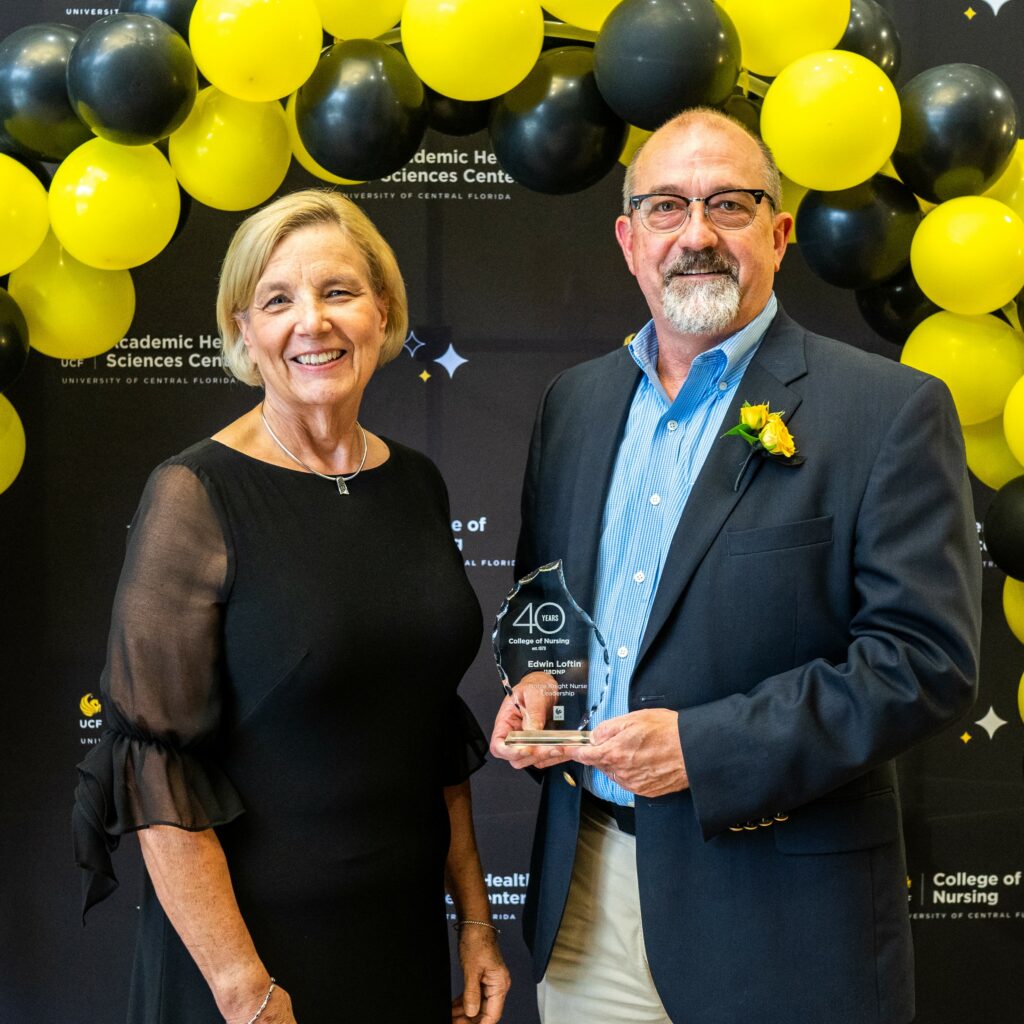 Edwin Loftin '18DNP, MBA, RN, NEA-BC, FACHE
Edwin Loftin's achievements as senior vice president for integrated and acute care services and chief nursing officer at Parrish Medical Center in Brevard County are many. Among them are spearheading efforts to earn the nation's first Integrated Care Certification from the Joint Commission, and to be awarded the first 5-Star Hospital rating from the Patient Safety Movement Foundation by committing to all of the organization's Actionable Patient Safety Solutions. According to colleagues, though, those milestones only tell part of the story of his leadership. The more important part is his abiding passion for achieving zero preventable harm. "You cannot be in a meeting with him, a conversation with him, receive an email or phone call from him, and not understand that when he talks about patient safety, it is with conviction from the bottom of his feet to the top of his head," says one colleague. Loftin says he draws inspiration for his work from both the patients his team cares for and from "those we have the honor of leading, teaching, mentoring and inspiring — whether it's a seasoned nurse expert, a student, or anyone who has committed to a life of serving in healthcare."
Rosemary Notarantonio '81BSN, MSN, RN
"I realized very early in my career that as much as I loved bedside nursing, I could only be a change agent for the patients that I was assigned," says Rosemary Notarantonio. So, after earning her BSN as a member of the college's first nursing cohort, she decided to pursue leadership. "This career path," she says, "enabled me to institute system changes that would improve patient outcomes and support nurses in the delivery of care." Notarantonio has been extraordinarily successful in instituting those changes at hospitals across the country in a variety of leadership positions. Most recently, as principal of Notarantonio & Associates, she has served in a series of demanding interim CEO positions. "Rosemary came to the hospital as interim CEO in a very challenging time," says a former employee. "She showed great grace and leadership in establishing a new foundation for clinical staff and led the administrative staff with charisma. Within six months, she was revered by both clinicians and administrators and had earned the respect of all within the hospital." "Nursing is, I believe, the most important link in the ability of the patient to recover and thrive," says Notarantonio. "We provide the cognitive, physical, and emotional support throughout the patient's journey."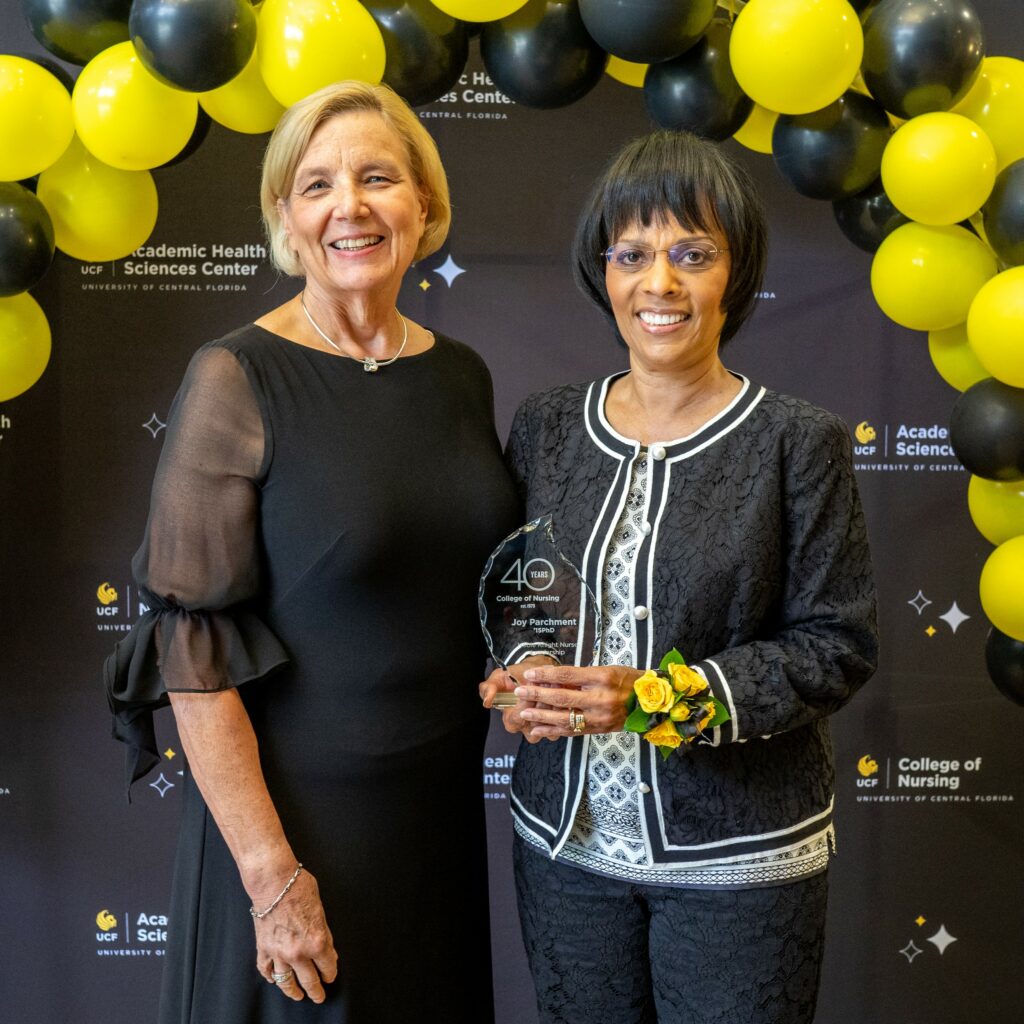 Joy Parchment '15PhD, RN, NEA-BC
Joy Parchment's purpose, she says, is "bringing out the unique strengths of others." This is something she does not only directly through mentoring, but also indirectly through her passionate involvement in professional organizations that support others who do the same. Parchment has served as president of the Central Florida Organization of Nurse Executives and in other roles at the state and national levels of the organization. She is also deeply involved with the American Organization for Nursing Leadership, which recognized her as its 2019 Mentor of the Year. Professionally, Parchment recently served as director of nursing strategy implementation and magnet program at Orlando Health, a role in which she led efforts to achieve the organization's second Magnet designations for two of its hospitals. She is currently president and founder of the Parchment Group, LLC, and mentors future nurses as an adjunct faculty member at the college. "The most endearing thing about Joy is that she is a servant leader," says an Orlando Health colleague. "She needs no recognition and is happy to quietly lead. She truly gets her reward by watching those she mentors succeed."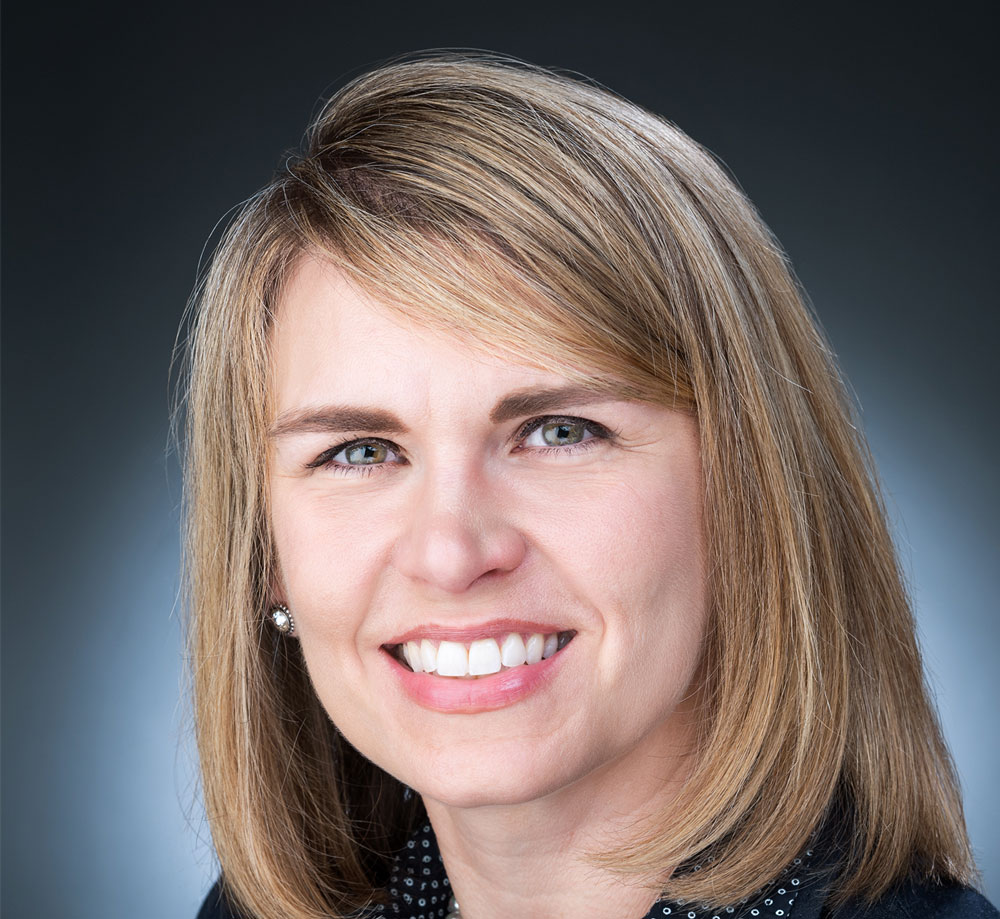 Julie Vincent '16DNP, RN, CENP
Julie Vincent has an impressive record of elevating practice environments for clinical nurses and improving patient outcomes. Under her leadership as chief nursing officer, Ohio's Sycamore Medical Center twice earned Press Ganey Guardian of Excellence Awards and was twice named a Top-100 hospital destination. Then, as vice president and chief nursing executive of Kettering Health Network, the system saw nurse engagement improve from the 63rd to the 81st percentile and hospital-acquired infections reduced by 13 percent. Vincent, though, is prouder of her work in less visible areas — building support for programs like behavioral health, addiction and palliative care services. "These programs often struggle with stigma and can be at risk of being underrepresented in care delivery," she says. "Nurses have the unique ability to bring the art and science of their practice to these programs and expand care that impacts not just the body, but also the mind and the spirit." "I am honored to serve in defining what nursing in today's world looks like and supporting those who bring hope and healing every day. Those tough, devoted, brilliant caregivers are the inspiration I have to strive for excellence," says Vincent who is today chief clinical officer for AdventHealth's Central Florida Division – North Region.
Eugene Waterval '09MSN, '20PhD, RN, NE-BC
Eugene Waterval, says a colleague, "possesses personal integrity, emotional intelligence and empathy, and has the ability to lead, adapt, teach and mentor without micromanaging." That kind of effective leadership served Waterval well as he worked closely with fellow Noble Knight Nurse honorees Louise Kaigle and Valerie Lapp to secure the prestigious Magnet designation first in 2013 and again in 2018 for Arnold Palmer Medical Center. Now, as magnet program director for Orlando Regional Medical Center, Waterval leads the journey to Magnet designation for Orlando Health's flagship hospital and the more than 1,500 nurses in 40 departments who serve there. Waterval, who is from the Netherlands and served as a Dutch Army nurse, also generously shares his knowledge of the Magnet process internationally through multiple podium presentations and consultations with European hospitals as they embark on their Magnet journeys. Waterval is guided in his work by a favorite quote from Jack Welch, "Before you are a leader, success is all about growing yourself. When you become a leader, success is all about growing others." It's a philosophy Waterval has taken to heart. "Eugene," says his colleague, "has the ability to make each and every person feel valued, no matter their role."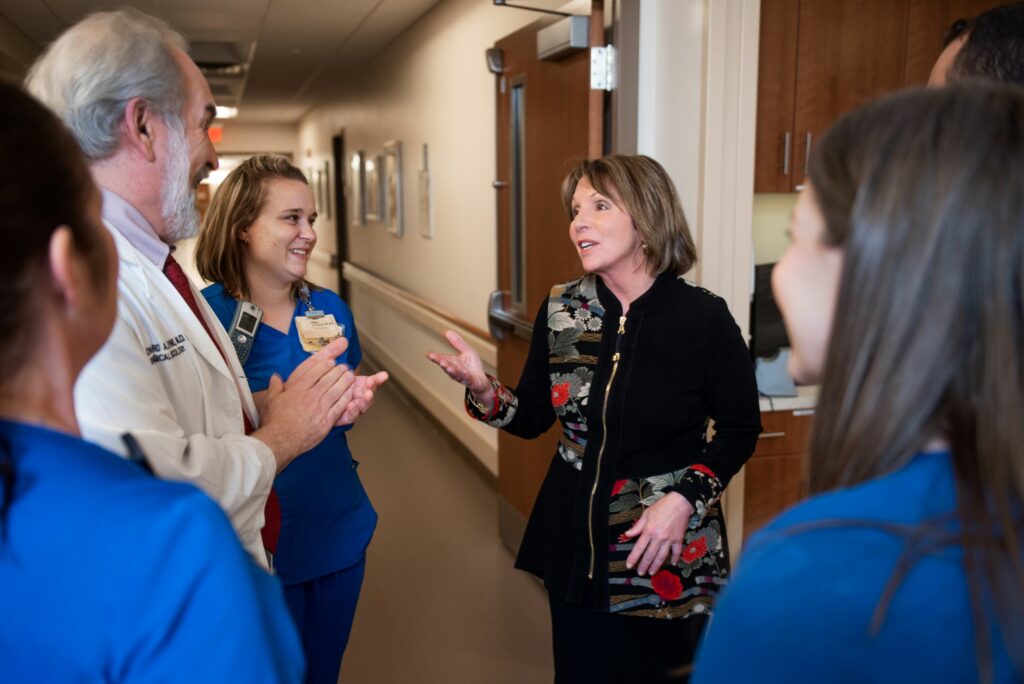 Cathleen Wheatley '17DNP, RN, CENP
Over the course of her extraordinary career as a nurse executive, Cathleen Wheatley's proudest achievement has been improving practice standards, competencies and clinical outcomes across the 12-hospital government health system in the Emirate of Abu Dhabi, UAE. As chief nurse executive from 2012 to 2014, Wheatley led a workforce of 7,000 nurses and 3,000 allied health providers heralding from some 72 countries, most practicing in their second or third language. Today, Wheatley serves as president of the 885-bed Wake Forest Baptist Medical Center which includes the Brenner Children's Hospital and a cancer center. Although the organization is markedly different from the one she led in Abu Dhabi, the results Wheatley has achieved are similar — reduced adverse events, shorter length of stay, lower mortality, fewer readmissions and better patient experiences. A tireless champion of the profession, Wheatley serves in leadership roles with numerous organizations including president of the board of the Friends of the National Institute of Nursing Research. "I am inspired every day by frontline nurses and other clinical staff who dedicate themselves to improving care for every patient every time, no matter how challenging that may be," says Wheatley. "They give their all with dedication, grace and professionalism."
---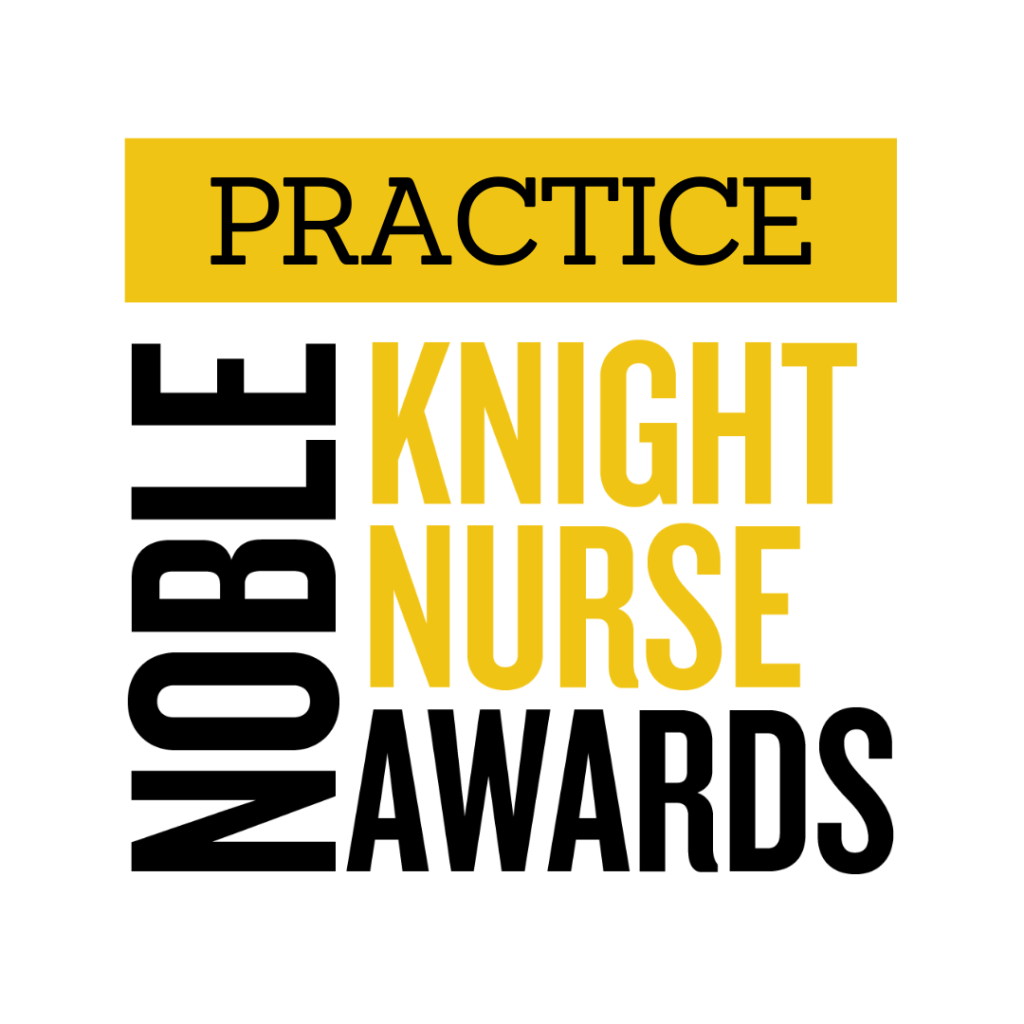 Knight nurses, from RNs to NPs and those practicing at the highest level, who are providing high quality, skilled, compassionate clinical care and making a difference in the lives of others.
---
Suzanne Ashworth '11MSN, APRN, CCRN, CCNS
Suzanne Ashworth "has promoted the nursing profession by being a true mentor for clinical nurses," says a colleague. "She works closely with her team to educate, inspire and promote improved patient outcomes." Ashworth has spent nearly three decades in critical care at Orlando Health, working as a neuroscience ICU nurse, an ICU nurse educator, an ICU nurse clinician, and for the past 10 years, as a clinical nurse specialist in neuroscience. In her current role, she has implemented best practices to decrease catheter-associated urinary tract infections, ventilator-associated pneumonia, and central line-associated bloodstream infections. In fact, implementing daily chlorhexidine bathing in critical care to reduce bloodstream infection was Ashworth's evidence-based project while a graduate student at UCF. In the decade since, that project has led to a significant reduction in infections at Orlando Health and saved patient lives. Ashworth is often consulted for her knowledge in neuroscience critical care, and regularly shares her expertise locally and nationally through podium and poster presentations. "Throughout my career, patients and family members have been my inspiration to strive for excellence," she says. "To quote Maya Angelou, 'They may not remember your name, but they will remember how you made them feel.'"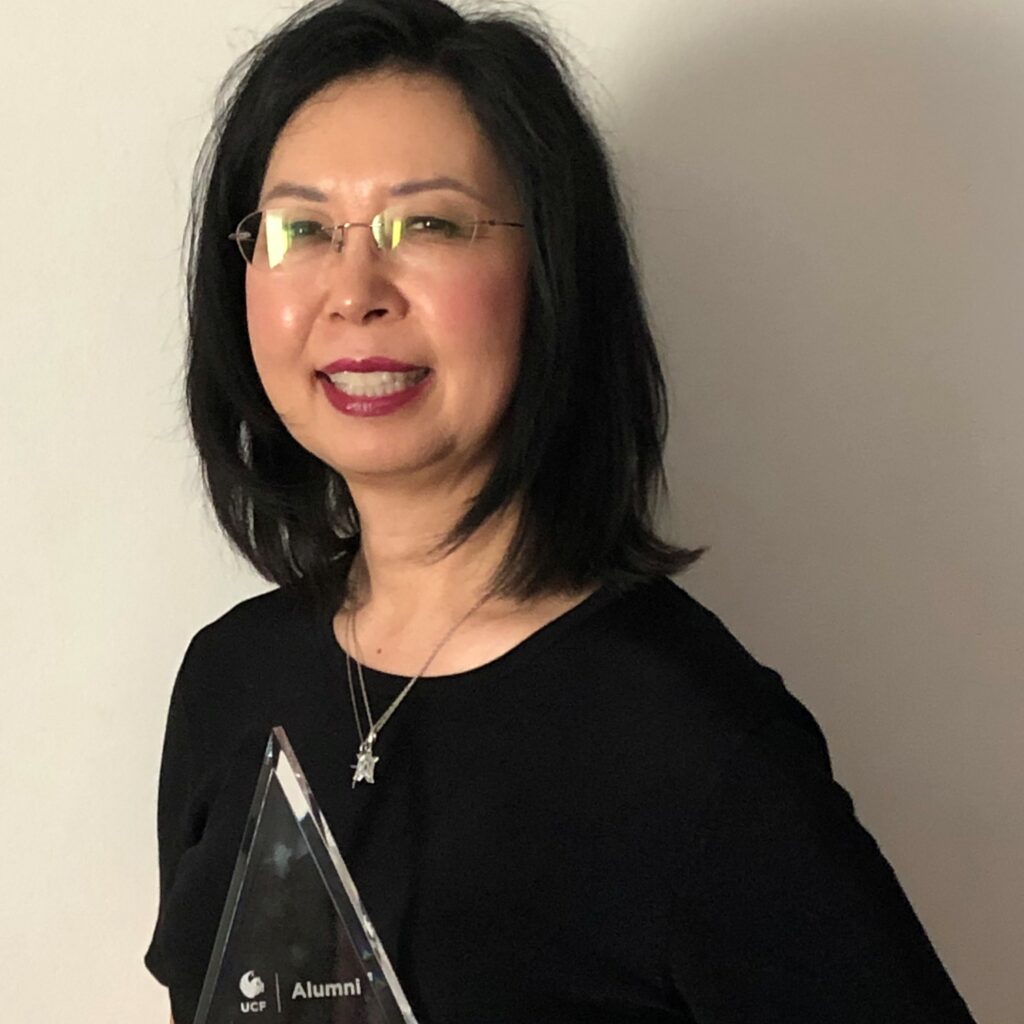 Patricia Geddie '15PhD, APRN-CNS, AOCNS, FCNS
"The patients who 'walk' through the cancer journey can feel overwhelmed and stressed," says Patricia Geddie who has spent the last 30 years of her career working as a clinical nurse specialist in adult oncology. In that role, which for the past two decades has been at Orlando Health, she serves as a clinician, educator, researcher and advocate for patients with cancer. "Cancer patients often rely on nurses for guidance and support. It is my privilege to support and mentor nurses to strive for excellence that will drive positive patient outcomes," she says. For her contributions, in 2019, Geddie was inducted into the inaugural class of fellows in the Clinical Nurse Specialist Institute and named Advanced Oncology Clinical Nurse Specialist of the Year by the Oncology Nursing Society. Her passion to advance the practice of oncology nursing is evident in her leadership, previously serving as president of the Central Florida chapter of the Oncology Nursing Society, and in her research, which focuses on older adult cancer patients and their support systems at home and has been published and presented widely. She has also conducted numerous quality and process improvement projects to improve patient care. "Regardless of her role," says a colleague, "she makes an impact on nurses and patients at many levels."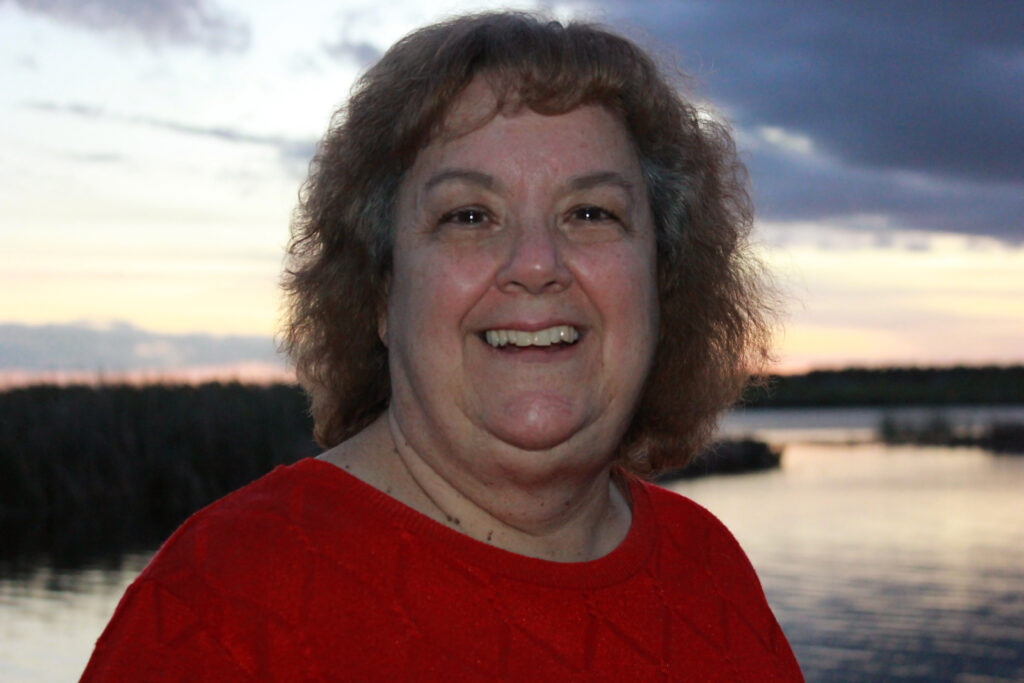 Lori Hill-Bigelow '81BSN, PCCN
A member of UCF College of Nursing's first graduating class in 1981, Lori Hill-Bigelow has devoted the intervening four decades to nursing practice – caring for a unique and complex group of patients in the cardiac intervention unit at Orlando Health. A born leader, Hill-Bigelow, according to a supervisor, "is the person all of our nurses want to have at their sides when times become challenging — be it lab draws, starting IVs on 'hard stick' patients, first days on the unit for new graduate nurses, or managing high patient flow and bed shortages." Known for her infectious laugh and team-first attitude, Hill-Bigelow "has made countless contributions to make 5B CIU a cohesive nursing team," her supervisor says. "She continuously shows staff what it means to feel supported." Hill-Bigelow has earned both a Clinical Nursing Excellence and DAISY award for her compassionate care and clinical skills. But what inspires her daily as a nurse are her patients. "Giving them the best care possible is what I strive to achieve every shift," she says.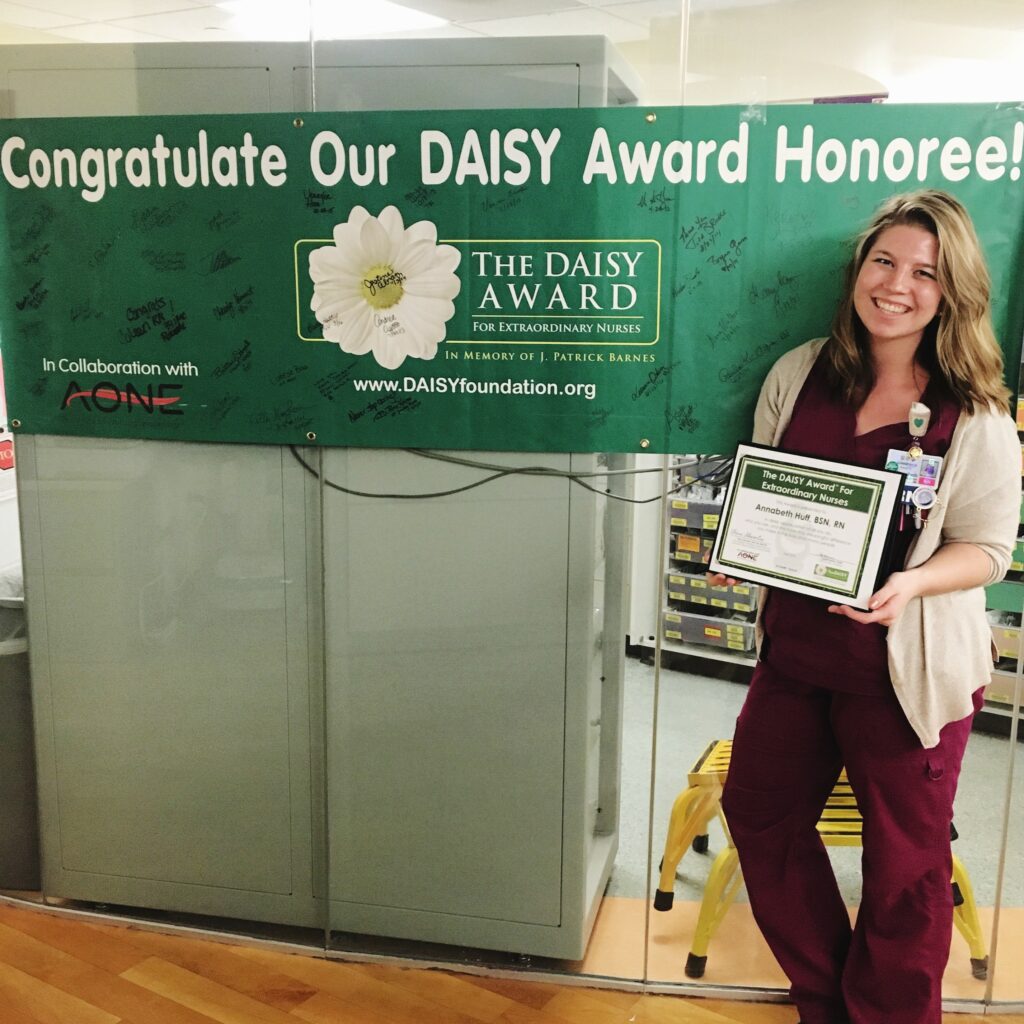 Annabeth Huff '15BSN, MSN, APRN, CPNP-PC, CPHON
There is not a single achievement of her career as a pediatric nurse and now pediatric nurse practitioner that she's most proud of, says Annabeth Huff. Rather she says, it's "all the moments along the way: The time I held a parent's hand as their child passed away. The time I sang the end-of-chemo song as a patient rang the bell. The time a patient applied to college because I believed they would get in. The time I did chest compressions and the rhythm came back." Another one of those moments came when a 2-year-old girl had just been admitted to the hospital after being diagnosed with leukemia. "I was lost and had emotions that I didn't know were possible," says her mother. "God sent me an angel. Annabeth was patient with me, helped me calm down, and educated me about all of the new terminology I never thought I'd have to learn. "As the weeks and months dragged on, she played with my daughter and showed her a love she never had to, all while working hard to get her nurse practitioner degree. I truly believe she was made for this job." Today, Huff is a board-certified pediatric nurse practitioner at Orlando Health Arnold Palmer Hospital. "I feel privileged to care for the bravest and strongest tiny humans," she says. "My patients inspire me to provide high quality and compassionate care."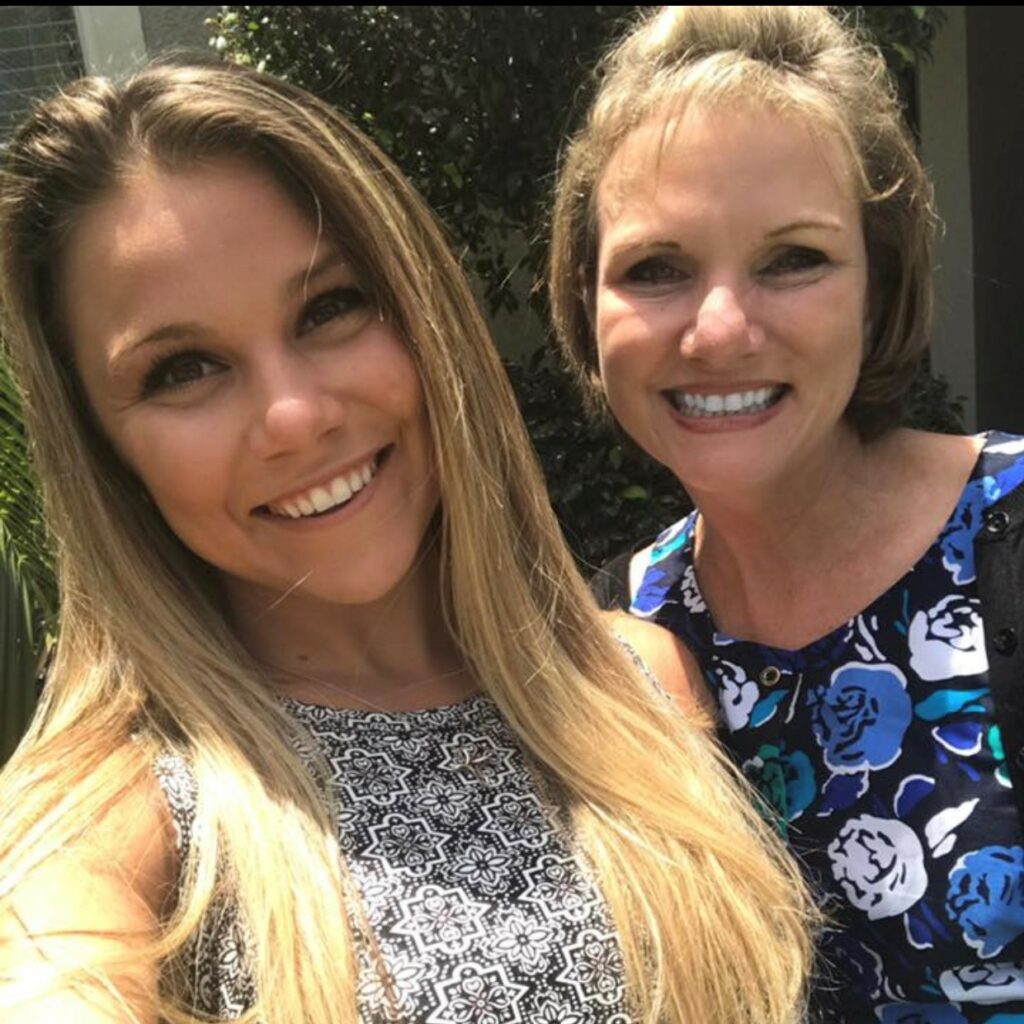 Cynthia Kling '97BSN, '05MSN, APRN-CNS, CCNS, CCRN-K, CPN
Two-time UCF nursing alumna Cynthia Kling's career exemplifies excellence in practice, research and service. A pediatrics and pediatric critical care clinical nurse specialist at Arnold Palmer Hospital for Children since 2006, Kling has been instrumental in implementing evidence-based projects and initiatives to improve patient care. Her contributions include the implementation of a pediatric defibrillator across the system, development of an abdominal pressure measurement guideline in the pediatric intensive care unit (PICU), implementation of nurse-led sedation in the PICU, the implementation of alarm management standards in pediatrics, and many others. An active researcher, Kling has participated in the completion of seven research studies, serving as principal investigator in two of them, and published and presented nationally. In 2019, she was honored with the Allied Health Professional Best Paper Award by the American Academy of Pediatrics Section on Transport Medicine. She also received a Nursing Clinical Excellence Award from Arnold Palmer Hospital. "I am so proud of the contribution of nursing to patient care," says Kling. "I am inspired every day by the amazing nurses that I work with and the care we provide to children."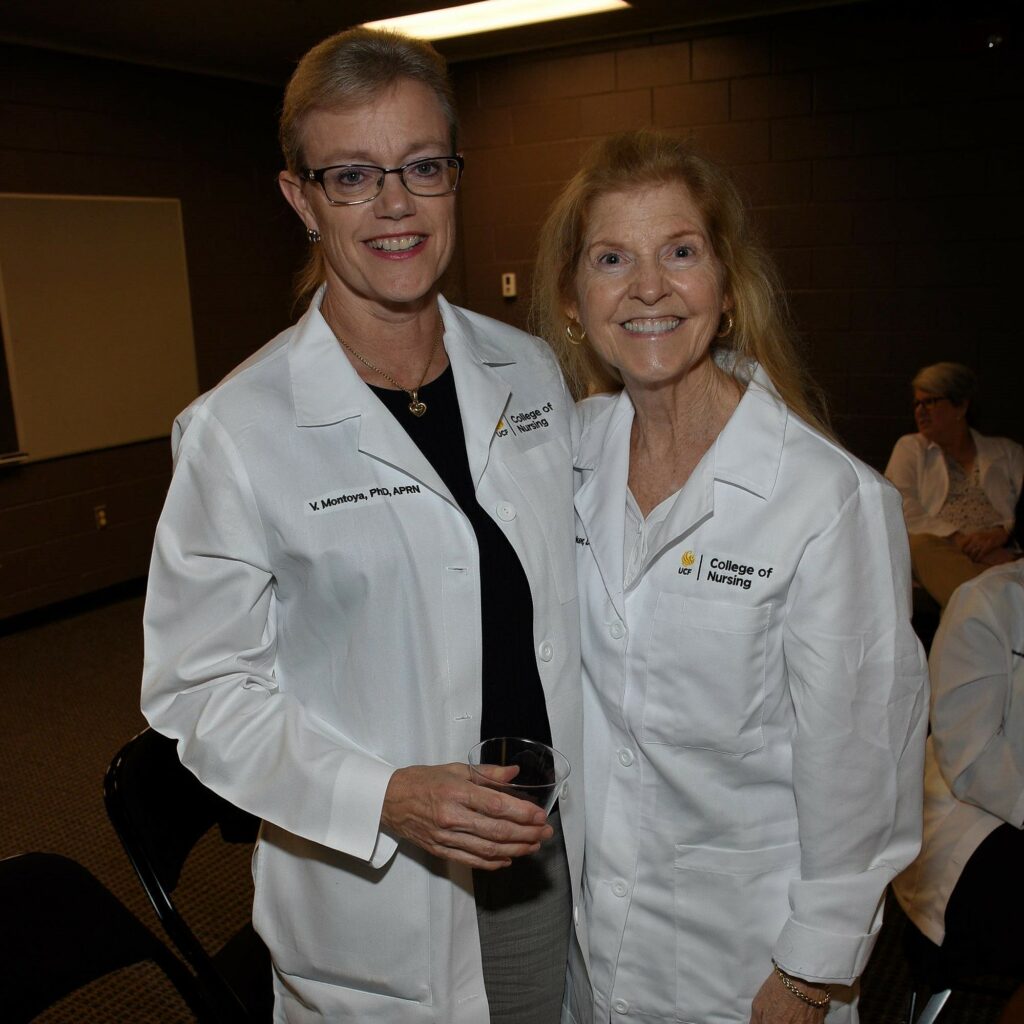 Vicki Montoya '83BSN, '01MSN, '13PhD, APRN, FNP-BC
Throughout each chapter of her career, three-time alumna Vicki Montoya has made an impact – first at the bedside, then in advanced practice and research. "I am inspired by the ability we have as nurses to make a difference in our patients' lives by combining knowledge with a tender heart," she says. After earning her BSN from UCF in 1983 as a member of the program's third graduating class, Montoya worked for 19 years as a staff RN at Orlando Regional Medical Center providing care to adults with life-threatening cardiac conditions. Then, believing that she could do even more to help chronically ill patients, she returned to UCF to earn her master's degree and became a family nurse practitioner — providing care to patients with kidney disease in an outpatient nephrology clinic. In 2013, she completed her Nursing PhD and has made advancements in the field of nephrology with her research. Among her contributions include the development of a successful new technical intervention to reduce chronic kidney disease-related fatigue and symptoms. In addition to mentoring and educating future nurses now as an assistant professor at UCF, Montoya still serves patients part-time as an APRN with Nephrology Associates of Central Florida.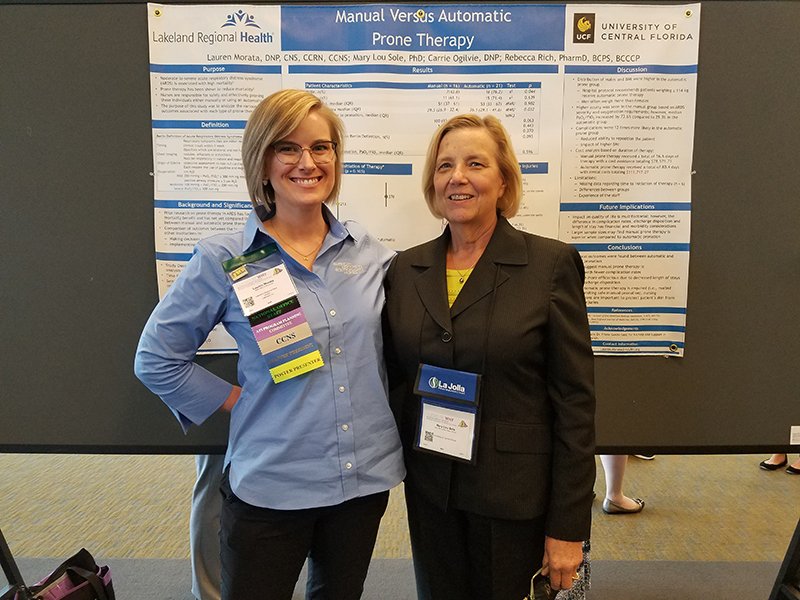 Lauren Morata '09BSN, '17DNP, APRN-CNS, CCRN, CCNS
It's been only a little more than a decade since she graduated with her first nursing degree from UCF and began her career, but Lauren Morata has already made significant impacts on improving patient outcomes – most recently with the COVID-19 pandemic. Years prior to the pandemic, for her DNP project at UCF, the critical care and trauma nurse designed protocols for prone therapy and showed its benefit over automatic methods. During COVID-19, as a clinical quality consultant with Lakeland Regional Health, she refined the system's prone protocols and has become a nationally recognized nurse expert on the therapy. She has also been instrumental in promoting and implementing other patient-centered, evidence-based practices, such as leading a successful effort to reduce peripherally inserted central catheter utilization and decrease central line-associated bloodstream infections. "She created a safe environment for dialogue, invited and incorporated perspectives of others, and most importantly, identified common ground among all stakeholders, reducing patient harm," says a colleague. Last year, Morata was honored with the prestigious Circle of Excellence award by the American Association of Critical Care Nurses. "It was an honor to even be considered," she says, "and I am stunned that I have accomplished enough in my career to have achieved this distinction." "I believe it is a series of events, decisions, patients and influencers who have led me to where I am today," she adds.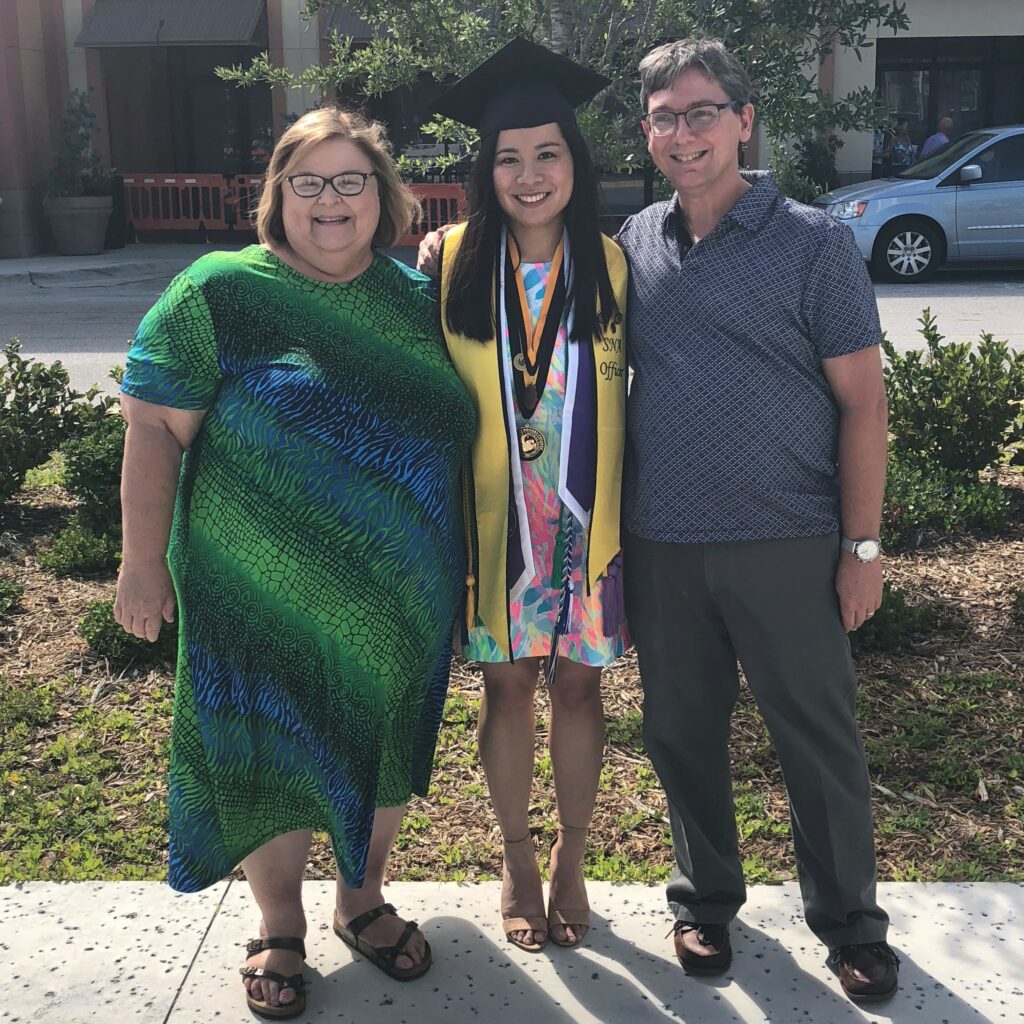 Sarah Rose Thornton '18BSN, CCRN
"She always goes above and beyond for her patients, and provides the most compassionate care a nurse can give," says a colleague and mentor of Sarah Rose Thornton. After earning her BSN from UCF in 2018, Thornton worked in a multi-system ICU – caring for patients who "are usually at their absolute worst," says the colleague. "Sarah Rose not only has the clinical skills to take care of these patients, but she also has the critical thinking skills that allow her to anticipate her patients' needs and wants even if they are intubated or sedated." In her continual pursuit of knowledge and excellence, Thornton became certified to be able to provide care to more patients in the ICU, including those with acute and chronic illnesses, and recently completed her second UCF degree – a Nurse Educator MSN – to ensure future generations of compassionate, skilled Knight nurses. Thornton, who early this year moved to the pediatric ICU, is proud of her time in her previous unit. "I was honored," she says, "to work with and be led by nurses who truly exemplified what it means to be a nurse through their caring practice, teamwork and skill level." In her new pediatric role, she says, "the patients I care for have shown an insurmountable amount of resiliency and optimism that is overwhelmingly inspirational and affects me each shift."
---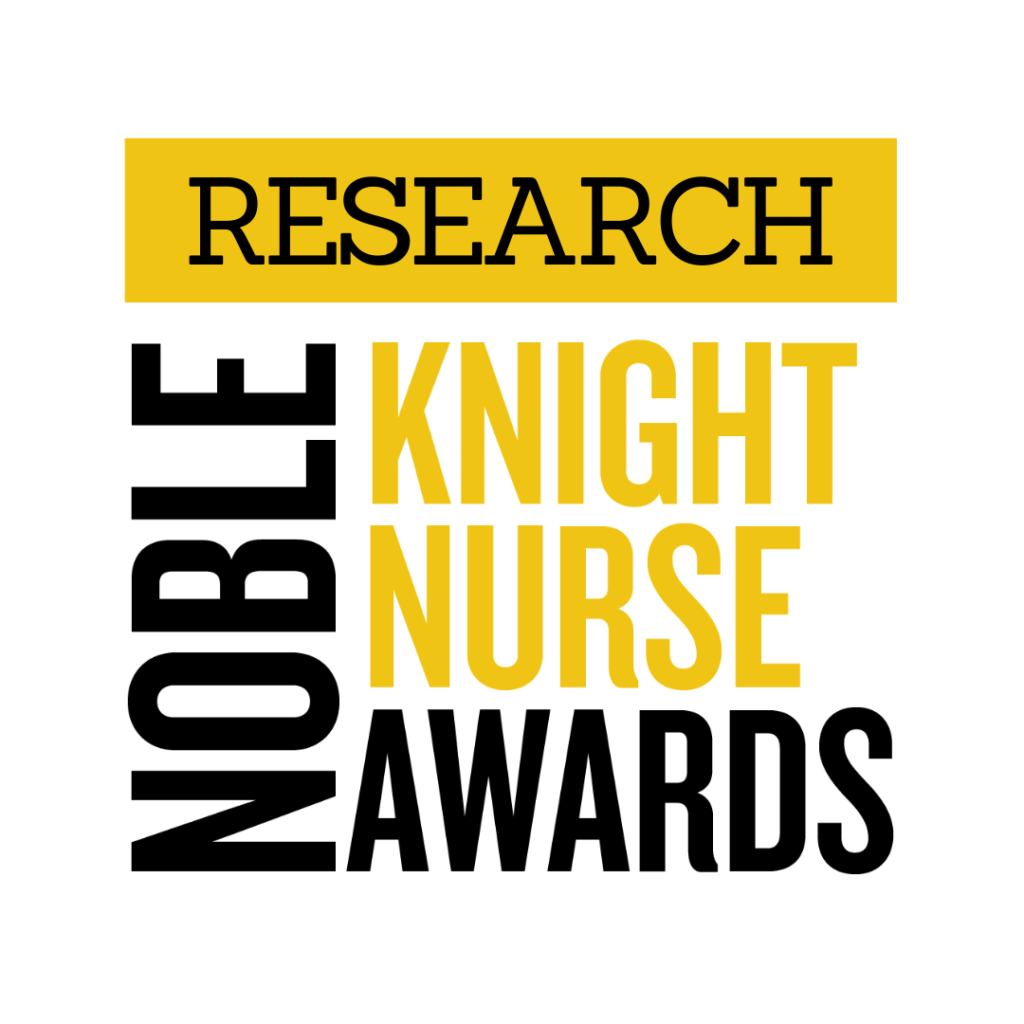 Albert Einstein once said, "To raise new questions, new possibilities, to regard old problems from a new angle, requires creative imagination and marks real advance in science." These Knight nurses are doing just that, through their innovations and research advancing the profession and ensuring a healthier future for all.
---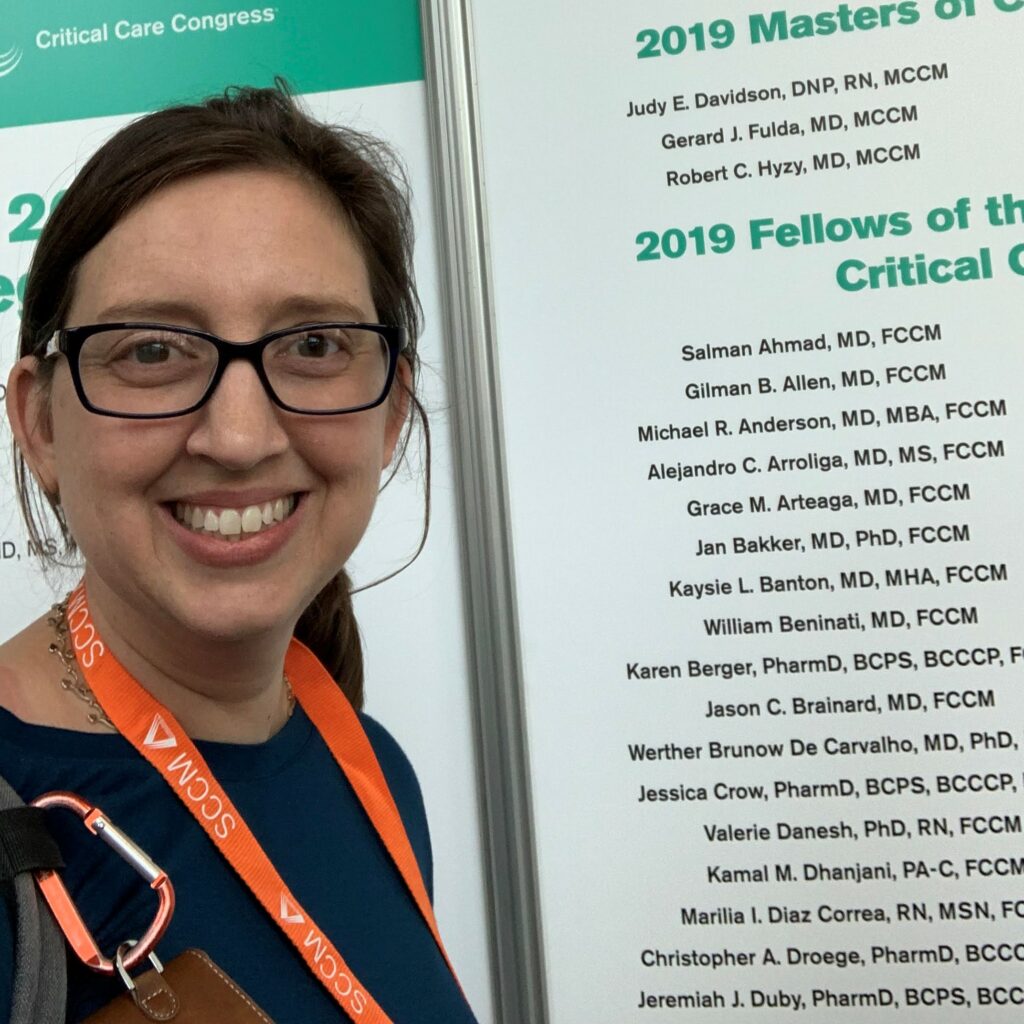 Valerie Danesh '03, '06BSN, '06MS, '15PhD, RN, FCCM
"Valerie was, and is, an overachiever," says a mentor and former colleague of Valerie Danesh. At UCF, Danesh completed her MS in Health Services Administration while at the same time completing the accelerated second degree BSN program. She then worked at Orlando Health in the research department while earning her PhD. Today she continues to achieve new heights as a nurse researcher, focused on nursing surveillance in critically ill patients to improve patient outcomes and earning the honor of national fellow of the American College of Critical Care Medicine, and as assistant professor of adult health nursing at the University of Texas where she mentors and advises not only graduate students in her program but also undergraduate nursing students and students from other disciplines. In addition, she serves on an American College of Critical Care Medicine task force that is developing practice guidelines for the monitoring and surveillance of critical illness outside of the ICU. "Nurses are uniquely embedded within healthcare systems with insights into patient-centered care gathered from delivering bedside care to navigating patient flow to assessing system-level outcomes," says Danesh. "Nurse researchers are well-positioned to serve as leaders of multidisciplinary teams to build the evidence base for informing and guiding healthcare delivery and workflow."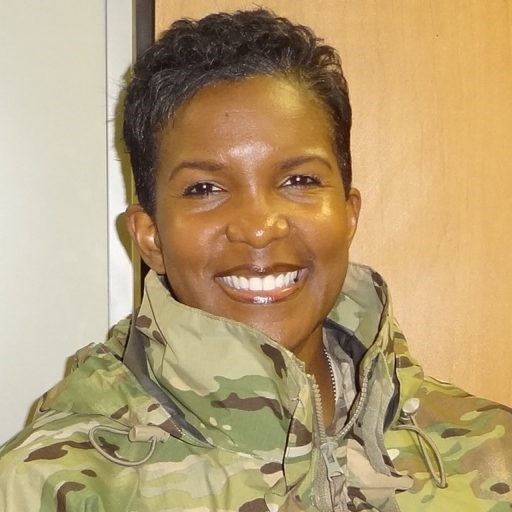 LTC MeLisa Gantt '10PhD, RN, CNOR(E)
MeLisa Gantt has always had a quest for knowledge. In 1988 she joined the U.S. Army as an operating room technician. That began an impressive 28-year career in both the military, where she was promoted up to the rank of Lieutenant Colonel, and in nursing. After working at the bedside in Army hospitals in the U.S., such as Walter Reed, and in Kuwait during Operation Iraqi Freedom in 2003, Gantt was assigned and promoted to a variety of leadership roles including starting a new research department at Fort Belvoir Community Hospital and overseeing military healthcare research conducted in Belgium, Italy and Germany. She did this while furthering her education, earning full military scholarships to pursue her MSN and later, her PhD in Nursing at UCF in 2007. Gantt retired from the U.S. Army in 2016 and is leveraging her years of experience to advise others through the Gantt Clinical Research Institute. She remains actively involved in research with a portfolio of more than $1 million in federally funded research studies in complementary and alternative medicine modalities for stress, pain and sleep. "I am inspired by the unsung researchers who dedicate themselves to topics that are often underfunded, pushed aside, or ignored by the mainstream," she says.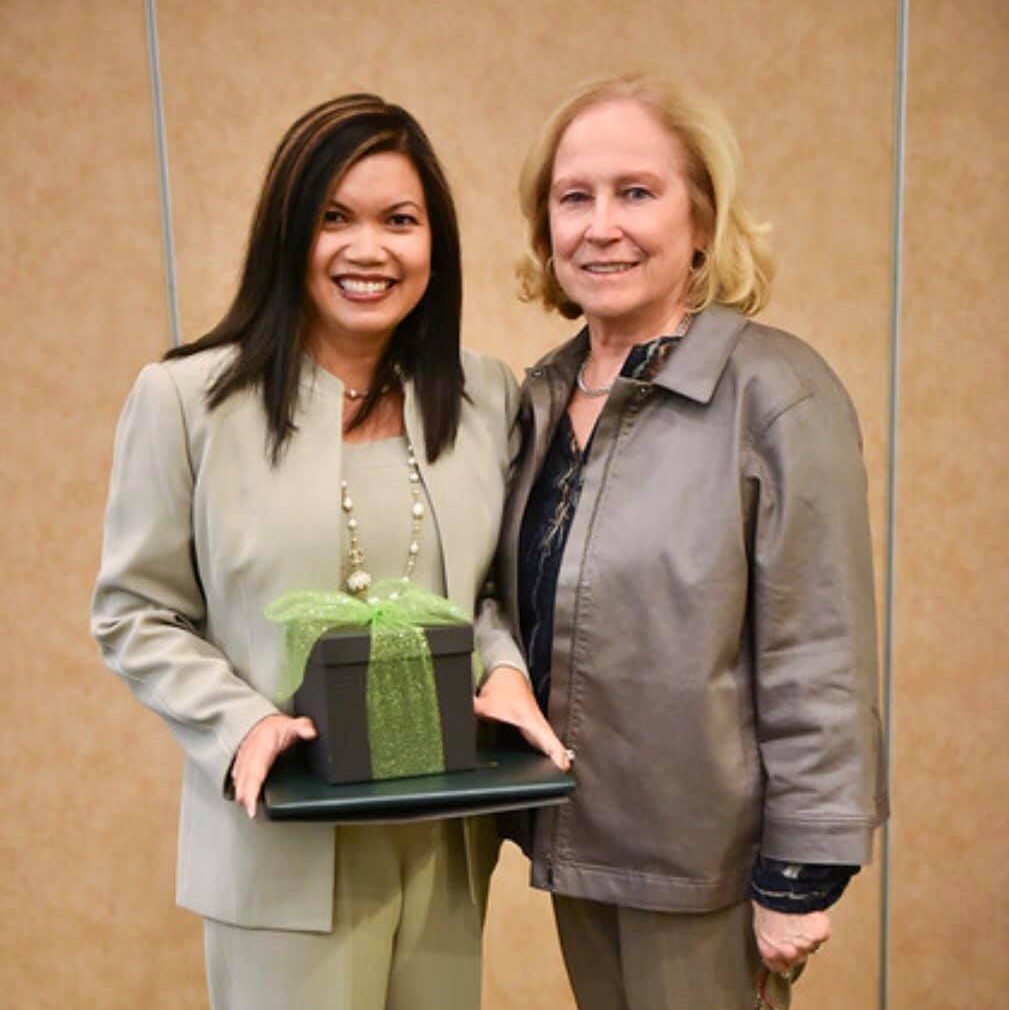 Sigrid Ladores '13PhD, RN, PNP, CNE, FAAN
"Individuals with cystic fibrosis and their families inspire me every day to do the best work I can as a researcher to shine light on many understudied areas in this complex genetic disease," says Sigrid Ladores, who has become a widely recognized researcher and expert in the field after earning her Nursing PhD from UCF in 2013. It's a disease Ladores knows well as her husband was born with CF and received a lung transplant in 2011. "Thankfully, due to advances in science and clinical care, people with CF are now living into their 40s and 50s," she wrote in an open letter to the family of the organ donor. Ladores has contributed significantly to those advances through her research, which focuses on reproductive health concerns in adolescents and young adults with chronic illnesses such as CF, and her work with the University of Alabama Birmingham's Cystic Fibrosis Research Center where she has conducted numerous funded research studies that have been published and presented widely. Her success is a result of her drive and hard work. "I am proud of my 'successful immigrant story' — a story about sacrifice and seeking opportunities to advance in life despite obstacles."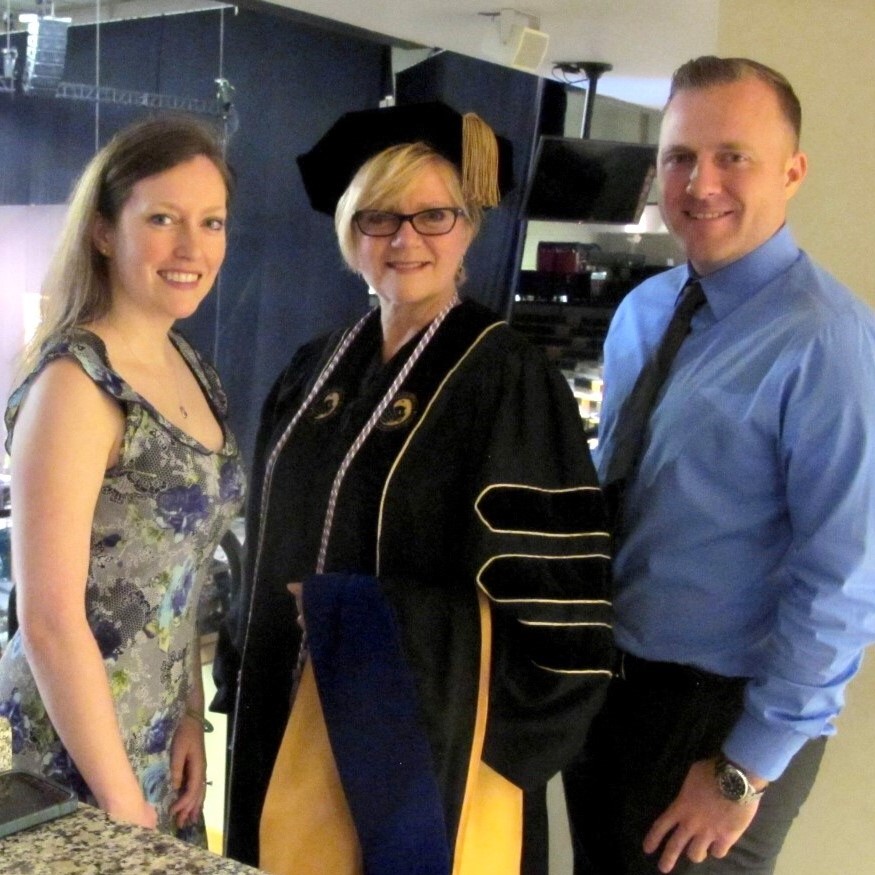 Valerie Lapp '99BSN, '09MSN, '16PhD, RN
Triple alumna Valerie Lapp has always been a champion of research. As magnet coordinator and program manager for nursing and special projects at Arnold Palmer Hospital for Children and Winnie Palmer Hospital for Women and Babies for the last decade, Lapp was a mentor for quality and performance improvement projects, and researcher who developed abstracts shared nationally and internationally. In addition to her leadership in that role, which helped the facility earn Magnet designation in 2013 and 2018, Lapp found time to conduct and publish her own independent research. Most recently, "The Patient's Voice: Engaging Adolescents in Their Hospital Care," was published in the Journal of Pediatric Nursing. Lapp also is chair and founder of the Nursing Research and Evidence-Based Practice Council and site coordinator for the National Database of Nursing Quality Indicators – Nursing Outcomes. "She is always looking for new ways to incorporate research, whether it is getting bedside nurses involved with the research council or trying to implement research into everyday practice," says a colleague. Now a nurse scientist with Orlando Health, Lapp is focusing her research on pediatrics, pregnant women, newborns and neonates, which she says is lacking. "It is my desire to add to the limited body of knowledge of these vulnerable populations."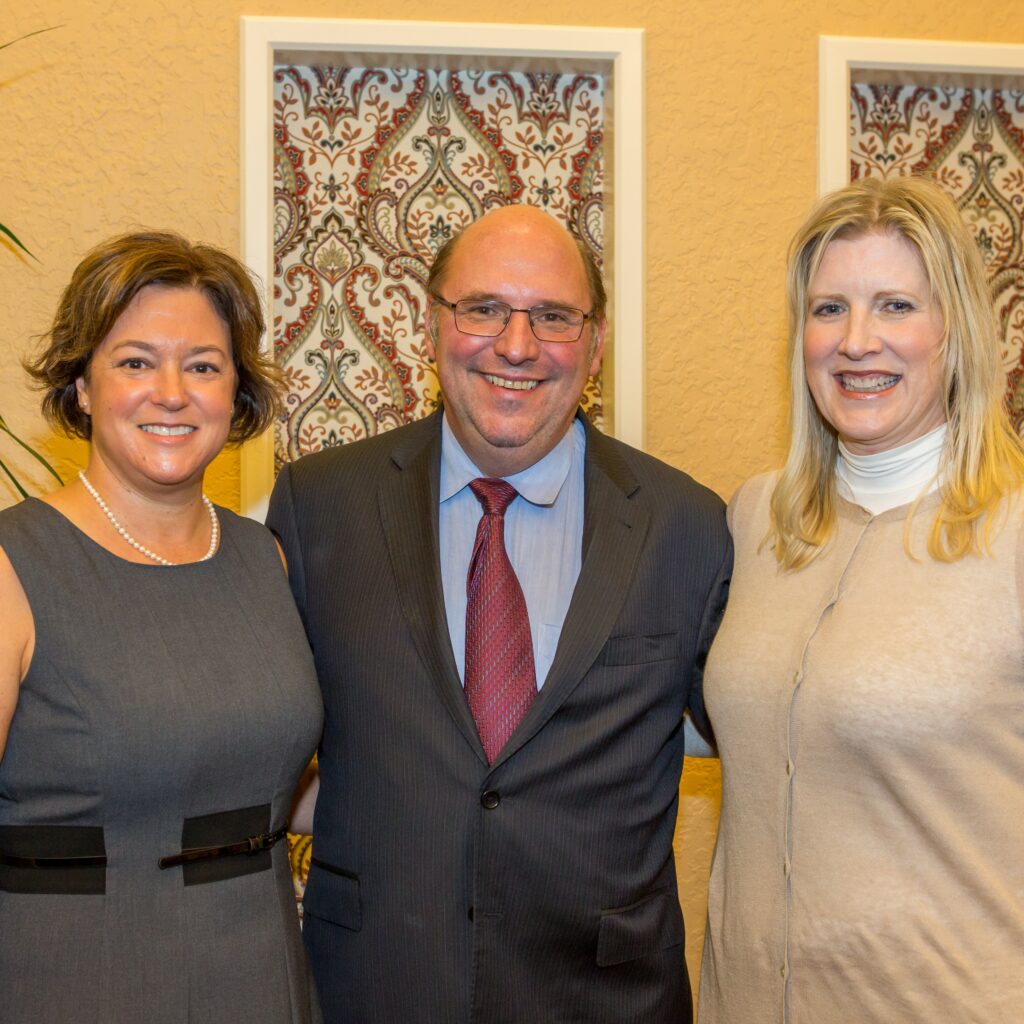 Victoria Loerzel '07PhD, RN, FAAN
It was at UCF where Victoria Loerzel was first exposed to research, working on a nationally funded study. "It was exciting," she says. So, she became part of the inaugural class of Nursing PhD graduates, where after graduation, she joined the faculty. Since then, the oncology certified nurse of more than two decades and Beat M. and Jill L. Kahli Endowed Professor in Oncology has dedicated her research to improving the quality of life for older adults with cancer. "My research focus became clear early in my career," says Loerzel who began her nursing career in the bone marrow transplant unit at Cleveland Clinic. "I discovered that older survivors behaved differently than younger survivors – often doing little or nothing to manage symptoms and are at high risk for severe side effects. But they don't have to live like that." With funding from the NIH, she has developed and is testing an innovative "game" to help older cancer patients manage their symptoms by helping them visualize the consequences of self-care decisions after chemotherapy. Perhaps as important as her own research is her work to mentor future nurse researchers as the Honors Undergraduate Thesis program director at the college. "My students inspire me to strive for excellence," she says. "They keep me motivated and engaged in research."
---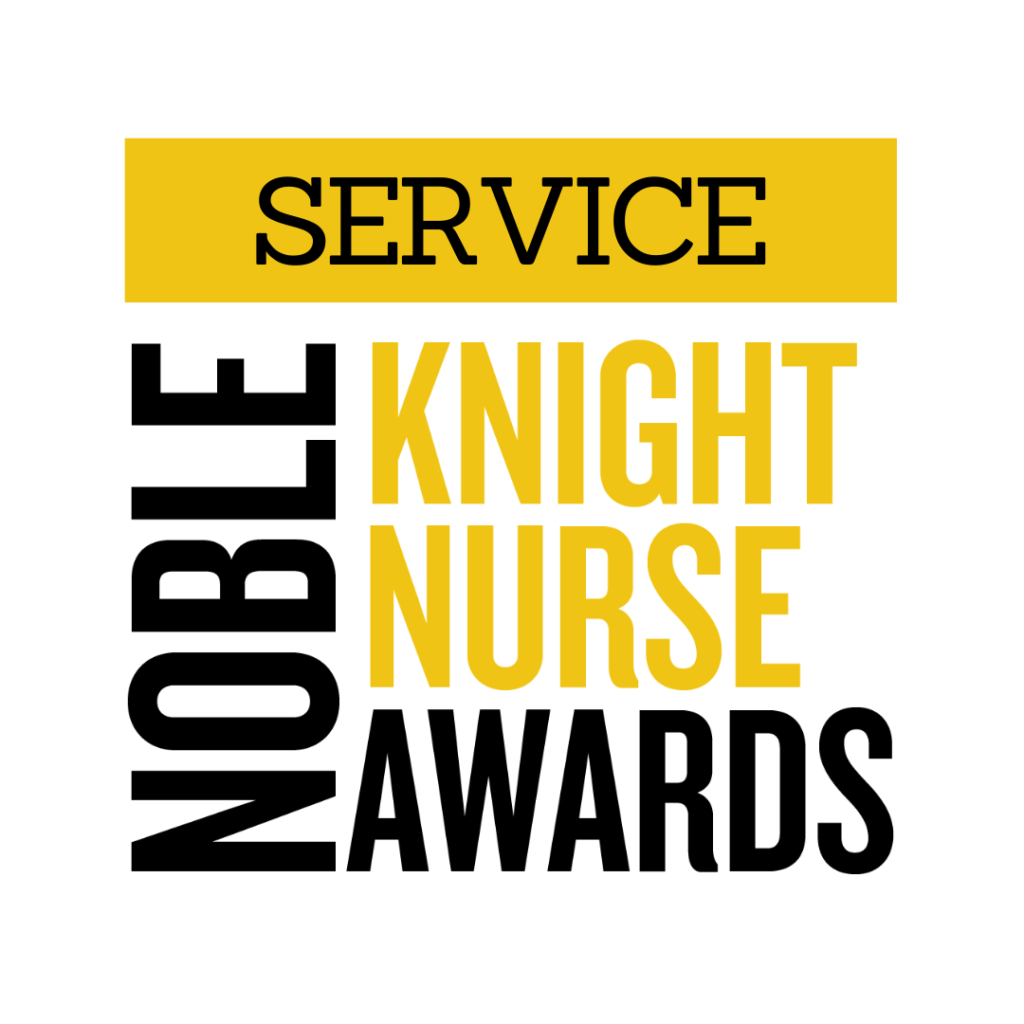 Knight nurses with a heart of gold. These alumni are shining bright as volunteers, advocates and military heroes to serve the underserved, promote global health, and address healthcare disparities in communities here and around the world.
---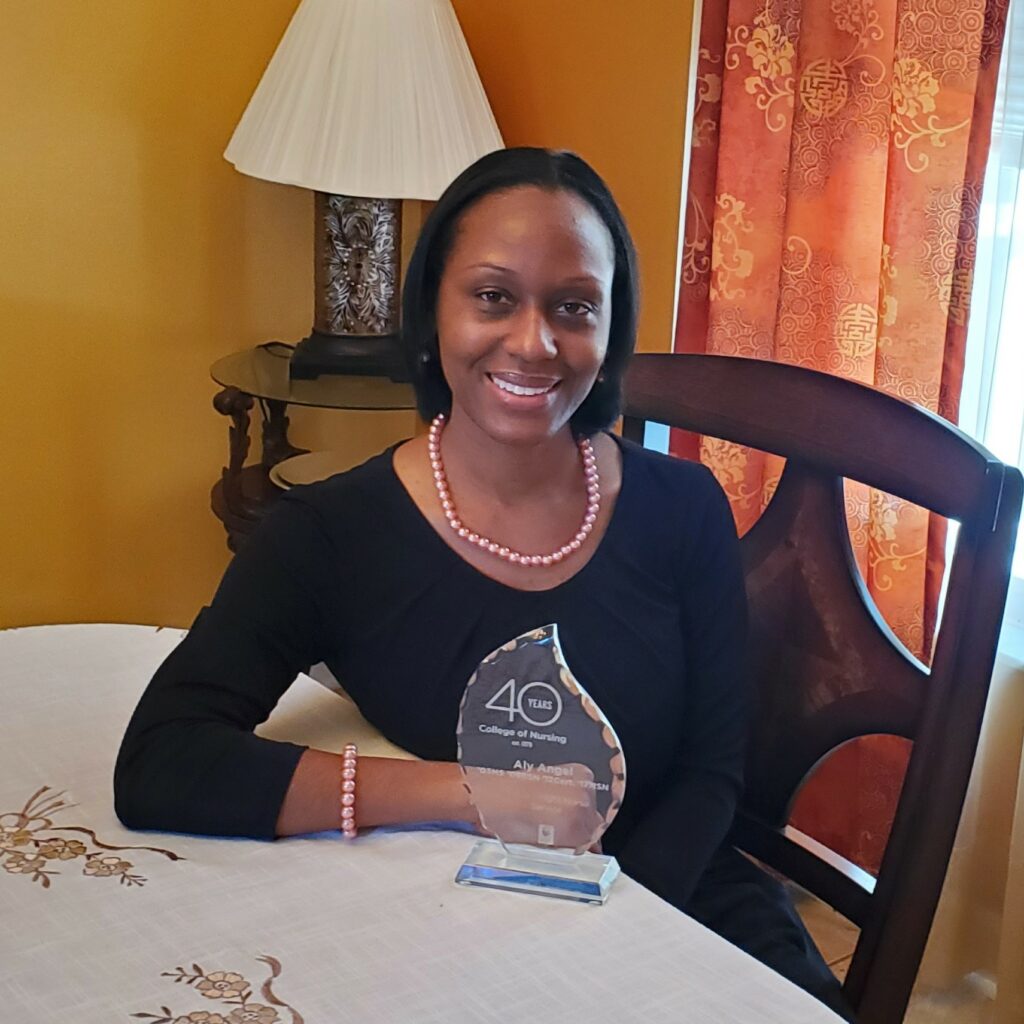 Alysa (Aly) Angel '03MS, '09BSN, '12Cert. '17MSN, APRN, CCRN, CCNS
After graduating with her BSN from UCF, Aly Angel served her country for nine years in the U.S. Army as a staff nurse and charge nurse at various duty stations around the world, including Walter Reed in Washington, D.C., Martin Army Community Hospital at Fort Benning, Georgia, and Brian Allgood Army Community Hospital in South Korea. In addition to serving military members, their families and veterans during her time in active duty, Angel served the underserved by volunteering in community outreach programs and international mission trips – earning several awards for her service. Now, back in Central Florida and working toward her doctorate to become a family nurse practitioner, Angel still serves her country as part of an Army Reserve unit and her community. She is a nurse with the Orlando VA, a clinical volunteer at Shepherd's Hope, a free clinic, and a Knight Nurse Mentor. The resiliency of black female pioneers who paved the way for her inspires Angel to "to strive for excellence and continue with their legacies as I encourage the next generation of minority women in healthcare."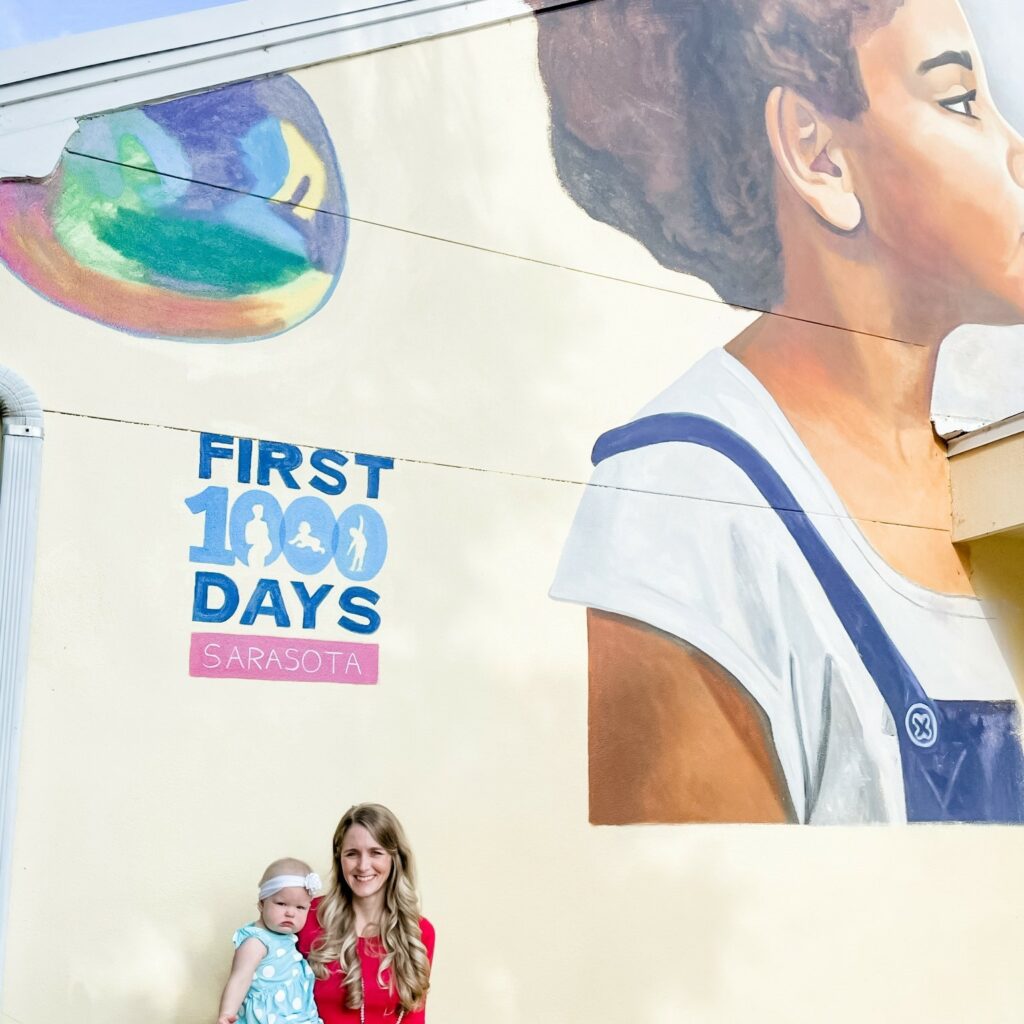 Chelsea Arnold '11BSN, DNP, APRN, FNP-BC, RN
Chelsea Arnold has dedicated much of her young career to improving the lives and health of vulnerable mothers, babies and young children — first as a pediatric, nursery, and mother-baby nurse and then, after earning her doctorate, as a family nurse practitioner with the Florida Department of Health in Sarasota. In that position, she saw firsthand the barriers at-risk families faced navigating services in the community. Now, as program coordinator for First 1,000 Days Sarasota, she works to break down those same barriers by coordinating services and increasing access to prenatal, newborn and early childhood developmental care. As a collaborative, county-wide effort, First 1,000 Days affords Arnold the opportunity to effect macro-level changes in the system of care. Arnold has also led several Sarasota-area initiatives, including the March of Dimes IMPLICIT care program to decrease premature birth rates and the Healthy Heroes program aimed at reducing childhood obesity. "Chelsea is a very rare kind of person," says a member of the First 1,000 Days steering committee, "a masterful combination of high intellect, passionate heart, relentless, hardworking nature and the kindest spirit I have ever seen."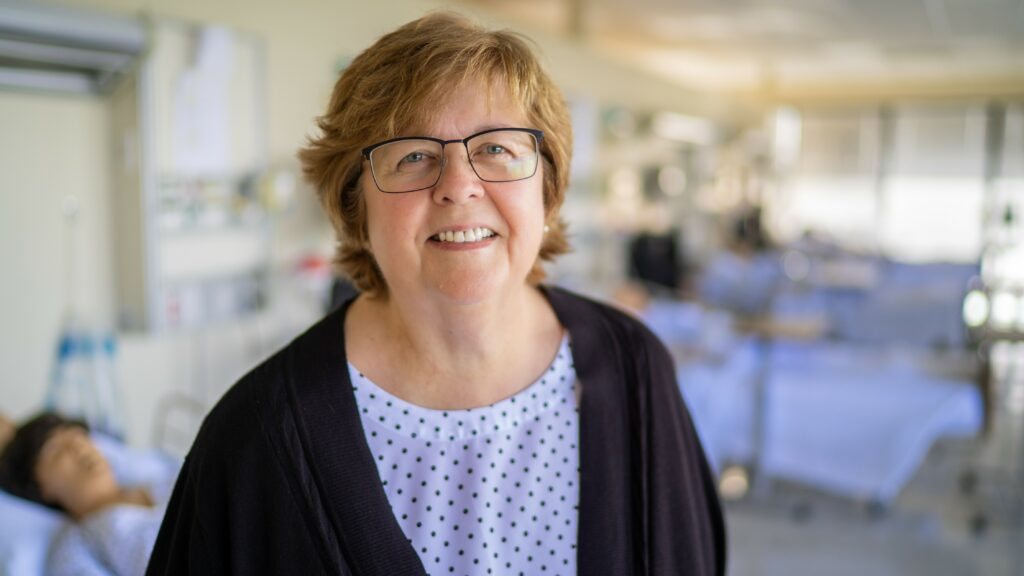 Jean Davis '19PhD, DNP, EdD, APRN, FNP-BC, PHCNS-BC
"My vulnerable patients inspire me to provide excellent care wherever they are and with whatever resources are available, be it in the U.S. or globally," says Jean Davis who — when not mentoring future nurses as an assistant professor at UCF — is making lives better as a researcher and as an advanced provider. In Florida, she is a volunteer provider at We Care Manatee, a free clinic in Bradenton for the uninsured, and provides care to the rural, impoverished Wimauma farmworker community in Hillsborough County. She also works with Remote Area Medical to provide disaster relief and recruit healthcare volunteers for free weekend clinics for underserved and underinsured individuals. In Nicaragua, Davis works with JustHope, teaching medical, pharmacy and nursing students while providing healthcare to rural Nicaraguan farmworkers whose yearly wage is often less than what we pay for a cell phone. Davis' interest in community health was sparked as a child, listening to her aunt and mother, both nurses, solve community health problems. Now she's making an impact not only as a provider, but also as a researcher exploring the ways physical activity can improve health and longevity particularly in veterans – earning her the distinction of being named a national Jonas Veterans Healthcare Scholar.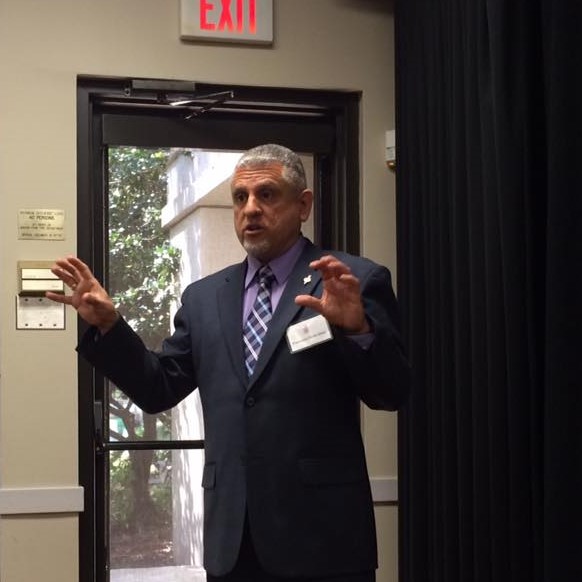 Frank Guido-Sanz '18Cert., PhD, APRN, ANP-BC, AGACNP-BC
"Providing the best healthcare and support during times of disaster or in austere environments to improve individuals', families' and communities' health is rewarding," says Frank Guido-Sanz, who has served as a volunteer nurse practitioner with the National Disaster Medical System (NDMS) Trauma Critical Care Team-South, the Florida Advanced Surgical & Transport Team (FAST), and the Miami-Dade County Medical Reserve Corps. For a combined 28 years, Guido-Sanz has helped in critical moments and provided advanced nursing care to the most vulnerable patients , deploying for the 2010 earthquake in Haiti as well as hurricanes in Texas and Florida. This past year, in addition to mentoring future acute care nurse practitioners as an assistant professor at UCF, Guido-Sanz was serving patients in crisis close to home working as a nurse practitioner in the ICU during COVID-19 at Jackson Memorial Hospital in Miami – the third largest hospital in the U.S. It isn't his service in perilous times, though, that he's is most proud of. Rather, it's his educational journey from BSN to a doctorate and an adult/gerontology acute care nurse practitioner certificate from UCF. "I obtained those degrees attending school full-time while working full-time and proudly raising two boys as a single parent," says Guido-Sanz.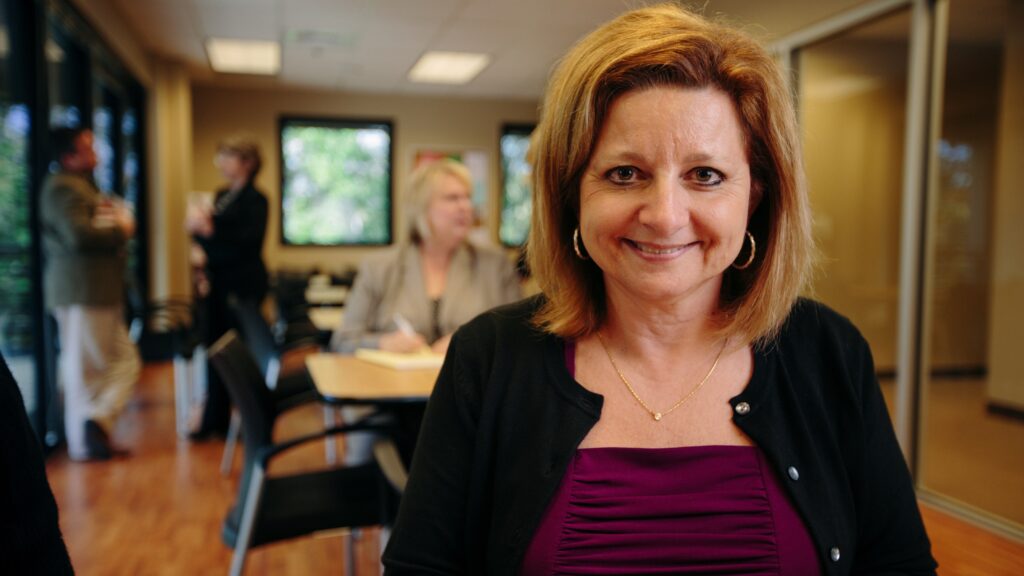 Maria Stahl '08MSN, '14DNP, RN
"Dealing with health disparities and community work 'takes a village,'" says Maria Stahl, who in her role as administrator and health officer for the Florida Department of Health in Brevard County essentially serves as the leader of that village. Employed by the FDOH in the county since 1995, she has steadily assumed greater responsibility for the community's health needs, beginning as senior community health nurse and advancing through a series of positions to nursing services director, before being appointed administrator in 2016, replacing a retiring physician. Stahl, who is now responsible for all public health services provided by the FDOH in her county, plays a pivotal role in the implementation of innovative public health programs. Recognized as both a clinical and community leader, she also serves in a variety of civic and volunteer roles, including with the Health Council of East Central Florida, the Space Coast Health Foundation and the Brevard County Opioid Task Force. Beyond her home community, she is a liaison and policy advocate to state and national public health and legislative leaders. Stahl, who has been an adjunct nursing instructor at the UCF Cocoa campus since 2010, says "My time with the UCF College of Nursing has enhanced my ability to lead and bring together partnerships to work toward common goals."
---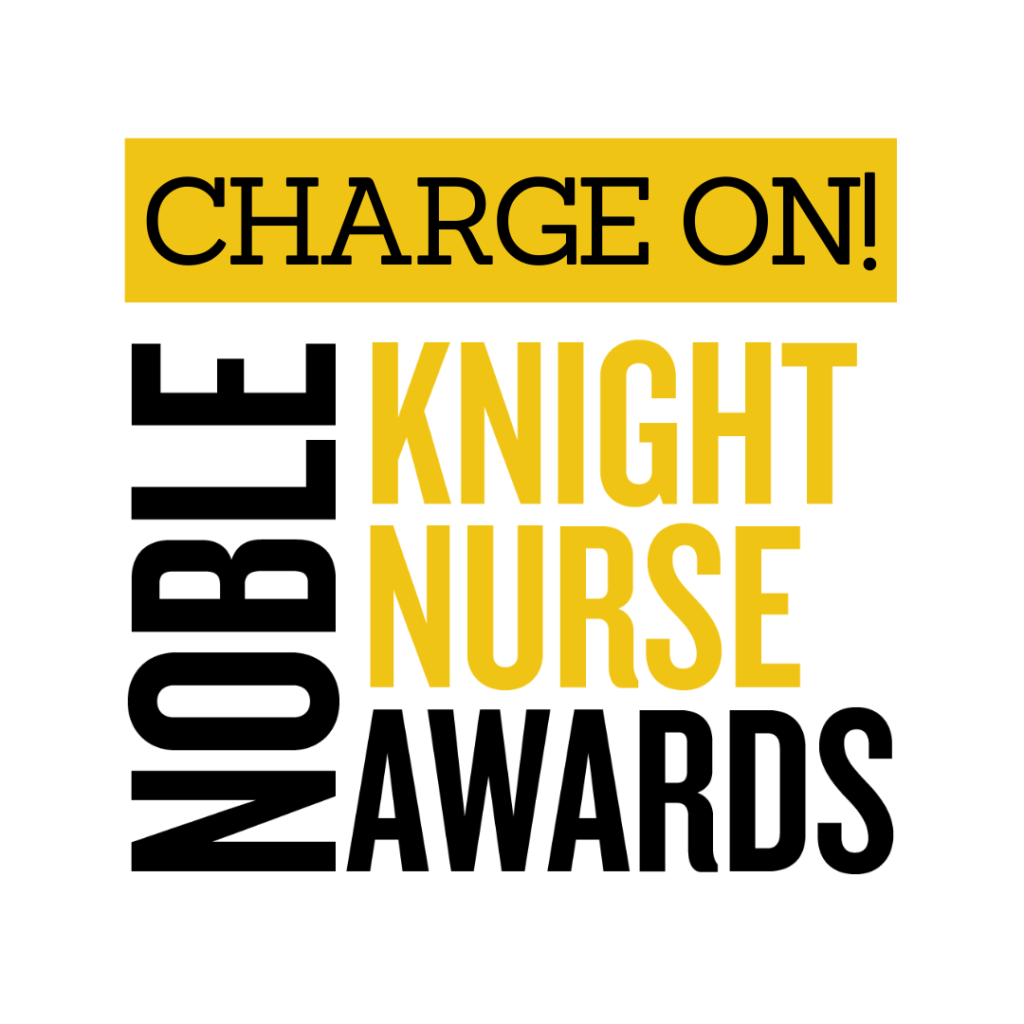 Armed with a degree, or two, from UCF, these Knight nurses have elevated the profession to new and extraordinary heights with their creativity, ingenuity and entrepreneurial spirit.
---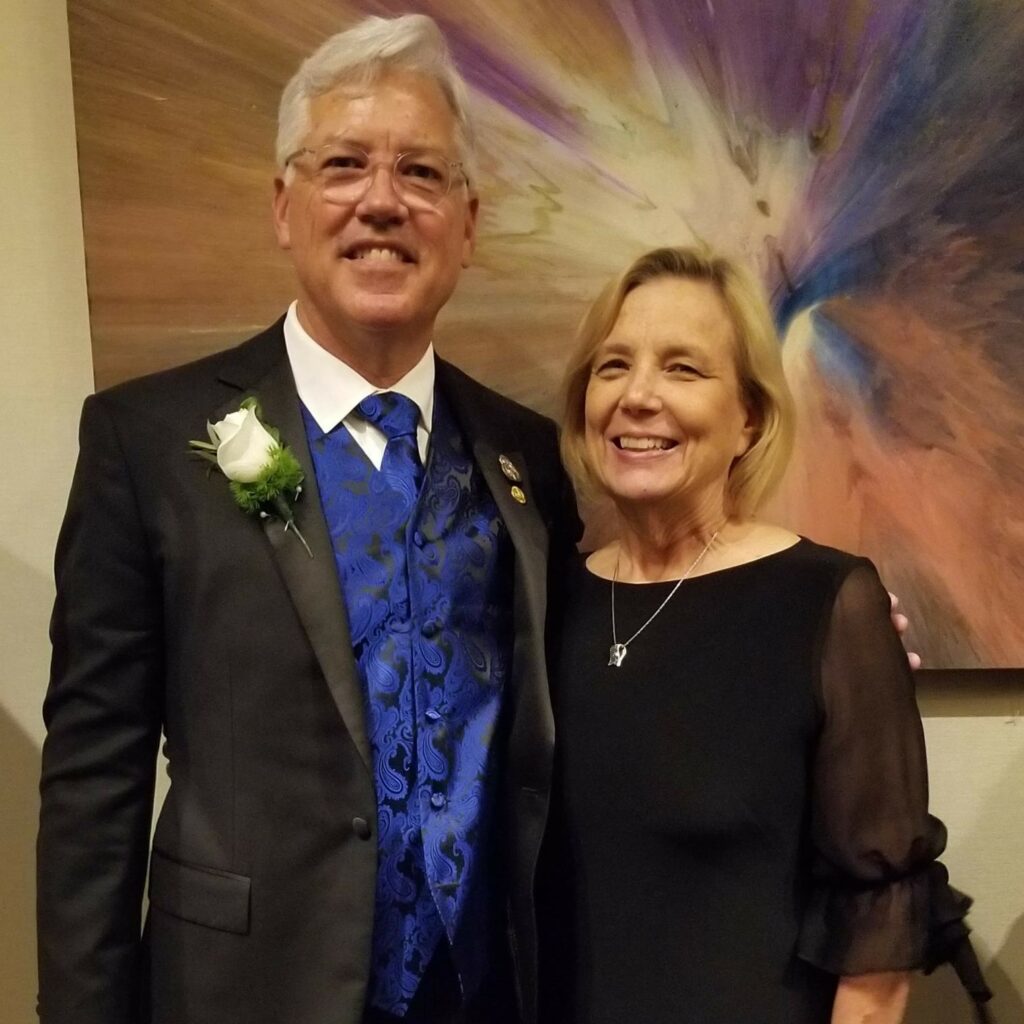 Kenneth Dion '91BSN, PhD, MSN, MBA, RN, FAAN
After honing his leadership skills as a nursing student at UCF, serving at the local, state and national level of the National Student Nurses Association, Kenneth Dion has led the future of nursing as an entrepreneur, inventor and scholar. Dion sought a career in nursing after initially working as a firefighter paramedic. He quickly moved from the bedside to the boardroom to impact a greater number of lives. Dion is the founder of Decision Critical, Inc., a cloud-based information company, and TurnPath, LLC, a healthcare technology incubator, and holds multiple patents. Decision Critical, launched in 1999, was a first-of-its-kind web-based learning management system company focusing solely on the educational needs of nurses. "Assuring nursing competency is assuring quality patient outcomes," Dion says of the company's impact. "It was like dropping the proverbial pebble in a pond. Its effects continue to ripple today." Today, Dion is assistant dean for business innovation and strategic relationships at Johns Hopkins School of Nursing and national president-elect of Sigma (formerly known as Sigma Theta Tau International Honor Society of Nursing). "I am inspired," Dion says, "by the nurse leaders and innovators whose shoulders I stand on, the future nurse leaders and innovators I have the honor of calling my colleagues, and by my mother as well as (UCF nursing faculty) Dr. Jean Kijek, Dr. Linda Henning and Dr. Maureen Covelli for launching me on my amazing nursing journey."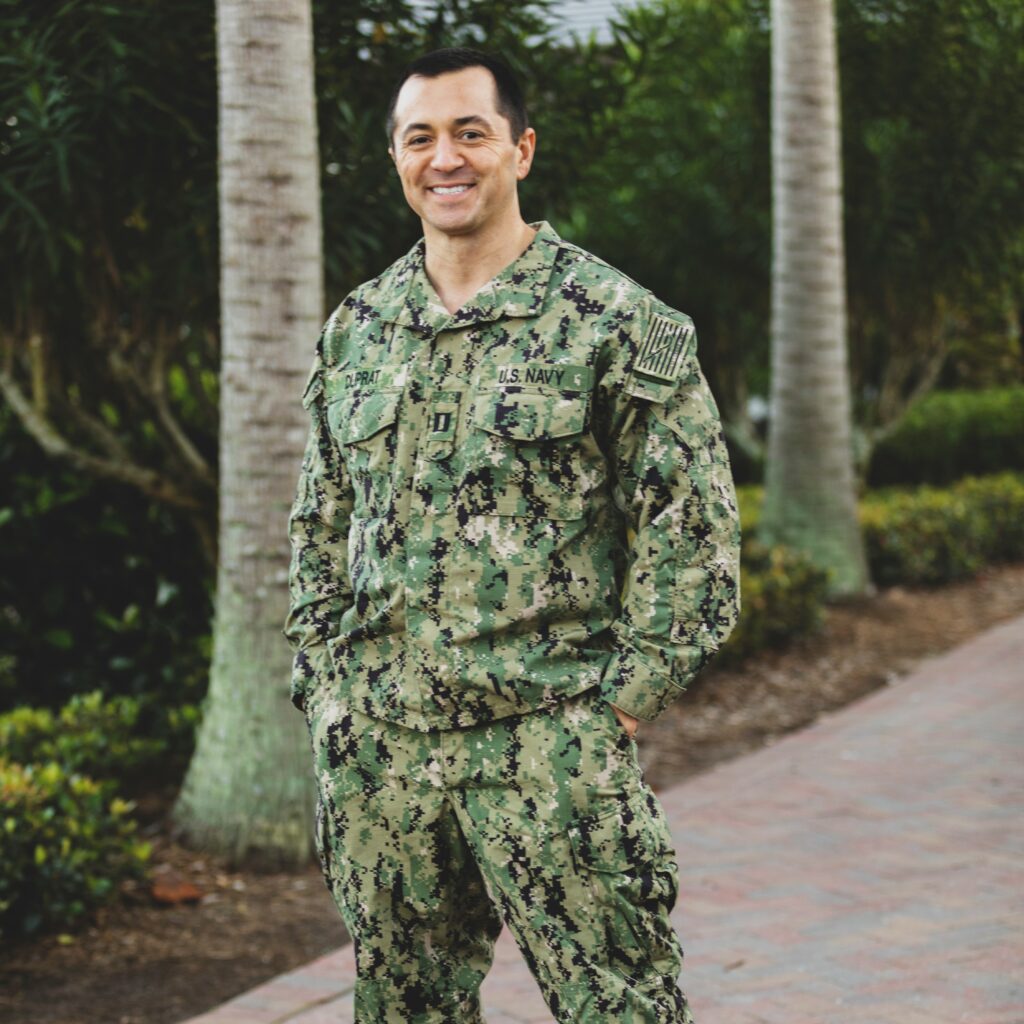 Jason Duprat '09BSN, MBA, MSA, CRNA, RN
Lt. Jason Duprat has made it his mission to serve others. After working in hospitality, he returned to school — enrolling in the accelerated second degree in nursing program at UCF — for a career that would be both challenging and rewarding. From UCF, Duprat joined the U.S. Navy Reserve as a training officer and nurse anesthetist. "It is a privilege to care for those who put their lives on the line for our freedoms," he says. In 2014, Duprat earned a master's degree in anesthesiology and became a certified registered nurse anesthetist (CRNA), eventually opening his own practice in New Mexico, and later opened New Mexico's first and only CRNA-owned ketamine infusion clinic to help patients with chronic pain and depression as well as veterans with PTSD. Sought-after for his knowledge, he founded the Ketamine Academy and Healthcare Entrepreneur Academy podcast to help future healthcare business leaders. Last year, Duprat served on the frontline of COVID-19 in New York City serving with the Navy medical response team. Now, he's working on his doctorate degree and continues to help nurses succeed in their professional, financial and personal lives. "Our time here on earth is fleeting, outside our control, and too short to live in an unfulfilled way," says Duprat. "When you live your life in service of others, the fulfillment is imminent and pervasive."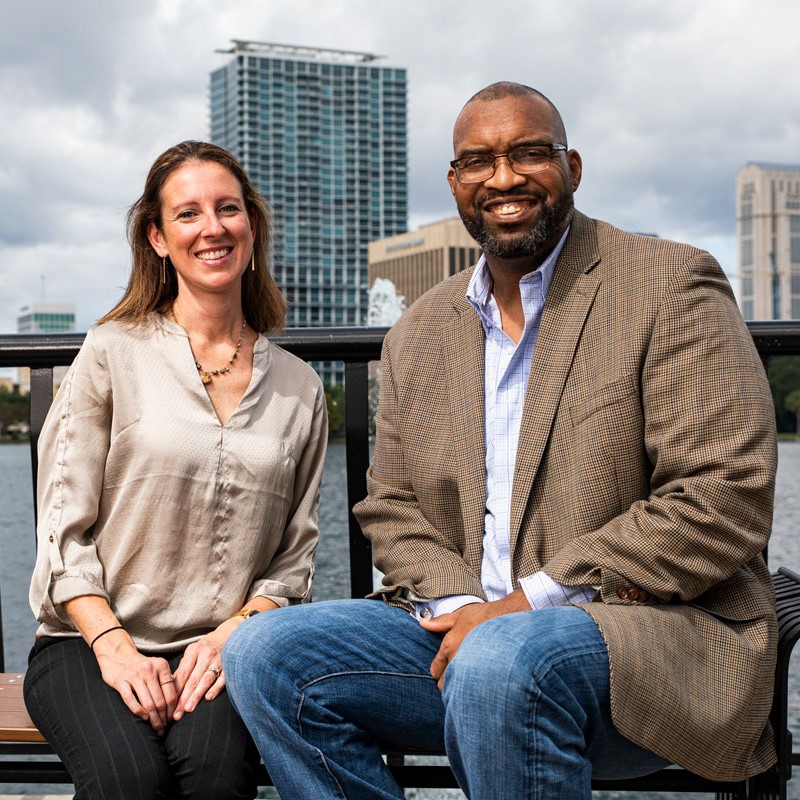 Rachel Groves '05BSN, '10MSN, ARNP-C, RN
A single moment in summer 2016 became life-changing for Rachel Groves. The healthy 32-year-old wife, mother of two young children, and busy nurse practitioner went from caregiver to patient when she suffered a stroke. As a young stroke victim, Groves and her husband quickly faced many physical, emotional and financial challenges uncommon to other stroke survivors . They fought against systems and protocols designed for older patients — doing whatever it took to be able to return to caring for her children and working in a career she loved. "The moment I landed in my inpatient rehab room I needed to decide if I would persevere or lose heart," says Groves who looked to her family for motivation and strength. At an event in 2018, Groves met former UCF offensive lineman Ray Forsythe, who is also a young stroke survivor. The two Knights turned their shared frustrations and determination into an initiative to help others like them have a smoother road to recovery by launching the Young Empowered Stroke Survivors (YESS) Foundation. "All I wanted to be was a nurse," says Groves. "Then one day I went from nurse to patient, which gave me an entirely new perspective. Now I can use my education, professional background, and personal experience to advocate for patients and help them navigate the healthcare system on a whole new level."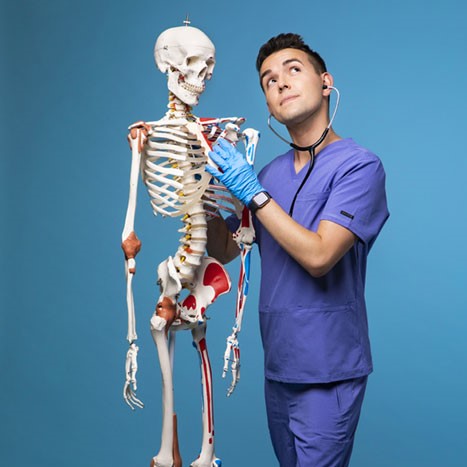 Blake Lynch '14BSN, RN
"When we speak as nurses and use our voices, people listen," says Blake Lynch who is today known as "Nurse Blake." Using a blend of humor to highlight nursing in a way that advocates for patients, nurses and nursing students, he has amassed more than 600,000 followers and 125 million video views on social media. But he's most proud of starting Banned4Life and using his voice to end the outdated, 30-year-old FDA policy, which banned gay and bisexual males for life from donating blood — a policy he became aware of as a nursing student at UCF in 2013 when he was denied the opportunity to donate blood on behalf of a friend who suffers from sickle cell anemia. As a student, Lynch led early grassroots efforts at more than 20 blood drives nationwide where petition signatures were collected and eligible donors were encouraged to donate for those who could not. His efforts quickly gained national attention, and as a result, in 2015 the FDA lifted its permanent ban. But his work on the issue continues as the FDA still requires a 12-month deferral period from sexual contact for gay and bisexual men. After the Pulse nightclub shooting in 2016, Lynch published an op-ed in The New York Times on the topic. Today he continues to affect change by inspiring nurses to follow their passion and use their voices to influence healthcare — just as he has.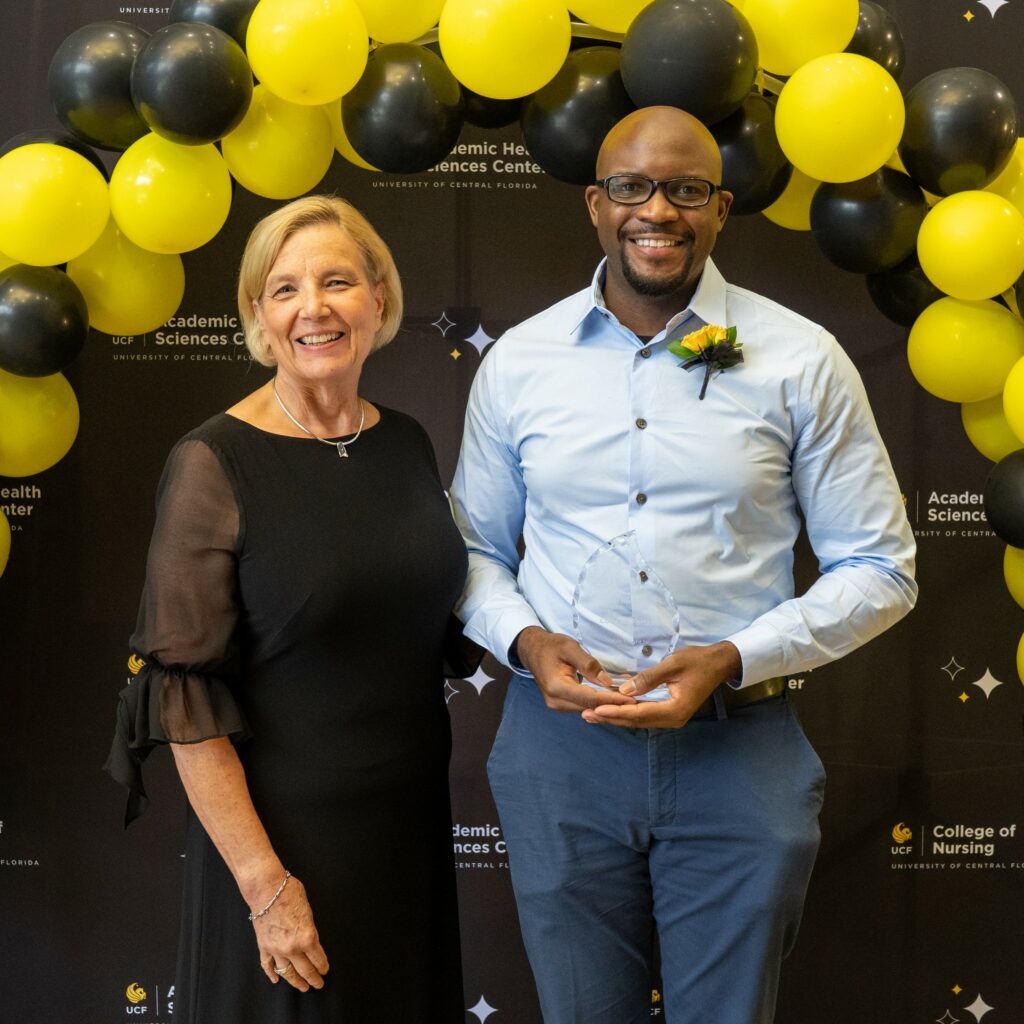 Cory McFarlane '16BSN, RN, CNOR
Cory McFarlane, an operating room nurse at Orlando's Dr. P. Phillips Hospital, had read online about volunteers who were making sleeping mats for the homeless by repurposing sterile surgical packaging – sheets used to wrap sterile equipment in the operating room that are disposed of once the equipment is removed. McFarlane took the idea a step farther. Rather than just sleeping mats, he designed a pattern, and cut and sewed the materials to create durable, waterproof sleeping bags and pillows for the homeless that retain heat. But to make a big difference, he needed a steady supply of the sterile equipment wraps and more hands to help. So after getting approval, McFarlane and his colleagues spread the word throughout the hospital to collect and save the wraps. "Words cannot fully capture the impact of Cory's genius use of resources to support community service in a creative way," says a colleague. "He turned waste products into an amazing resource for vulnerable patients." McFarlane distributes the sleeping bags and pillows to homeless patients seen in the hospital's emergency department and to homeless advocacy groups in Central Florida. "The entire experience was rewarding," says McFarlane, "and the thought that I made a person's life easier while they were struggling makes me want to continue to strive and give back to my community."