Released on April 25, 2023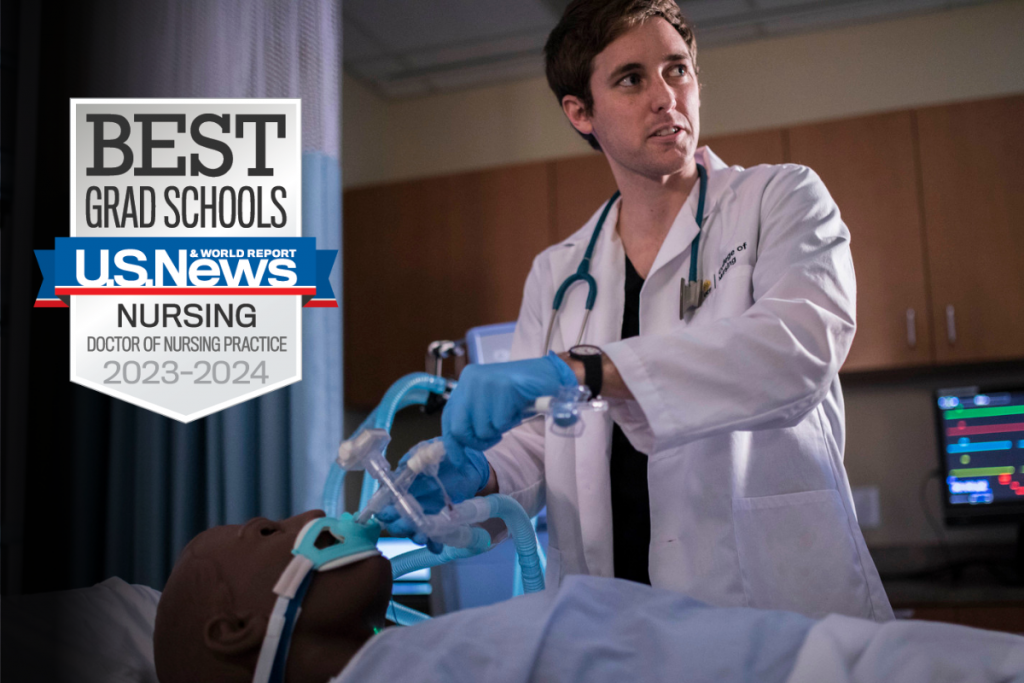 UCF's Doctor of Nursing Practice (DNP) programs are among 21 graduate programs at the University of Central Florida to be recognized among the nation's best in the 2023-2024 Best Graduate Schools ranking by U.S. News & World Report.
The College of Nursing continues to climb the rankings, moving up nine points to No. 43 — the highest ranking in university history. The College of Nursing is ranked among the nation's best nursing programs – from the bachelor's (BSN) to the master's (MSN) to the doctorate.
"Our steadfast focus on excellence in education, practice and research has propelled UCF to the forefront among the best graduate nursing programs in the nation," says Dean Mary Lou Sole. "Thanks to the dedication of our faculty experts, we continue to provide a quality education that prepares the advanced providers, advocates and leaders that our communities desperately need."
UCF offers five DNP programs: two fully online programs to prepare advanced practice nurses and nurse executives, and three hybrid classroom-online programs to educate nurse practitioners in the specialties of Family Nurse Practitioner, Adult/Gerontology Primary Care Nurse Practitioner, and Adult/Gerontology Acute Care Nurse Practitioner.
According to the American Association of Nurse Practitioners, nurse practitioners are in demand due to an aging and growing population. It is estimated 112,700 nurse practitioner jobs will be added to the U.S. economy by 2031 — a 46 percent increase.
Among those joining the profession is Trecia D. Jones '08MSN. "My experience at UCF has prepared me for my future role as a nurse practitioner by providing diverse clinical experiences in the community with the best preceptors who really support nurse practitioner students," says Jones, who is expected to graduate in Summer 2023 from the Family Nurse Practitioner DNP program.
"UCF is respected in the community. When my cohort and I show up for clinicals in our UCF white lab coat and badge, we are respected for our knowledge and clinical skills," she adds.
Jones, a military Veteran, is currently a clinical nurse leader at the Orlando VA Medical Center. Her DNP scholarly project focuses on improving care for military veterans who have diabetes by improving vitamin B12 monitoring to decrease deficiencies and prevent neuropathy — an irreversible deficiency side effect. She presented her research in Washington D.C. at the 15th Annual Conference on the Science of Dissemination and Implementation in Health and at the 8th Annual Florida Nurses Association Nursing Research & Evidence-Based Practice Conference.
Jones credits UCF College of Nursing faculty for supporting her research and educational goals. "My experience at UCF has been nothing but exceptional from the clinical faculty to the classes," she said. "The professors really want you to succeed, and their support is essential to student success."
Read More
Has the UCF College of Nursing Positively Impacted You?
The mission of the College of Nursing at the University of Central Florida is to prepare nurse leaders and patient advocates through excellence in education, research and service.
Find out how to give back to your college, today!
More Stories