Released on March 7, 2020

New Reports Rank College for Excellence in Online, Undergraduate and Graduate Programs

UCF is once again ranked among the top nursing programs in the U.S. for its online, undergraduate and graduate degree programs, according to three new reports.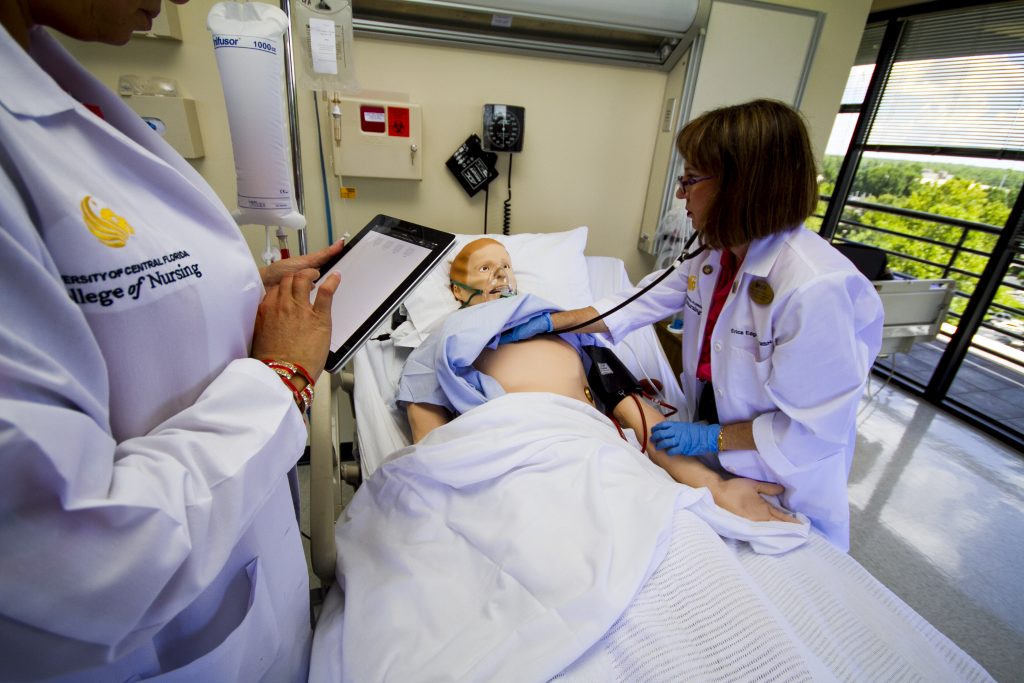 Best Online Programs
For the seventh year in a row, U.S. News & World Report ranks the university among the nation's "Best Online Master's in Nursing Programs." On the 2020 edition of the prestigious list, UCF is ranked no. 31 – up nearly 20 points from the previous year. UCF is one of only two public institutions in Florida ranked in the top 50.
All three of the UCF College of Nursing master's degree in nursing (MSN) programs are offered online, offering convenience, flexibility and affordability to nurses seeking to advance their career. "The biggest distinction of our program is the high quality of education that our students receive from our nationally recognized nursing faculty," comments College of Nursing Dean Mary Lou Sole, PhD, RN, CCNS, CNL, FAAN, FCCM. In fact, on the recent list, U.S. News & World Report ranked UCF with an impressive 91 out of a 100 score for faculty credentials and training.
Additionally, U.S. News & World Report ranked UCF's undergraduate online programs tied at No. 16 among the "Best Online Bachelor's Programs" in the nation. The UCF College of Nursing offers a fully online RN to BSN degree program for licensed RNs seeking to earn a bachelor's degree, as well as an innovative online Concurrent ASN to BSN program for students who have completed their first semester of an ASN degree program at a Florida College System institution.
Excellence on Certification Exams
Two newly issued reports on national certification exam results further attest to the quality of education offered from the bachelor's degree to the doctorate at the UCF College of Nursing.
Graduates of UCF's nurse practitioner programs achieved a 100 percent first-time pass rate on the American Academy of Nurse Practitioners certification exam. UCF graduates routinely surpass the national average on the exam, which was an 86 percent pass rate in 2019. The recent graduates were from the college's Adult Gerontology Primary Care Nurse Practitioner and Family Nurse Practitioner programs.
Additionally, recent UCF bachelor's in nursing (BSN) graduates once again achieved a 97 percent first-time pass rate on the national RN license exam (NCLEX-RN). UCF students have a longstanding history of excellence on the RN license exam, with the first cohort in 1981 achieving a 100 percent pass rate and more recent cohorts continually exceeding both state and national averages. This year, first-time pass rates on the NCLEX-RN averaged 89 percent in the State of Florida and 92 percent nationwide.
Graduates of the UCF Traditional BSN and Second Degree BSN programs are eligible to sit for the national licensure exam. The Traditional BSN program is offered at the main campus in Orlando, as well as UCF campuses in Cocoa and Daytona Beach. UCF educates the most newly licensed BSN nurses in the State University System of Florida, with 92 percent of graduates staying in state to practice.
"The college has demonstrated a commitment to academic excellence since its founding now 40 years ago," said Sole. "However, it has also demonstrated a commitment to accessibility to these programs. Our online degrees are offered at a reduced tuition cost through UCF Online, and UCF is once again named a 'Best Value College' for 2020 by The Princeton Review."
Has the UCF College of Nursing Positively Impacted You?
The mission of the College of Nursing at the University of Central Florida is to prepare nurse leaders and patient advocates through excellence in education, research and service.
Find out how to give back to your college, today!
More Stories