Released on August 2, 2022

Nearly 300 nursing students will graduate this week from UCF, answering the call for more nurses and nurse leaders.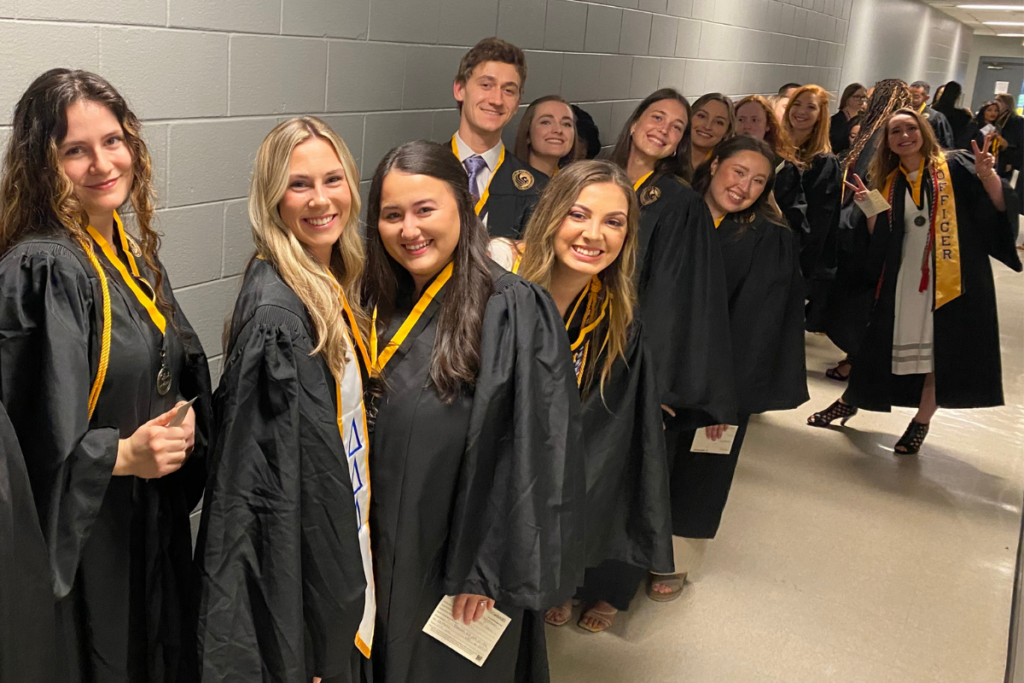 Meet the newest cohort of Knight nurses. The Summer Class of 2022 celebrated the completion of their nursing degree at the College of Nursing's professional recognition ceremony last night and will walk across the stage at Addition Financial Arena on Friday evening at UCF's commencement.
In total, UCF awarded 287 nursing degrees: 230 bachelor's degrees (BSN), nine master's degrees (MSN), 40 Doctor of Nursing Practice (DNP) degrees, and eight graduate certificates. Students earning a BSN included those from the Accelerated Second Degree BSN program, the Traditional BSN program, the Concurrent ASN to BSN programs, and the fully online RN to BSN program.
"With your UCF nursing degree, you're continuing a legacy of excellence that began more than four decades ago – and you're answering the call to serve others at a critical time in our profession," said Dean Mary Lou Sole during the recognition ceremony.
---
Summer 2022 BSN Graduates

At this week's recognition ceremony, the college recognized its high-achieving graduates, including Erin Kreisler who graduated Summa Cum Laude with a 4.0 GPA. In addition to Erin, 16 other nursing graduates earned University Academic Honors with a GPA of 3.8 or higher.
Two nursing BSN graduates also graduated from UCF's Burnett Honors College, Mikayla Loyd and Kayla Burd who also completed an Honors Undergraduate Thesis.
Also recognized during the ceremony were two outstanding BSN students who were honored with awards from the college's healthcare partners:
Annika Jonker, Orlando Health Student Excellence Award
Sayid Yasin, AdventHealth Orlando Mission of Excellence Award
Among the Summer 2022 BSN graduates are 68 career changers, who have earned a bachelor's degree in another field, and completed the rigorous, one-year accelerated program.
Accelerating to be an Advocate
Julia Hirsch is one of the Summer 2022 accelerated BSN graduates. Just last year, the alumna graduated from UCF's Health Sciences program.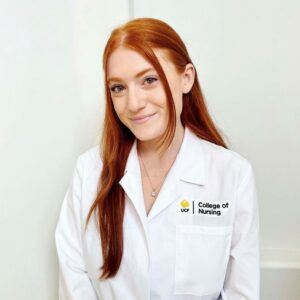 In her physical therapy internships working with pediatric patients with motor and developmental disabilities, she saw first-hand the health disparities that underserved populations face – that's when her plans changed. "I wanted to provide more hands-on care and to be an advocate for them," she said.
"The most important lesson I've learned in the nursing program is to always advocate for yourself, your colleagues and your patients. Your voice is never too small," she adds.
Using her voice is nothing new for the young alumna. During both degree programs, she was active in the UCF community. She sat on the UCF Police Chief's Advisory Council to advise on safety and mental health policies, and is a co-founding executive member of Knights Exemplar, which serves students in UCF's inclusive education services program.
During the accelerated nursing program, Hirsch volunteered at the Special Olympics USA Games in Orlando. "That is when I realized my 'why' is to help these kids and be somebody who can make a difference in their lives," she said.
After graduation, she will continue to make a difference in the lives of pediatric patients as she has accepted a position at Orlando Health Arnold Palmer Hospital for Children and plans to eventually pursue a graduate degree.
"I am so grateful for the faculty and staff at UCF's College of Nursing," she said. "They support us from day one and make sure we're ready to hit the ground running as a nurse. I feel very well prepared."
Summer 2022 MSN and Doctoral Graduates

This summer's graduates from UCF's nationally recognized online MSN programs include students who completed the Healthcare Simulation, Leadership & Management, and Nurse Educator programs. In addition, an impressive 40 students have completed a scholarly project to earn a DNP degree and practice at the highest level as nurse executives and nurse practitioners.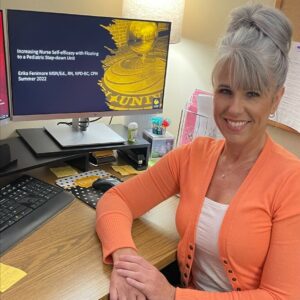 Erika Fenimore '94BSN is one of the Summer 2022 Nurse Executive DNP graduates. "There wasn't any other choice for me," said Fenimore. "I loved the flexibility that the online environment provided so I could continue to work full time, and I always felt that the professors were invested in my success."
Fenimore plans to resume her cross-training project (see below) in the fall. "The organization is invested in the success of floating and resource sharing, so continuation of my project is a priority," she said.
Summer 2022 DNP Graduates
Post-Master's Nurse Executive DNP
Stephanie Antepara
"Polypharmacy in Older Adults in Primary Care"
Keshia Brown
"Implementation of a Cultural Change Toolkit to Decrease Nurse Burnout and Improve Nurse Retention in a Military Treatment Facility"
Nicole Colon
"COVID-19 social isolation impact on diet and activity and the effect on metabolic biomarkers"
Eileen Devine
"Implementation of an Evidence- Based Mentorship Program During the First Year of Transition to Practice for Graduate Nurses in the Pediatric Population"
Amanda Dix
"Utilizing text messaging and nurse scripting in triage to impact patient satisfaction in the Emergency Department"
Kerry-Ann Farrow
"Implementation of a Bereavement Care Team to Reduce ICU Nurses Professional Bereavement: A quality improvement project in a United States hospital"
Erika Fenimore
"Increasing Nurse Self-efficacy with Floating to a Pediatric Step-down Unit"
Nadine Garcia
"Nurse Manager Succession Planning: Developing Future Leaders"
Melisa Hayman
"Applying a Mindfulness-Based Intervention to Improve Resilience and Decrease Occupational Stress in Clinical Nurse Managers"
Stacy Jemtrud
"Enhancing Nurse Manager Competencies in Managing Relationships and Influencing Performance"
Richard Lindsey
"An Educational Intervention to Improve Barcode Medication Administration"
Nancy Olson
"Adoption of Bar-Code Scanning for Medication Safety: Quality Improvement by an Interdisciplinary Cardiovascular Shared Governance Council"
Cathleen Paton
"Community Health Workers' Impact on Vaccine Hesitancy in a Minority Community in South Florida"
---
Adult-Gerontology Acute Care Nurse Practitioner BSN to DNP
Ethan Dillingham
"Educating Emergency Department Nurses on Ultrasound Peripheral IV Placement"
Ibis Echemendia
"Optimizing Oxygen Delivery Modalities in a PCU: Educational Program"
Gina Evans
"Emergency Department (ED) Targeted Temperature Management Initiation after Cardiac Arrest: A Quality Improvement Effort to Increase Understanding and Compliance of Existing Protocol among ED Nurses"
Christie Gleason
"Improving Emergency Department Nurses' Knowledge and Confidence on Ultrasound-Guided Peripheral Intravenous Catheters"
Jordan McGregor
"An Evaluation of Nurses' Knowledge of Heart Failure Discharge Education"
Isaiah Moser
"Just Use the Ultrasound: Improving Emergency Department Nurses' Knowledge and Training with Intravascular Access"
Jamie Saltkill
"Utilization of Erasable Handover Communication Tool to Reduce Information Decay During Nursing Handoff Report"
Elvin Tolentino
"Evidence-based Hand-off Process Improvement for an Ambulatory Surgical Center"
Tristan Turkki
"Facilitating Debriefing Following Cardiac Arrest Resuscitation"
---
Adult-Gerontology Primary Care Nurse Practitioner BSN to DNP
Kristina Bell
"Improving Sexually Transmitted Infection Risk Assessment in a Free Clinic: A Quality Improvement Project"
---
Family Nurse Practitioner BSN to DNP
Valentina Balogh
"A Quality Improvement Project to Increase Compliance to the Six Core Strategies at an Inpatient Psychiatric Facility"
Joy Brothers
"Increasing Influenza Vaccination Rates in a Pediatric Oncology and Hematology Clinic"
Kaman Cheng
"Education on Teach-Back Method to increase nursing knowledge and utilization in a Neonatal Intensive Care Unit"
Parvin Daneshvar
"Standardizing Nutritional Self-Management Education for Patients with Type 2 Diabetes in Primary Practice: A Pilot Study"
Katie Deines
"Increasing Follow Up Attendance with a Standardized Discharge Process"
Amanda Gill
"Signs and Symptoms of Infant Decompensation in a Pediatric Cardiac Unit: Standardizing Discharge Teaching"
Stacey Grant
"Evidence-Based Project to Improve Hepatitis A Vaccination Rates in a Pediatric Primary Care Clinic"
Katherine Haley
"Addressing LGBT+ Competency in Emergency Healthcare Workers: An Improvement Project"
Linsey Haney
"Improving Pre-Operative Education for Thyroid Surgeries at a Surgical Oncology Clinic"
Lauren O'Boyle
"Improving Heart Failure Outcomes in the Adult Patient through Self-Management"
Raeleigh Patel
"The Effects of Relaxation on Perceived Burnout/Stress Among Nurses Working in an ECMO ICU"
Domenica Ramirez
"Education for Foot Self-Care in Medically Underserved Patients with Type 2 Diabetes"
Caitlin Smith
"Vaccine Hesitancy: Education for Healthcare Providers"
Eleanor Stock
"Targeting Hypertension in a Low-Income, Uninsured Population Through a Self-Management Program"
Grace Thayer
"Proper ICD-10 Coding of the Diagnosis of Obesity in the Primary Care Setting"
Kathleen Tills
"Electronic Nicotine Delivery Systems Education Among Middle School Children"
April Wilson
"Increasing Postpartum Depression Screening During Prenatal Visits: A Quality Improvement Project"
Has the UCF College of Nursing Positively Impacted You?
The mission of the College of Nursing at the University of Central Florida is to prepare nurse leaders and patient advocates through excellence in education, research and service.
Find out how to give back to your college, today!
More Stories