Released on September 11, 2020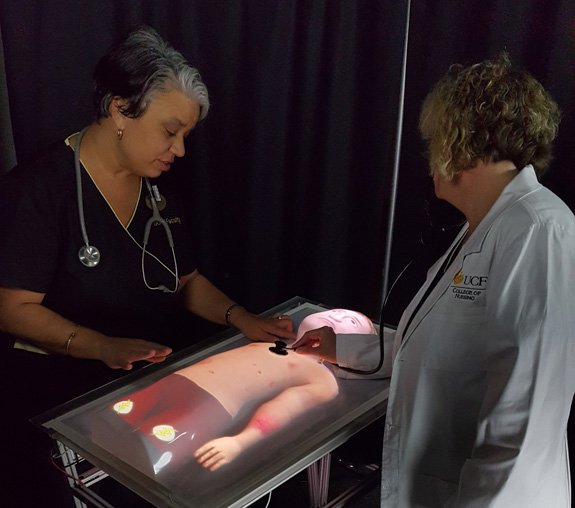 Telehealth, virtual reality, and using simulation to address healthcare disparities are among the topics being discussed at events this week hosted by the UCF College of Nursing.
To increase awareness of the importance of simulation in healthcare, UCF College of Nursing is joining the Society for Simulation in Healthcare and an international community of simulation centers for the fourth annual Healthcare Simulation Week.
"Healthcare simulation continues to grow at an extraordinary rate," said Bob Armstrong, president of the society. "An increasing number of professionals in the healthcare industry are waking up to simulation's ability to help individuals and organizations improve patient care, which is so great to witness. We want to celebrate both that increased role and all healthcare simulation professionals this week."
UCF College of Nursing is a leader in healthcare simulation education. Currently, 10 percent of college faculty are certified healthcare simulation educators – three have earned advanced certification and are among the world's leading experts in the field. The college is home to the internationally accredited Simulation, Technology, Innovation and Modeling (STIM) Center and Florida's first – and one of only a few nationwide – healthcare simulation graduate programs.
Healthcare Simulation Week Events
For the week of Sept. 14-20, UCF College of Nursing and the UCF student-led Simsations-4-LIFE organization are hosting a series of virtual events. All events are open to the public, but advance registration is required.
Monday, Sept. 14 | Telehealth and Simulation Lunch and Learn
11:30 – 12:00 p.m.: Grab your lunch and participate in an engaging talk about the latest in healthcare simulation.
12:00 – 12:30 p.m.: Certified telehealth educator Dawn Eckhoff '18PhD will share her research in the field.
Register
Tuesday, Sept. 15 | Become a Volunteer Patient "Actor" in UCF's Accredited STIM Center
3:00 – 4:30 p.m.: Interested in volunteering as a remote "patient" or "actor" in simulations to train nursing students? No previous experience necessary. Learn more at the semi-annual Embedded Participant Volunteer online training event. Volunteers must be 18 years or older.
Register
Wednesday, Sept. 16 | Virtual Simulation and Other Research Lunch and Learn
11:30 – 12:00 p.m.: Grab your lunch and participate in an engaging discussion about STIM research at UCF.
12:00 – 12:30 p.m.: Valorie MacKenna '20PhD, director of simulation-based education at the University of Connecticut School of Nursing and recent graduate of the healthcare simulation certificate program, will share the findings from her research with virtual simulation and self-reflection.
Register
Thursday, Sept. 17 | Augmented and Virtual Reality Lecture
4:00 – 5:00 p.m.: Virtual reality pioneer Dr. Carolina Cruz-Neira from the UCF Department of Computer Science will share her expertise in the field of augmented and virtual reality.
Register
Friday, Sept. 18 | Addressing Healthcare Disparities with Simulation-based Education and Simsations-4-LIFE Lunch and Learn
11:30 – 12:00 p.m.: Simsations-4-LIFE will share their plans for the academic year.
12:00 – 12:30 p.m.: UCF student researchers will share their research and work to address healthcare disparities with simulation-based education.
Register
Has the UCF College of Nursing Positively Impacted You?
The mission of the College of Nursing at the University of Central Florida is to prepare nurse leaders and patient advocates through excellence in education, research and service.
Find out how to give back to your college, today!
More Stories