Released on December 19, 2020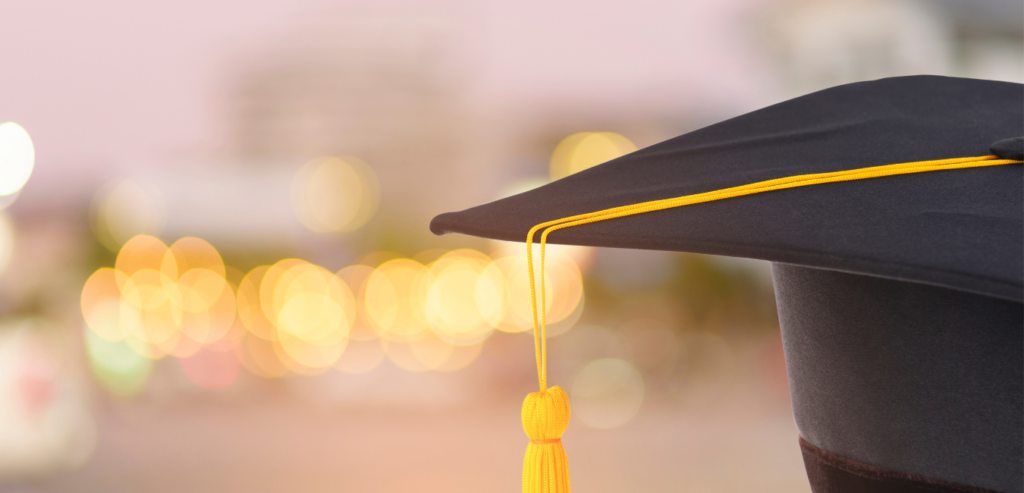 This past weekend 227 nursing students received their degree from UCF. For the Fall Class of 2020, the achievement was no easy feat. Not only did these graduates complete the rigorous degree programs, but for many, they did so while simultaneously working as nurses during COVID-19 pandemic.
---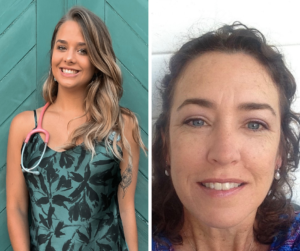 BSN Graduates
Among the 188 BSN graduates, 114 are students in the Concurrent ASN to BSN program. Many worked as nurses after earning their associate's degree while completing the bachelor's degree program online at UCF. The other 74 BSN graduates are in the online RN to BSN program and are licensed registered nurses who continued to work while earning a bachelor's degree.
This semester, two BSN students achieved university academic honors: Bailey McBreen '20BSN, Magna Cum Laude, and Jennifer Freshour '20BSN, Cum Laude.
---
Graduate Degrees and Certificates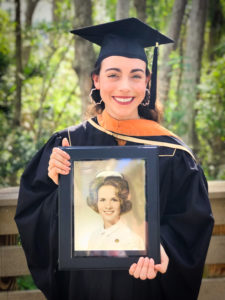 At the graduate level, UCF alumna Kimberly Bogers '18BSN '20MSN, worked as a registered nurse in the emergency department at Nemours Children's Hospital while earning her Master of Science in Nursing (MSN) degree in Leadership & Management.
"After I graduated with my BSN, there was no question in my mind about where I would pursue my graduate degree," said Bogers. "The faculty and staff at the college had such a lasting impact on me during my undergraduate years, and many of them played a part in why I wanted to further my education in the first place."
She admits that it was challenging these last few semesters, but it was worth it.
I learned a lot about effective and strong leadership this year, and despite the many negatives associated with completing a graduate nursing degree during a pandemic, I am grateful for the unique insight I gained from the experience.
"I definitely would not have been able to complete this program without the support and help of my parents, especially my mom. She helped me stay sane so that I could balance my responsibilities while also keeping my mental and physical health in check. I also received a lot of support from my grandparents, my Nemours ER family, and fellow Knight nurses."
The college offers three fully accredited online MSN degree programs, offering convenience and flexibility for nurses to take the next step in their career while continuing to work in the profession. UCF has continually been recognized by U.S. News & World Report among the nation's "Best Online Graduate Nursing Programs."
Bogers is one of 22 MSN graduates this semester, which include 11 Leadership & Management graduates, nine Nurse Educator graduates, and two Healthcare Simulation graduates.
Additionally, six students completed an online graduate certificate program. These include two students in the Nurse Educator program and four in the innovative Healthcare Simulation program that is open to nurses and non-nurses.
---
Doctoral Graduates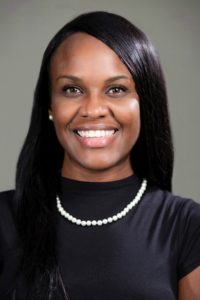 Board-certified Psychiatric Mental Health Nurse Practitioner Marie Smith-East balanced the requirements of the PhD in Nursing program and Geographic Information Systems (GIS) graduate program, while managing her clinical practice that became increasingly busy during the pandemic.
Fortunately, both of the degree programs offered her convenience and flexibility. "I loved the ability to take courses online in addition to meeting in-person for intensives," she says.
Smith-East has a unique area of research, focused on improving geographic access to healthcare using GIS, and was invited to present on the topic as it relates to the pandemic at the Florida Nurses Association virtual Membership Assembly conference this fall.
"Understanding the social, economic, health and policy factors associated with COVID-19 and how to utilize geospatial analyses is imperative to improve access to care among patients seeking treatment, particularly mental health treatment."
In addition to presenting at the conference and receiving her degree and certificate, Smith-East has achieved two other accomplishments. She recently became one of the first Autonomous Advanced Practice Registered Nurse (APRN) providers in Florida after the state passed the autonomous practice law for nurse practitioners in the last legislative session. She also was recently hired as the director of the Psychiatric Mental Health Nurse Practitioner program and a clinical assistant professor at the Duquesne University School of Nursing.
Being at UCF has truly been a remarkable and life-changing experience.
"UCF laid the foundation for me to start my research journey confidently, including the ability to hone-in on my teaching skills and philosophy which has contributed to my success as a faculty member," she says.
---
Fall 2020 Nursing PhD Graduates
UCF College of Nursing graduated four Nursing PhD students in the Fall Class of 2020 – it is among the highest number of PhD graduates in a single semester. These scholars are leading nursing into the future by contributing to nursing science and answering the national call for more nursing faculty.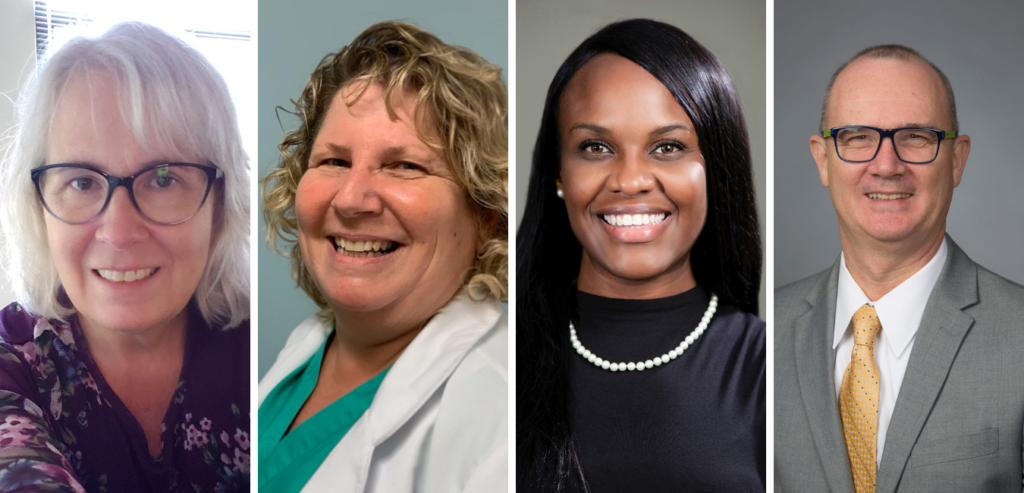 Martha DeCesere, PhD, RN
"Nurse-physician Collaboration During Bedside Rounding: What is the Impact on the Nurse?"
Diana Pitcher, PhD, DNP, APRN, ANP-BC
"Patients with a Left Ventricular Device and Factors Affecting Readmission"
Marie Smith-East, PhD, DNP, PMHNP-BC, EMT-B
"Geographic Access to Community Mental Healthcare and Adherence to Treatment Among Patients with Schizophrenia Spectrum Disorders"
Eugene Waterval, PhD, RN, NE-BC
"The Effect of Acuity-based Nurse Staffing on Nursing Medication Errors"
---
Fall 2020 DNP Graduates
Meet this past weekend's DNP graduates who have made contributions to patient care with their independent DNP scholarly projects, and will continue to make an impact by improving patient outcomes as clinical providers and leaders.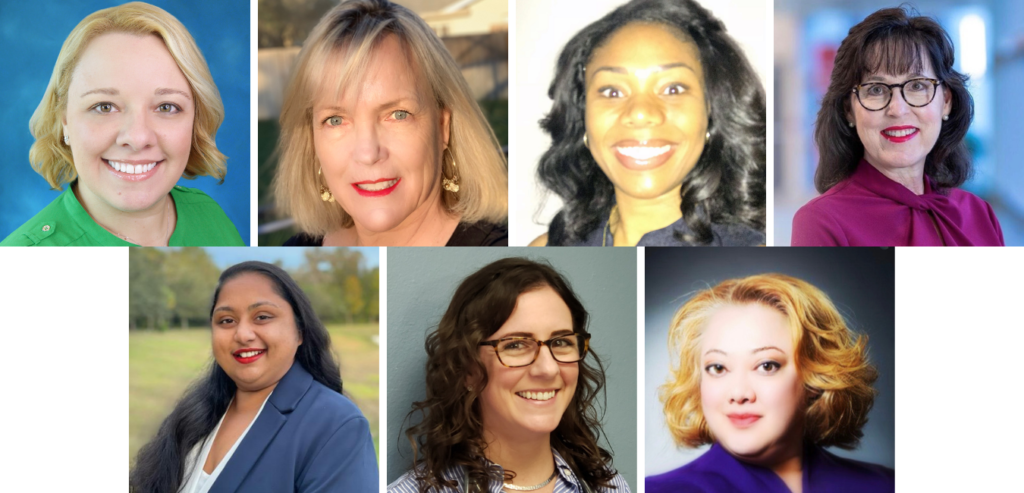 Nurse Executive DNP
Diana DeGroot, DNP, RN, CCRN-K, TCRN
"Achieving Intensive Care Unit Bed Readiness in the Transition of Care for the Critically Injured Trauma Patient"
Leslie Lockett, DNP, RN, CNE
"Improving Role-specific Utilization of the Electronic Health Record in an Assisted Living Setting"
Priscilla Okonkwo, DNP, MBA, RN, CCM
"Improving an Interhospital Transfer Process: Implementation of a Standardized Transfer Intake Form"
Jayne Willis, DNP, RN, NEA-BC, CENP
"Developing Transformational Leadership Skills in Nurse Leaders"
Advanced Practice DNP
Sherilyn Bal, DNP, APRN, FNP-BC
"The Role of Enhanced Recovery After Surgery (ERAS) Protocol in Improving Post-operative Outcome for Complex Spine Surgery Patients"
Lindsey Gilson, DNP, APRN, FNP-BC
"Marketing Strategy for Pneumovax 23 in a Primary Care Clinic among Medicare Recipients"
Adult-Gerontology Primary Care Nurse Practitioner BSN to DNP
Nga Denise Morgan, DNP, RN, PHN
"Optimizing Transgender Healthcare through Telehealth Virtual Visits"
Has the UCF College of Nursing Positively Impacted You?
The mission of the College of Nursing at the University of Central Florida is to prepare nurse leaders and patient advocates through excellence in education, research and service.
Find out how to give back to your college, today!
More Stories