Released on October 12, 2022

This Breast Cancer Awareness Month, the legacy of Joyce DeGennaro '03, '09BSN, '13MSN who passed away in 2020 after a brave battle with Stage IV breast cancer lives on and will have an even greater long-lasting impact thanks to a new endowed scholarship. Meet its first recipient.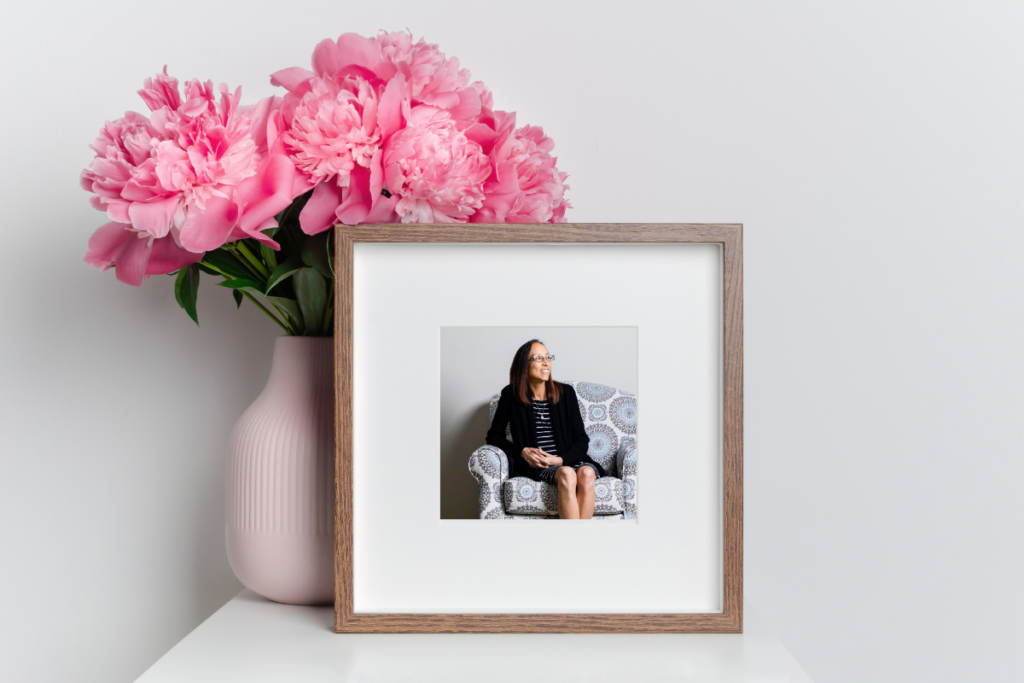 "The biggest loss is those that will never be able to be taught by her," says Clinical Coordinator Kate Dorminy '06BSN '10MSN of colleague and friend Joyce DeGennaro '03, '09BSN, '13MSN. DeGennaro was an inspiration to all who knew her, impacting thousands of nursing students as an educator and advisor to the Students Nurses' Association, and leaving a lasting legacy of teaching compassion.
To honor her, more than 140 family, friends, alumni and colleagues donated to support the creation of the Joyce DeGennaro Memorial Endowed Scholarship for undergraduate nursing students. The scholarship gives a preference to members of the UCF Student Nurses' Association (SNA), where DeGennaro served as faculty advisor at UCF Orlando for several years. Under her advisement, the chapter won the national Stellar Chapter award.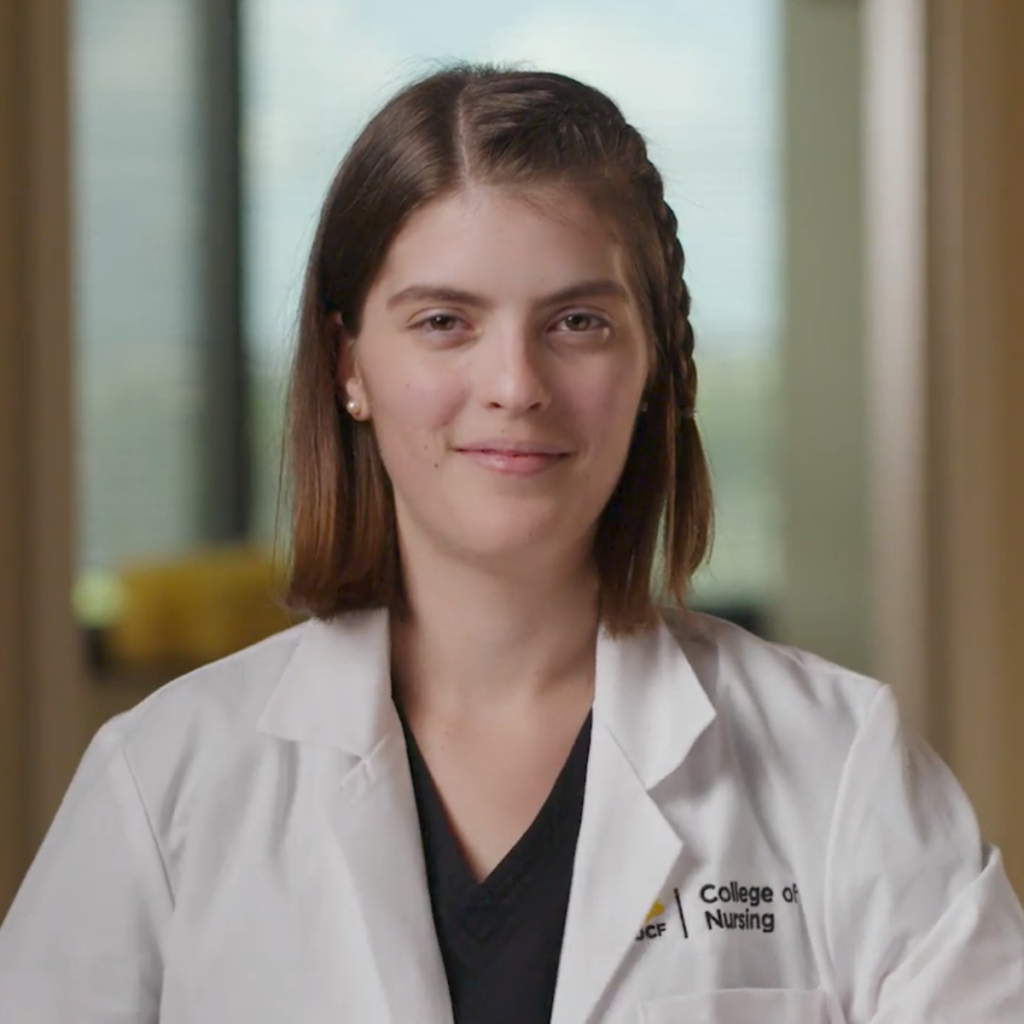 Inaugural Scholarship Recipient
"I see Joyce DeGennaro's legacy living on through her colleagues every day," says the scholarship's first recipient Alexis Wade, a senior in UCF's BSN program and board member of SNA at UCF Orlando.
While Wade never met DeGennaro, she knows of her inspirational story and her unwavering courage from being involved in SNA, friends and colleagues. "They strive to emulate her dedication to nursing students and the profession, and I am so proud to be named the first recipient of the Joyce DeGennaro Memorial Endowed Scholarship."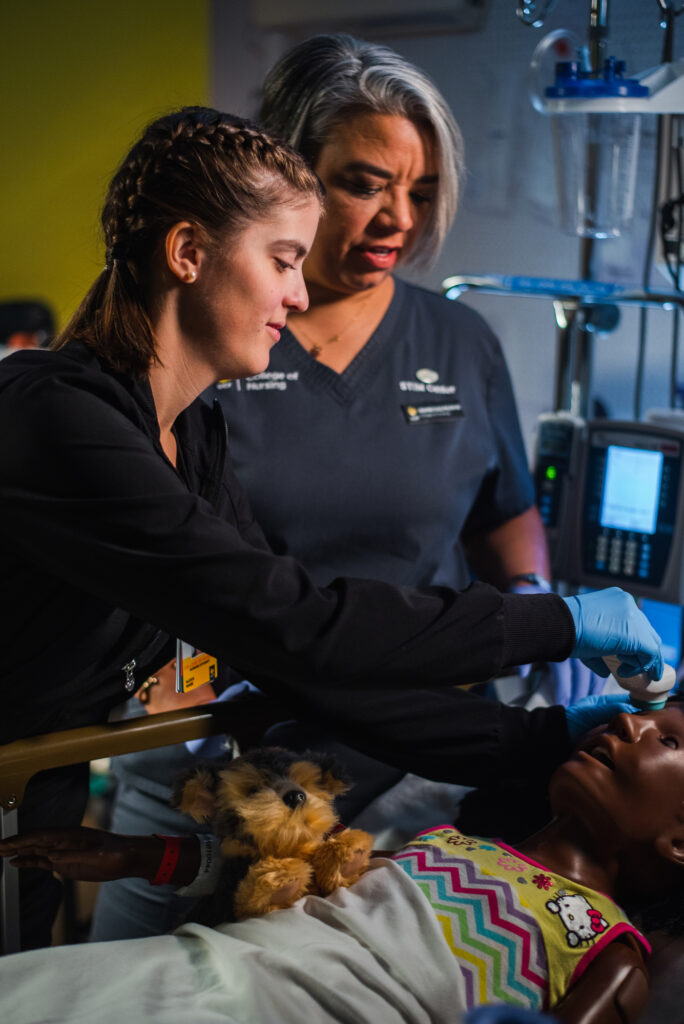 It was a diagnosis with a chronic illness as a teen that inspired Wade to pursue nursing. "The nurses have always been the ones who have made the difference in my life," says Wade who plans to pursue a nursing career in the neonatal or pediatric ICU after graduation. "Because of them, I knew I wanted to try and make healthcare better for people down the road."
"I found that my love of nursing isn't limited to a clinical setting. I knew I could make a difference advocating for my patients," she adds.
Wade has been advocating for healthcare policy changes since high school, attending her first meeting with lawmakers at the age of 16 and has continued to be part of various advocacy days for the bleeding disorder community throughout the years. In Spring 2022, she attended the national American Association of Colleges of Nursing Policy Summit. She also currently serves as the legislative director for SNA at UCF Orlando.
Wade is also currently conducting an Honors Undergraduate Thesis in healthcare simulation — research that she hopes will help demonstrate the effectiveness of simulations for learning and provide another way for nursing students to provide the best outcomes for their patients. Something DeGennaro also focused on in her teaching.
Ripple Effect of an Educator and Mentor
When instructor and Knight nurse Joyce DeGennaro became an oncology patient, she realized that there were still lessons for her to learn — and to teach.
For example, when she had a port-a-cath implanted in her chest, she invited her students to touch its location and ask questions. For most of her students, it was their first in-person experience with a cancer patient.
Even when DeGennaro had a procedure that was particularly grueling, she incorporated it into her class lecture. Dorminy watched in awe as DeGennaro laid all facets of her terminal illness bare.
"Her students loved her for it because it was a real-life perspective in real time," she says.
"She absolutely had a strength that most people don't have," Dorminy says. "She was facing such dire situations with two little kids and a husband, yet she was able to maintain such a positive perspective."
Dorminy says that DeGennaro had such a strong faith and loving family that she was able to persevere through the bad times. She was also able to leave her ego at the door and to take those bad times — when she had an adverse reaction to therapy or when a caregiver forgot to check her wristband, for example — and turn them into teachable moments for the students she loved so much.
"At the end of the day, it's the impact of one that can make the difference, whether you're the person making the impact, or whether you're making an impact on one person," says Dorminy. "That was the way that Joyce lived her life, and we hope that future scholarship recipients will continue her amazing legacy."
If you would like to continue Joyce's legacy and impact future Knight nurses, you may give a gift to the Joyce DeGennaro Memorial Endowed Scholarship.
Has the UCF College of Nursing Positively Impacted You?
The mission of the College of Nursing at the University of Central Florida is to prepare nurse leaders and patient advocates through excellence in education, research and service.
Find out how to give back to your college, today!
More Stories