Released on April 14, 2022

The group elevated their voice to engage on issues impacting the nursing profession and patient care as part of the national policy summit.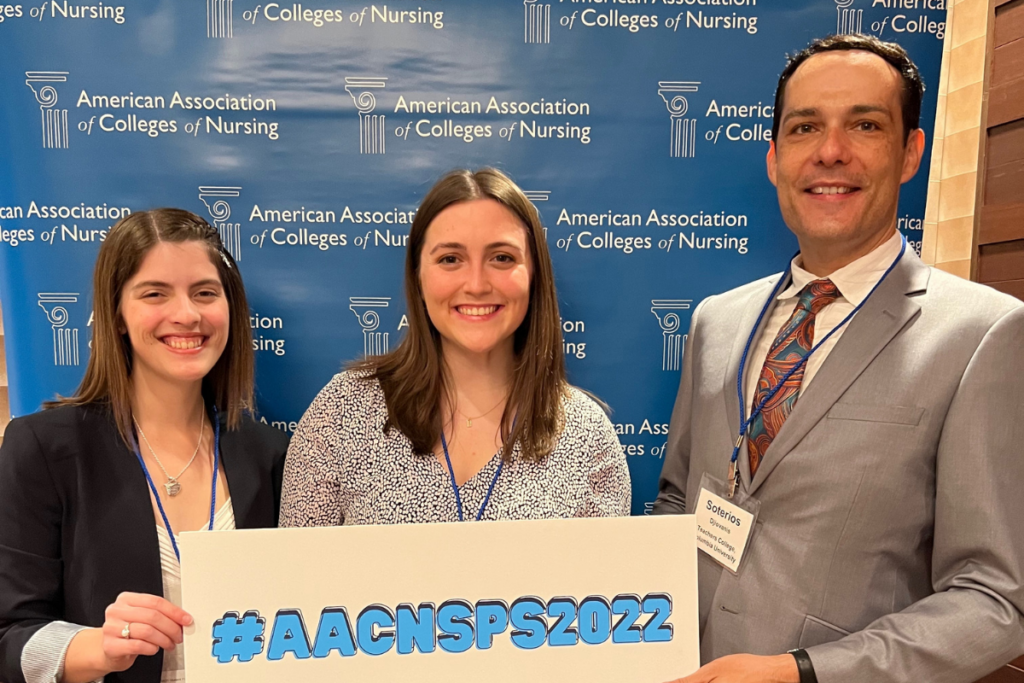 With more than 3.8 million registered nurses nationwide, nursing is the nation's largest healthcare profession and one of the largest segments in the U.S. workforce. It's also the nation's most trusted profession for an impressive 20 years in a row.
"Governmental policy matters can shape many things for our patients and we nurses must maintain a voice in policy," says Instructor Sotos Djiovanis '20MSN, who recently returned from the American Association of Colleges of Nursing (AACN) Student Policy Summit in Washington, D.C.
"People outside of healthcare don't have the full picture of what nurses do and how we operate," says Lauren Fuller, a senior in the Traditional BSN program who attended the conference along with Djiovanis and junior Alexis Wade.
"It takes all of us to make our voices heard and share our stories. Change happens in our field when we advocate and share our stories to those who have the power of changing legislation and hospital policies."
During the two-day summit, the group networked with hundreds of undergraduate and graduate students from nursing schools across the nation.
They also attended seminars on the federal policy process, policy issues, and nursing's role in advocacy – hearing directly from and meeting with change makers on Capitol Hill.
Two current healthcare policy issues discussed at the summit were of particular importance. "As a full-time faculty member at UCF and a part-time doctoral program student, the Future Advancement of Academic Nursing (FAAN) Act is the most important advocacy matter," says Djiovanis.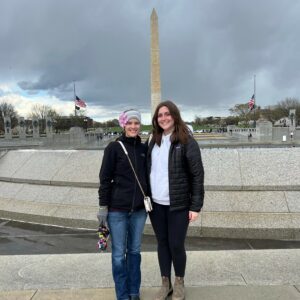 "Nurse educators strive to have a voice in upstream matters on policy in order to have an impact on downstream realties for our students, patients, and communities," he adds.
The FAAN Act aims to enroll and retain nursing students, hire diverse faculty members, support nurse scientists, and expand clinical opportunities and facilitate clinical placements for students. "Through the funding in this legislation, colleges of nursing, nursing faculty, and nursing students all benefit. In turn, our patients and communities will be the beneficiaries," adds Djiovanis.
The Student Assisted Vaccinations Effort (SAVE) Act was also discussed at the summit. The act seeks to extend the current legislation to allow students to administer vaccinations during public health emergencies, such as the efforts that occurred during the initial stages of the COVID-19 pandemic.
"Policy changes on a federal level take years to implement; however, we can greatly contribute to change in the healthcare field by starting in our own communities and hospitals," says Fuller. "What we were taught early on in education still stands true: change starts at home. We are excited to lead the charge within our chapter of the Student Nurses Association, the UCF College of Nursing and, moving forward, in our jobs as registered nurses."
"Advocating for issues like safe staffing ratios, advancing education, and health equity will benefit not only nurses, but the patients we serve," adds Fuller.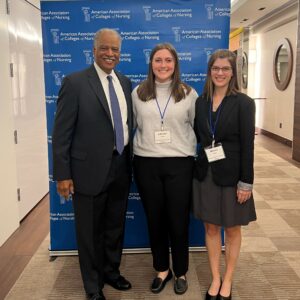 "Even as a student, I can advocate within my college community, local county, and even on the state level for nurses," says Wade, who began advocating for healthcare policy changes in high school. "While working as a nurse, I hope to pursue advocacy within the community and create the changes that I desire to see because I have the power and will to do so.
"Only if we work together can we make the world a better place: more inclusive, more understanding, and more supportive," she adds.
Wade plans to work in a neonatal or pediatric ICU after graduation, and Fuller plans to work as an ICU nurse – both students were inspired to pursue a nursing career from personal experiences as pediatric patients. After the summit, they're also now both inspired to continue to use their voice to advocate for the profession and their patients.
"I have no doubts that Lauren and Alexis will be both innovators and leaders wherever they end up in their careers," says Djiovanis. "It is my hope that they continue to be strong advocates for their patients, both at the local and federal policy levels."
Has the UCF College of Nursing Positively Impacted You?
The mission of the College of Nursing at the University of Central Florida is to prepare nurse leaders and patient advocates through excellence in education, research and service.
Find out how to give back to your college, today!
More Stories