Released on June 14, 2022

Meet the new cohort of accelerated Second Degree nursing students who were awarded the national Helene Fuld Health Trust scholarship.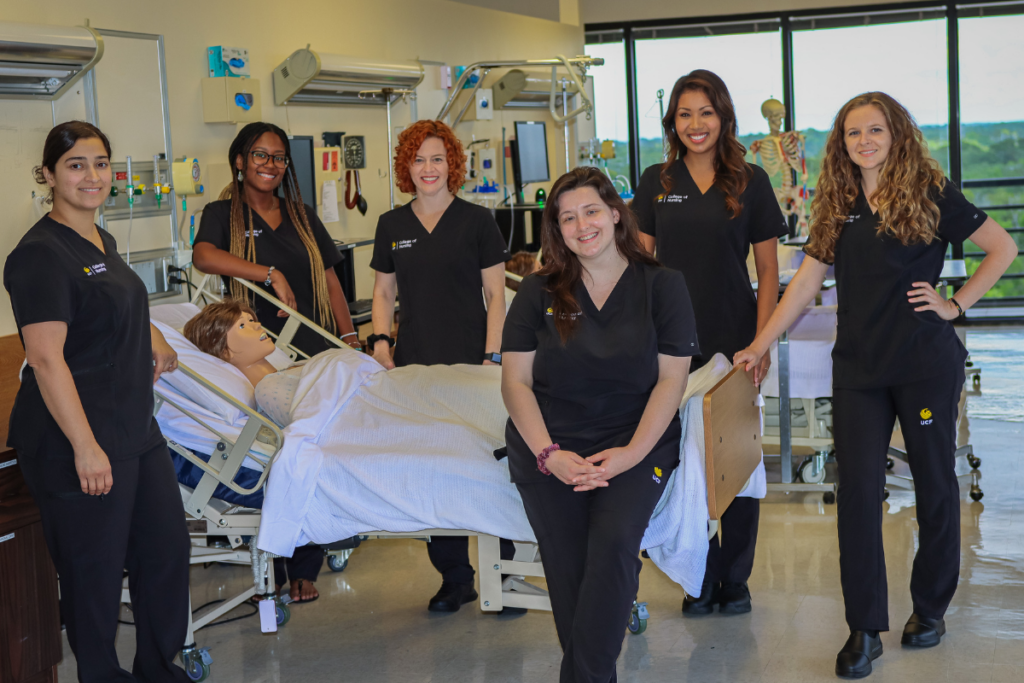 Their backgrounds are vast – from a bartender to a former Miss Hawai'i to a U.S. Marine veteran and more. While some have always felt a calling to become a nurse, for others it was inspired by the recent COVID-19 pandemic.
This semester, these career changers are among the latest cohort of accelerated Second Degree BSN students at the UCF College of Nursing and are now national scholars.
Thanks to the generosity of the Helene Fuld Health Trust, these students are able to focus fully on their studies to become a nurse. The Helene Fuld Health Trust scholarship is an exclusive opportunity for accelerated Second Degree BSN students who have returned to school to pursue a career in nursing and who may not otherwise qualify for financial aid.

Stephanie Bird
Bird quickly discovered her passion for helping others through healthcare while pursuing her undergraduate degree, and changed her major from engineering to dietetics and nutrition. After earning her degree, she traveled to Togo, Africa, with the Peace Corps working as a health extension specialist. After returning to the U.S. and working with the Department of Health as a nutrition educator, she realized her true calling in healthcare. Inspired by the nurses in Togo and those assisting with COVID-19 relief at home, she applied to nursing school. With a BSN, she plans to work in labor and delivery where she can leverage her yoga teacher certification to bring calming energy to her patients.
Naomi Dejeu
"Nursing always stood out to me as the healthcare career that allowed for some of the most meaningful patient relationships to be fostered," says the first-generation college student. For Dejeu, the BSN degree is part of a long-term goal to become a nurse practitioner and earn a master's degree in public health. While earning her bachelor's degree in public health, she was inspired to become a public health advocate for prevention and health disparities, and hopes to make an impact in the U.S. healthcare system and around the world.
Kris Hysler
If you had asked Hysler at 22 what she would be doing at 37, nursing would not have been it. The musical theatre degree alumna, who has been performing since age four, had some unexpected turns in her life. She lost much of her hearing in her 20s and spent her mid-30s caring for her diabetic father. While at his bedside in an ICU in March 2020, his nurses inspired the bartender of 18 years to pursue a new career. While she envisions working as a nurse in labor and delivery or the operating room, she plans to go where she's needed. "If this pandemic has taught me anything, it is how to be more flexible," she said.
Gloria Muñoz
A former law enforcement officer and U.S. Marine, Muñoz has felt a calling to become a nurse for more than 15 years. "For many years, I've been an advocate for others, and helped family and friends obtain better health," she said. Now she's able to use the compassion and critical-thinking skills gained from her previous careers to pursue the profession she loves the most. She plans to eventually become a Family Nurse Practitioner, focused on a patient-centered, holistic approach to make a difference in people's lives and also become a mentor to others, including her daughter who also wants to pursue a career in nursing.
Penelope Ng Pack
The eldest child of a Chinese-Trinidadian immigrant father and Filipino American mother, Ng Pack was originally motivated to take over the family business to perpetuate her father's legacy when he was diagnosed with a rare, neurodegenerative disease 15 years ago. After working in advertising for five years, serving her community as Miss Hawai'i, and earning her MBA, she was inspired to pivot to a career in nursing. The caregiving examples of her mother and nurse-educator grandmother taught her that healthcare is more than medicine, it's "improving a person's physical, mental and emotional health through care and aloha (love)," she said. She plans to become a pediatric or emergency department nurse, and eventually a nurse practitioner.
Samantha Saint Fort '22
A recent health sciences graduate from UCF, Saint Fort knows first-hand the university's reputation. "UCF is in a prime position to not only influence the discoveries of tomorrow, but ultimately shape the future in fields such as nursing," she said. Her passion for healthcare was instilled in her high school biology and health sciences classes. But she remained unsure of her specific path in the field until now. After earning her nursing degree, she plans to work in a pediatric orthopedic setting and eventually become a family nurse practitioner. Armed with two UCF degrees, she plans to contribute to advancements in the field and explore innovative treatment options for her patients.
Has the UCF College of Nursing Positively Impacted You?
The mission of the College of Nursing at the University of Central Florida is to prepare nurse leaders and patient advocates through excellence in education, research and service.
Find out how to give back to your college, today!
More Stories