Released on March 28, 2022

The student leader, scholarship recipient and first-generation college student is among 26 exemplary students to receive the 2022 Order of Pegasus, UCF's most prestigious student award.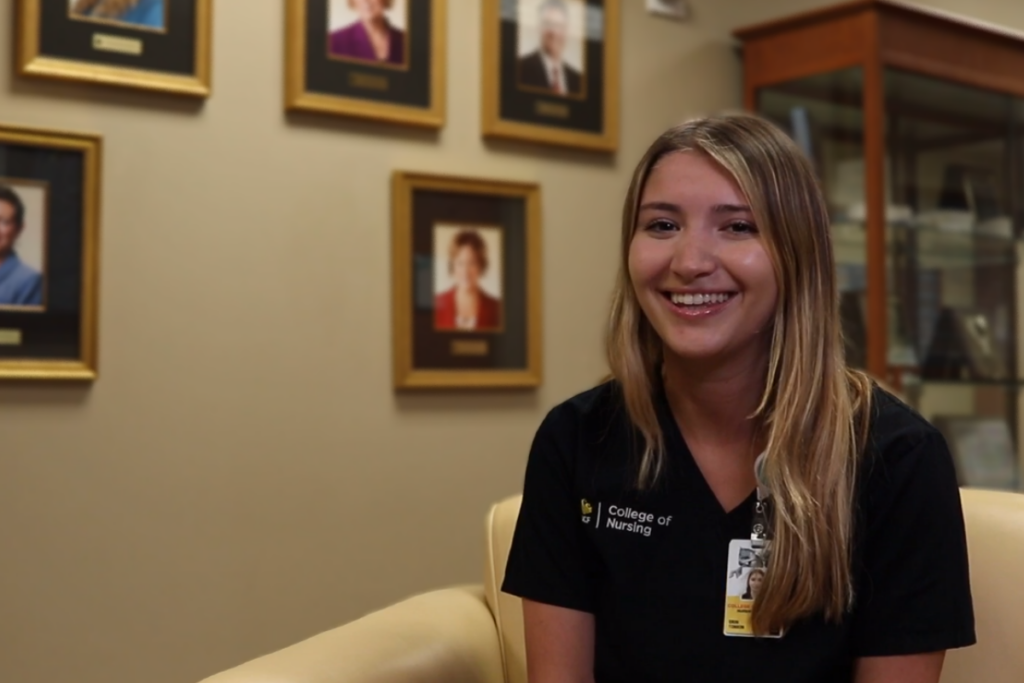 Excellence. Disciplined. Integrity. Dedicated. Compassionate. These are just some of values and qualities used to describe senior nursing student Erin Tonkin. Tonkin is among 26 UCF students who will receive the 2021-2022 Order of Pegasus, UCF's most prestigious student award for those who display incredible academic achievement, university involvement, leadership and community service.
The spirit of the Knight nation is what attracted Tonkin to UCF four years ago, and now she's just as passionate. "I don't believe I could have chosen a better place to continue my education. The College of Nursing is such a highly respected program and their NCLEX-RN pass rates are impressive."
Impacting Students and the Community
What's even more impressive is the extensive list of what Tonkin has achieved at UCF. Tonkin has held several leadership positions, including president of the Association of Pre-nursing Students (APNS) and president of the 130-member Student Nurses' Association (SNA) at UCF Orlando. Under her leadership, SNA at UCF Orlando was one of two schools in Florida to receive the Diamond Chapter Award – the highest recognition in the state.
"She leads by letting her teams' strengths shine, and the outcomes of her leadership are evident by the positive comradery among her board and the teamwork approach for their initiatives," says Instructor Kate Dorminy, co-advisor of the SNA chapter.
"I have loved the opportunity to get involved in the community and become closer with my peers," said Tonkin of her experience in SNA. "It is incredible to be around people who are as passionate about the nursing profession as you are."
Tonkin has "gone over and beyond to serve the UCF and Orlando communities" said Assistant Professor Brian Peach. Through her involvement in APNS and SNA, Tonkin has organized and participated in volunteer activities to support the Ronald McDonald House, Second Harvest Food Bank, veterans at the Orlando Veterans Affairs Medical Center, and Orlando Health Arnold Palmer Hospital for Children with Knight-Thon.
Achieving Academic Excellence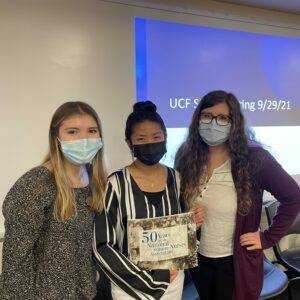 Despite all of her activities, she has maintained a 3.9 GPA in the rigorous Bachelor of Science in Nursing (BSN) program, earning recognition on both the President's Honor Roll and the Dean's List.
"She works hard in her studies because she recognizes the incredible responsibility she will have to care for patients and their families," said Peach. "She is not content to be average, but aspires to be the best clinician she can be. She is principled, disciplined, and authentic in her interactions with others. These are important characteristics in a student who will be joining this country's most trusted profession."
While in the BSN program, Tonkin conducted original research under the mentorship of Desiree Díaz. Her Honors Undergraduate Thesis, "The Lived Experience of Simulation in Nursing Education Related to Postpartum Depression and Health Care Disparities," demonstrated a need to expand diversity, equity, and inclusion in simulation education.
Based on her academic achievements and scholarly activities, she has received several awards and four scholarships. Thanks to the generosity of scholarship donors, Tonkin was able to cut back and eventually stop working at the Chick-fil-A on campus. "The scholarships have helped me so much, and have been game-changing for me to really focus on my studies and other involvements," said Tonkin.
A Bright Future Ahead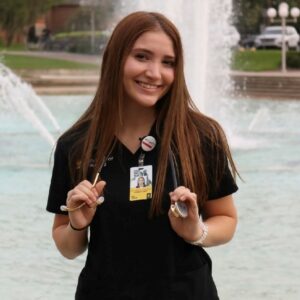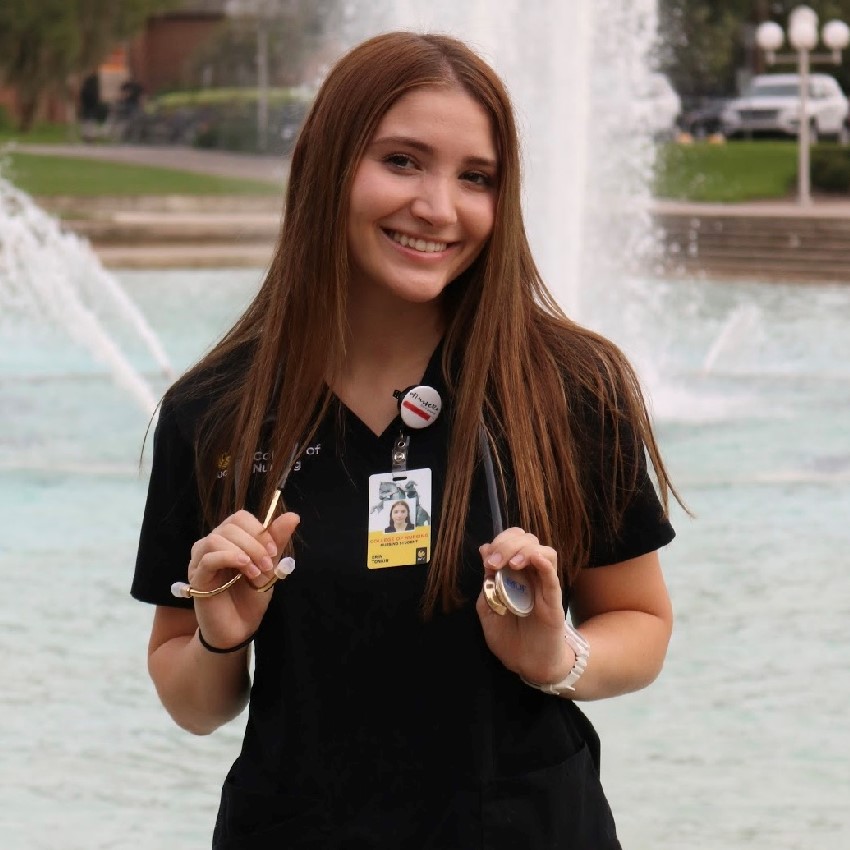 There is no doubt Tonkin will continue to shine as a Knight nurse. "Very positive attitude and eager to learn" and "took initiative in performing more hands-on skills and is very focused in her work" are among the comments she has received from instructors during her nursing clinicals. "I look forward to welcoming her into a profession that I believe she has a calling for," said Dorminy.
After graduation, Tonkin has accepted a Registered Nurse position in the Labor and Delivery unit at Orlando Health Winnie Palmer Hospital for Women & Babies where she is currently a student nurse intern. She plans to eventually further her education to become a Certified Nurse Midwife and Women's Health Nurse Practitioner. "I've watched how dedicated the nurses in the unit are, and I'm excited to join them and have a direct impact on patient care," said Tonkin.
Tonkin and the other recipients will be honored during the Order of Pegasus induction ceremony on April 6.
Has the UCF College of Nursing Positively Impacted You?
The mission of the College of Nursing at the University of Central Florida is to prepare nurse leaders and patient advocates through excellence in education, research and service.
Find out how to give back to your college, today!
More Stories