Released on August 3, 2023

UCF will award nearly 300 nursing degrees this week, adding much-needed skilled graduates to the region's talent pipeline to impact the health of communities.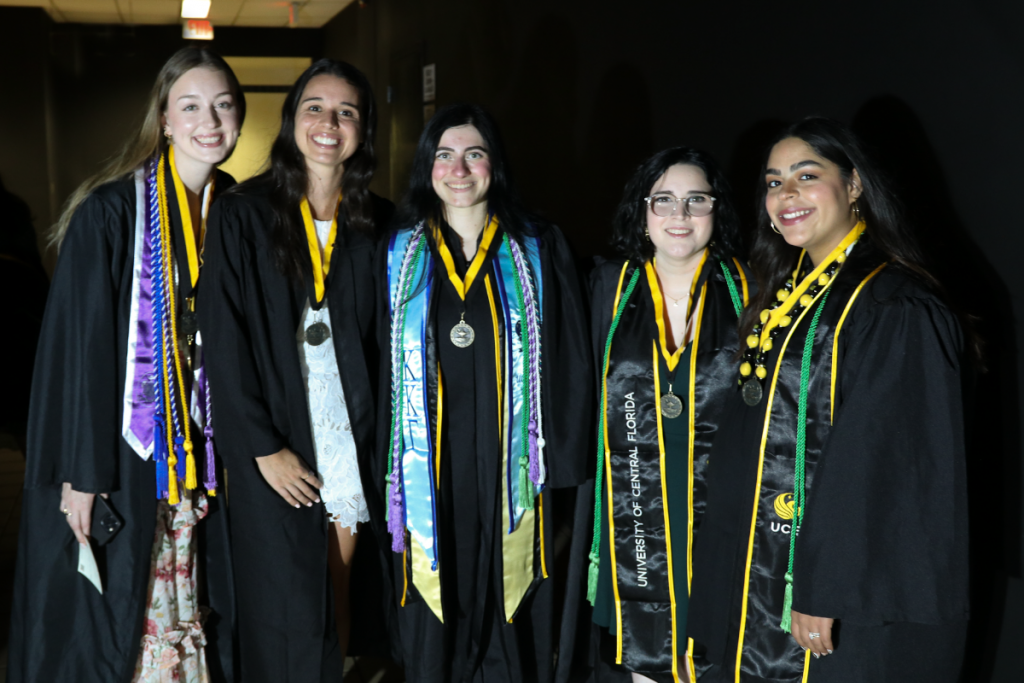 This week, 290 students will cross the stage at Addition Financial Arena during the Summer 2023 commencement ceremonies and officially become a UCF Knight nurse.
Of the nursing degrees being awarded, 238 are bachelor's (BSN), six are master's (MSN), and 35 are doctoral (PhD or DNP). UCF will also award 11 nursing graduate certificates.
Including this Summer 2023 cohort, UCF has now awarded more than 16,000 nursing degrees. A majority, 85 percent, of these Knight nurse alumni both live and work in Florida.
Summer 2023 BSN Graduates
The College of Nursing summer Class of 2023 includes many academically talented and high-achieving students, including 21 students who earned University Academic Honors with a GPA of 3.8 of higher. Jacquelyn Burbank and Mason Hilado earned the highest honor, graduating Summa Cum Laude.
In addition, three nursing students are graduating from UCF's Burnett Honors College and completed an Honors Undergraduate Thesis: Pearce Copland, Shannon Norton and Samantha Saint Fort.
Saint Fort is one of 67 students graduating from the Accelerated Second Degree BSN program and one of six national Helene Fuld Health Trust scholars.
One of these fellow scholars is Kris Hysler, who at age 38 proved it's never too late to start over. She is also one of the hospital award winners recognized at the college's recognition ceremony this week. Hysler received the Orlando Health Student Excellence Award, and Ryan Fraser received the AdventHealth Mission of Excellence Award.
Summer 2023 MSN and Doctoral Graduates
Of the 41 nursing students being awarded a graduate degree from UCF this week is Jenna Wheeler '07 '11BSN, a Knight nurse and alumna of the accelerated BSN program.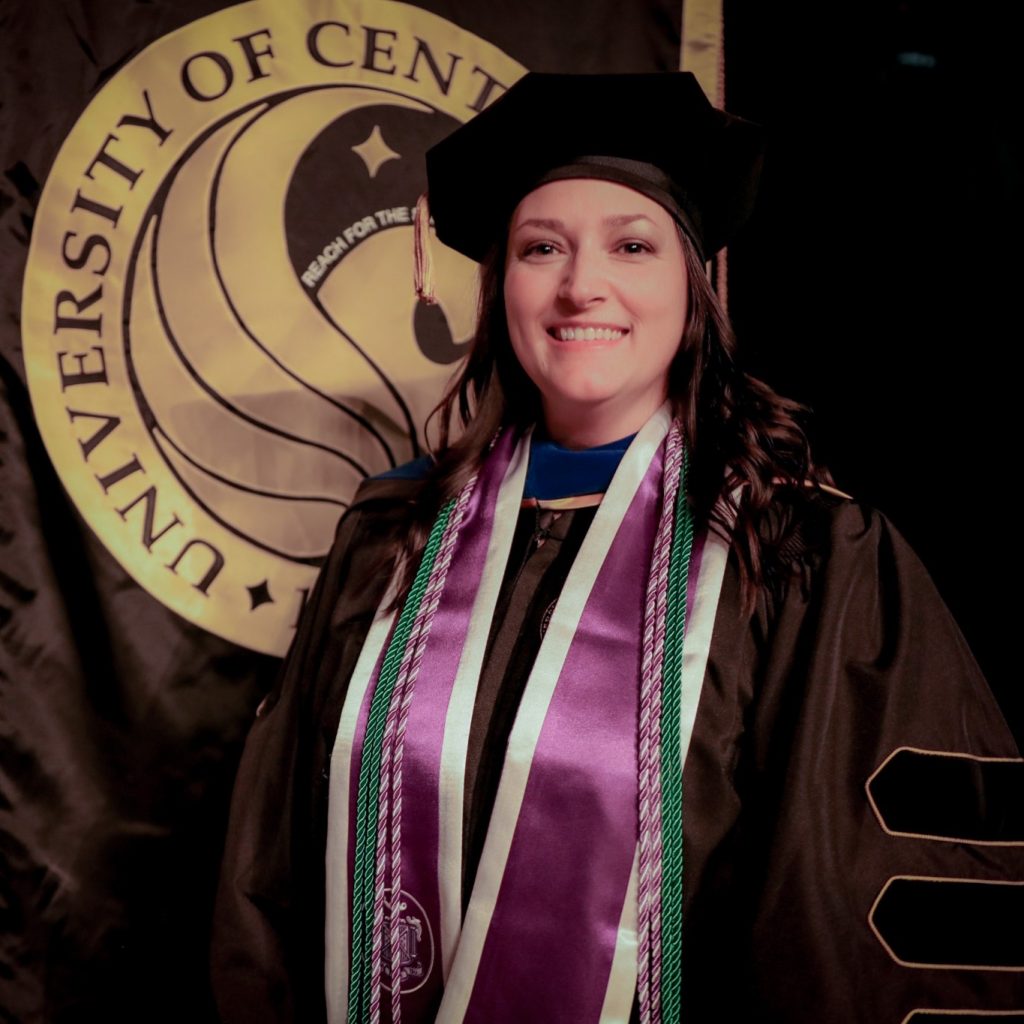 Wheeler is the second graduate from UCF's BSN to Ph.D. program, which fast-tracks students to a research career — saving valuable time and money — and providing much-needed talent to help address the national nursing faculty shortage and educate future generations.
For nearly 12 years, Wheeler has cared for the tiniest babies as a NICU (neonatal intensive care unit) nurse at Orlando Health Winnie Palmer Hospital for Women & Babies. "Nothing compares to the humble joy of knowing I made a difference in someone's life; by saving it through caring, critical skills, empathy, advocacy, and by easing suffering during someone's most vulnerable times," she says.
She returned to UCF to pursue her nursing Ph.D. to make a greater impact. "I have always been curious with a passion for science, and hope my research and future studies will positively impact the lives of others," she says.
Her research focus is inspired by her clinical practice, and includes social determinants of health, maternal mental health, epigenetics and biological markers of chronic stress, and preterm birth outcomes.
During her Ph.D. journey, Wheeler received mentorship and worked part-time as a research assistant to Endowed Chair Carmen Giurgescu — an internationally recognized researcher whose pioneering work seeks to eliminate racial disparities in preterm birth among Black women.
Wheeler has had three publications in peer-reviewed journals, including a first-authored publication in Public Health Nursing that was both a top cited and top downloaded article in 2021. She also presented research at nearly 20 conferences from the local to the international level, and was awarded a $5,000 grant from the March of Dimes to support her doctoral education and research.
For her dissertation, Wheeler explored the associations between the mother-father relationship and perceived stress among Black pregnant women. She hopes her work informs future nursing research and clinical practice in order to address disparate health outcomes among this vulnerable population.
"I am just very proud and excited about my BSN to Ph.D. experience at UCF," says Wheeler. "It is surreal all that I have learned and all that has happened in three years."
After graduation, Wheeler plans to continue making an impact as a NICU nurse and on the future of nursing by continuing her research among Black pregnant women and families through a postdoctoral fellowship, and pursue teaching opportunities in higher education.
View all doctoral candidates and their scholarly projects and dissertations here.
Has the UCF College of Nursing Positively Impacted You?
The mission of the College of Nursing at the University of Central Florida is to prepare nurse leaders and patient advocates through excellence in education, research and service.
Find out how to give back to your college, today!
More Stories