Released on May 5, 2023

More than 420 students from the UCF College of Nursing will graduate this week, adding much-needed nurse providers, leaders, advocates and educators to the talent pipeline amid a national shortage.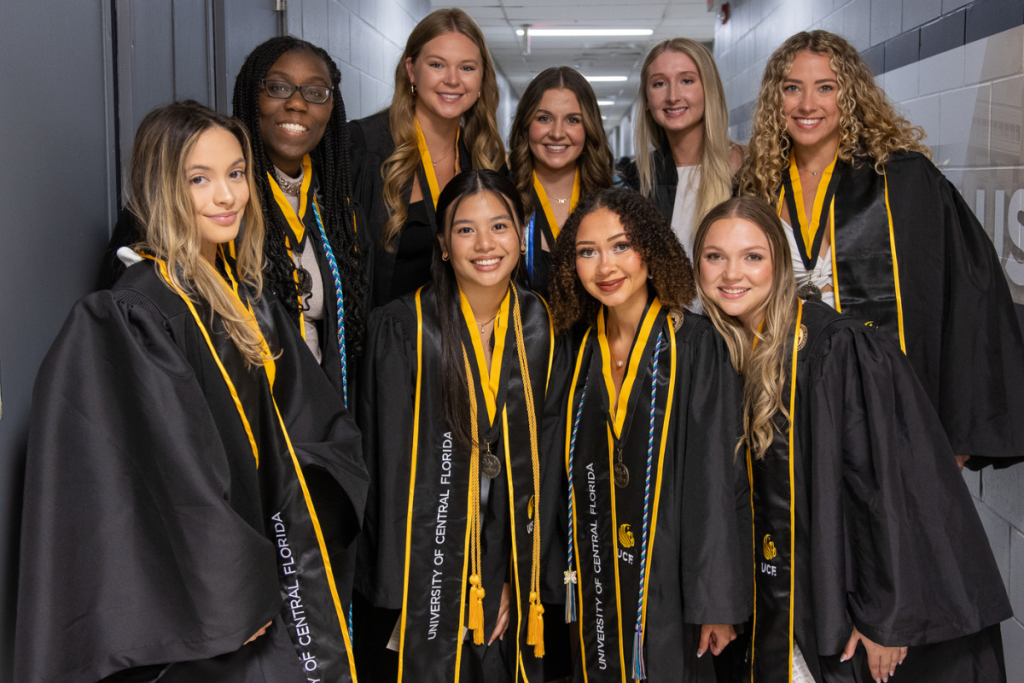 Among the 9,000 degrees UCF will award during the Spring 2023 commencement, more than 400 will be bestowed to students in the College of Nursing.
In total for the College of Nursing, UCF will award: 358 bachelor's degrees (BSN), 43 master's degrees (MSN), 17 doctorate degrees (Ph.D. and DNP) and nine graduate certificates. The new Knight nurses are joining the profession at a critical time with educated nurses in high demand as a result of the national nursing shortage, and many graduates have already accepted jobs.
Aiding the Frontline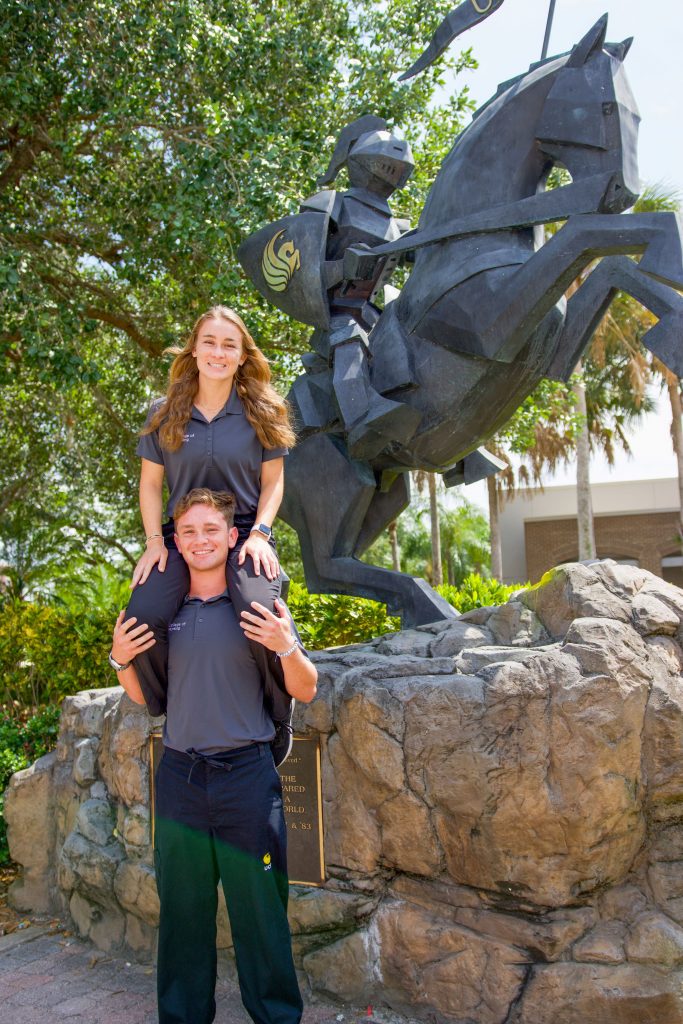 Graduate Trae Steele '23BSN is starting a generational career in nursing for his family, as his sister Jade is currently a junior in the Traditional BSN program at UCF Orlando. Both siblings were always interested in the healthcare field, and both chose nursing for the variety of opportunities it provides.
"I was blessed to have amazing instructors each clinical rotation that provided me with endless opportunities to learn," says Steele of his time in the program. He has already been offered a job after graduation in Central Florida. In fact, most of the 14,000 Knight nurse alumni – more than 85 percent – remain in Florida to work and live.
Also joining the profession, earning a bachelor's degree in nursing this week, are several high-achieving students who were recognized during the recognition ceremony including Order of Pegasus recipient Alexis Wade and Founders' Day Award honoree Kaitlyn Yu.
In addition, a total of 68 high achieving students earned University Academic Honors with a GPA of 3.8 or higher — including six graduating Summa Cum Laude with a perfect 4.0 GPA, 19 students graduated from the Burnett Honors College with Honors designation, and 14 students completed an Honors Undergraduate Thesis.

Four outstanding BSN students were honored with awards from community healthcare partners at the college's professional recognition ceremony earlier this week:
Kyla Huelle '23BSN, Orlando campus, Orlando Health Student Excellence Award
Morgann Betterly '23BSN, Orlando campus, AdventHealth Mission of Excellence Award
Rudjelle Declasse '23BSN, Daytona campus, AdventHealth North Mission of Excellence Award
Walter Hoffman '23BSN, Cocoa campus, "Wellness Starts with We" Health First Student Award
Additionally, Sara Hassan '23BSN from the Orlando campus was awarded the alumni chapter board's Diversity, Equity and Inclusion Award for her outstanding promotion of diversity, equity and inclusion in and outside of the classroom.
Strengthening Nurse Leaders
Of the 60 graduate students receiving an advanced nursing degree in Spring 2023 is Nurse Executive DNP candidate Lindsay Fitzpatrick '23DNP from Naples, Florida. Fitzpatrick became a system-level nurse leader during the COVID-19 pandemic and later had to face the supply chain crisis and Hurricane Ian.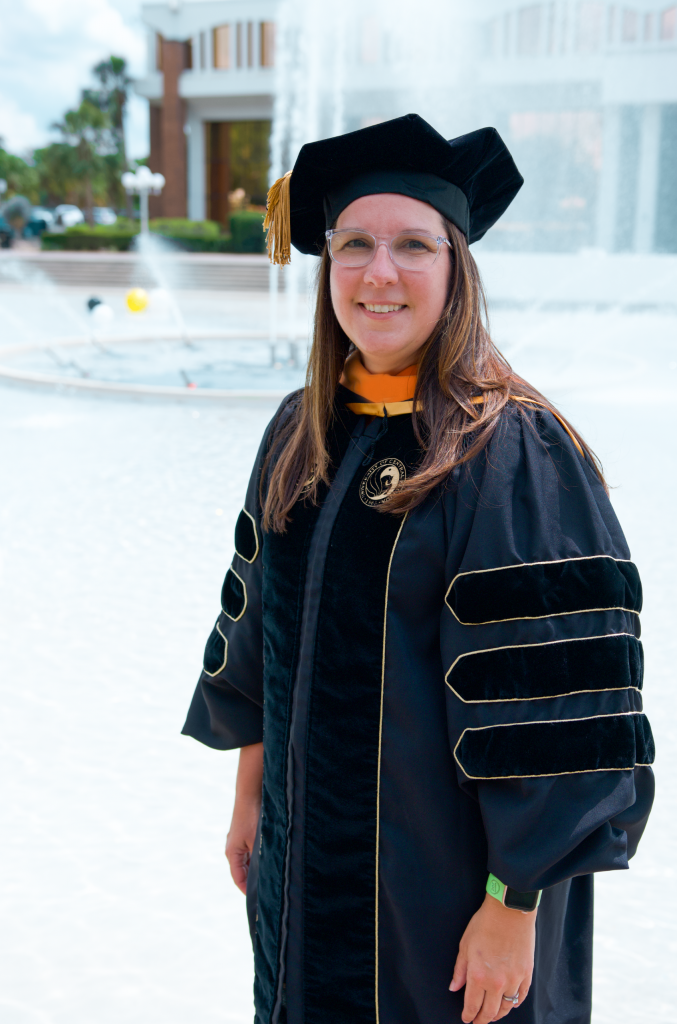 "UCF's program gave me the tools to navigate these difficult times, and practice leader agility and resilience," says Fitzpatrick, who had to delay the implementation of her DNP scholarly project as a result of post-hurricane priorities. "Although a lot of time and energy was dedicated to rapidly operationalizing the needs of the community from our healthcare system, I remained focused on ensuring that once the time was right, we would implement the project, which we were able to do in just a few short weeks."
That project, "Utilization of a Preoperative Optimization Protocol to Improve Patient Readiness for Surgery," was inspired by her career in surgical services and perianesthesia care. While she admits nursing was not her first career, she eventually decided to follow in the footsteps of several family members who are nurses after working as pharmacy tech at the VA and returned to school in an accelerated nursing program.
"(Nursing) is a passion I never knew I had," she says. "I never knew that nurses did so much that wasn't at the bedside and I wish I had known all of the different roles nurses play in healthcare delivery — I would have become a nurse sooner."
After graduation, Fitzpatrick plans to continue to expand her role and responsibilities within practitioner quality and professionalism at the healthcare system. While she's achieved the highest level of nursing expertise and education with her Doctor of Nursing Practice (DNP), she isn't done reaching for the stars. She plans to earn a Lean Six Sigma Black Belt certification this summer and sit for the Fellow of the American College of Healthcare Executives® certification exam later this year.
View all doctoral candidates and their scholarly projects and dissertations here.
Has the UCF College of Nursing Positively Impacted You?
The mission of the College of Nursing at the University of Central Florida is to prepare nurse leaders and patient advocates through excellence in education, research and service.
Find out how to give back to your college, today!
More Stories