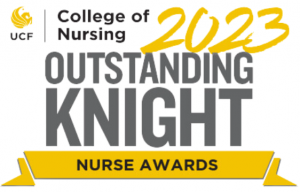 After earning their degree from the UCF College of Nursing, Knight nurses "Charge On!" and change lives in the communities that they serve.
The annual Outstanding Knight Nurse Award program recognizes UCF College of Nursing alumni who are shining bright as distinguished leaders and making valuable contributions in their field.
Previous awardees:
---
Education Award
Recognizes nursing educators and/or faculty for sharing knowledge, creating and cultivating an environment that supports life-long learning, using innovative teaching strategies, utilizing evidence-based practice in clinical areas, and focusing on scholarly research and dissemination within clinical settings.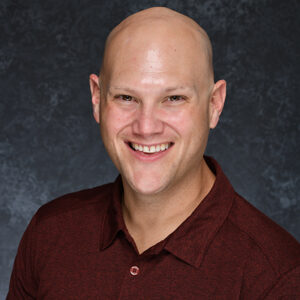 Christopher W. Blackwell '00BSN, '01MSN, '05PhD, APRN, ANP-BC, AGACNP-BC, CNE, FAANP, FAAN
A decades-long educator and four-time alumnus of the UCF College of Nursing, Christopher Blackwell is currently an associate professor and program director for the Adult/Gerontology Acute Care Nurse Practitioner Program, which he established in 2014. Blackwell is well known for his student-centered teaching philosophy, using innovative course materials, interactive resources and multimedia presentations to engage students and ensure the best possible learning experience. His students consistently give him high praise for making difficult material easier to understand. Blackwell's dedication extends beyond the classroom as he mentors students to help them achieve their academic and professional goals. As a Knight nurse, he shines bright in his dedication to his students, his commitment to academic excellence, and in mentoring future generations.
Leadership Award
Recognizes nurses for outstanding leadership, mentorship, and professionalism while creating an environment that fosters compassionate care and inspires nurses to strive for excellence.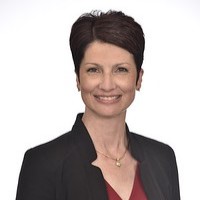 Christina McGuirk '98BSN, '22DNP, RN, NEA-BC, CENP
As chief nursing officer for Orlando Health – Health Central Hospital and Orlando Health Horizon West Hospital, Christina McGuirk oversees nursing services across both facilities — the 216-bed Joint Commission-accredited acute care hospital and 120-bed hospital that opened in 2021. After graduating from UCF with her bachelor's degree, McGuirk joined Orlando Health as medical-surgical registered nurse and, with her commitment to compassionate care and clinical excellence, quickly advanced into management and leadership roles. Most recently at Orlando Health – Health Central, she assisted with an expansion and guided the hospital toward achieving specialty program accreditations by the Joint Commission for chest pain, stroke, heart failure, total hip and total knee replacement, and spine center. As a leader at Orlando Health, McGuirk serves as a role model and mentor to ensure her team members grow professionally, and is considered a trailblazer for her ability to identify opportunities in the pursuit of excellence. For example, she recently led a team to develop a process to safeguard patients at risk for elopement — leaving a hospital when incapable of adequate self-protection. McGuirk embodies the qualities of a strong leader and Knight nurse, and will continue to lead nursing into the future.
Practice Award
Recognizes nurses across practice levels and sites for clinical excellence, superior skills, and providing high quality, compassionate care.
Brandi Bryan '17MSN, RN, CCRN-K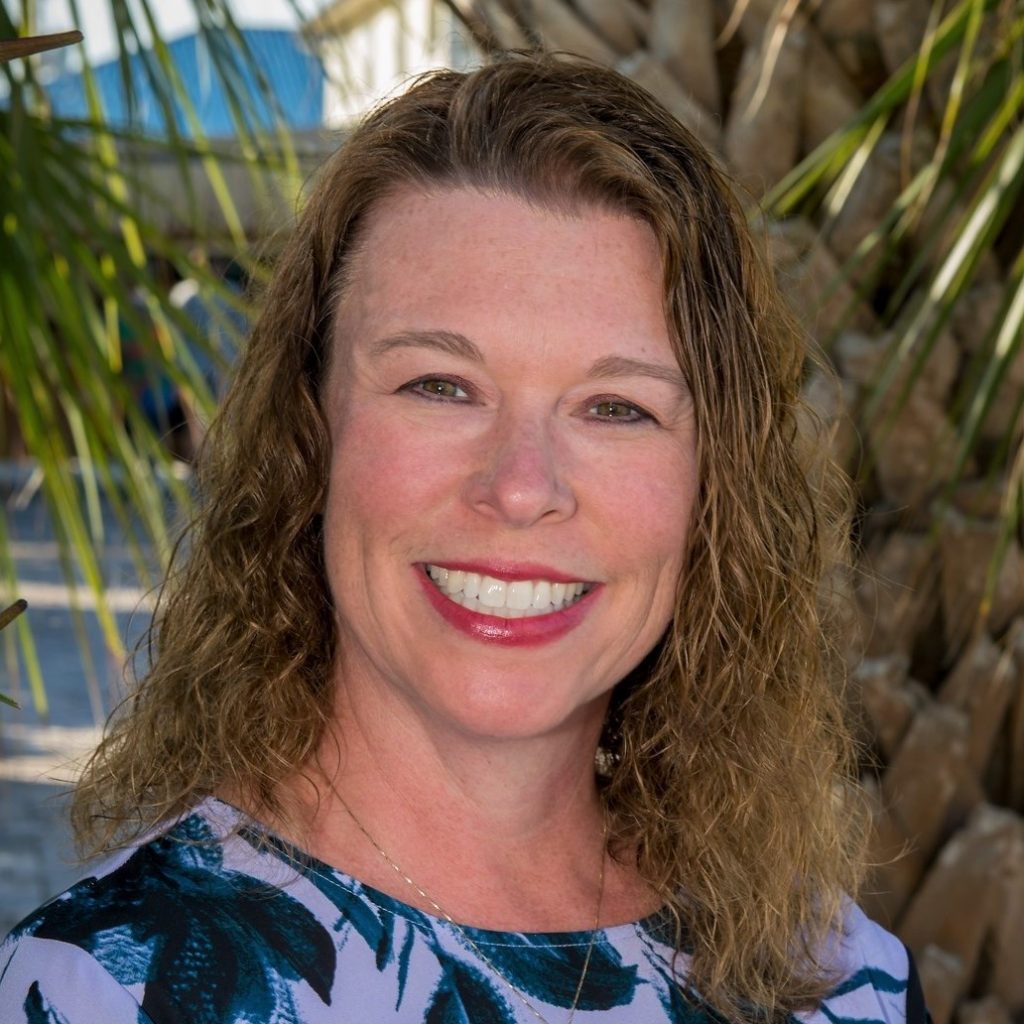 Brandi Bryan is an innovative nurse leader who leads the strategic direction and execution of critical care and emergency medicine across AdventHealth, which includes 16 hospitals in Central Florida and critical care services in nine states. During the pandemic, she partnered with critical care physicians to develop recommendations for care in an ever-changing environment. She was a powerful resource and knowledgeable leader, collaborating with teams across specialties, to rapidly implement practice changes. An expert in telehealth, she recently presented on the value of tele-ICU models to a special interest group of the American Telemedicine Specialists and is leading discussions at AdventHealth about innovations in telecare. Bryan is passionate about education and support for new nurses, and is often called a "nurse's nurse." No doubt, Bryan will continue to "Charge On" and save lives as a researcher, leader, and advocate for evidence-based practice to ensure quality outcomes for critical care patients.
Research Award
Recognizes nurses for generating new knowledge and innovations and disseminating research findings for use in nursing practice, education, development of patient / caregiver materials, lecturing, leadership, and advancing the profession of nursing.
Dawn Turnage '11BSN, '13MSN, '15DNP, '19PhD, APRN, FNP-BC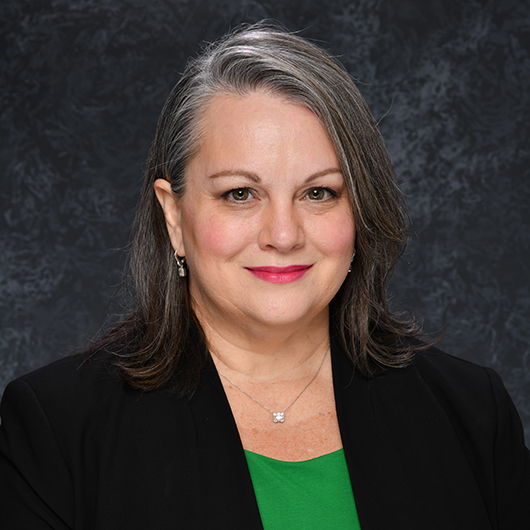 Dawn Turnage is a five-time UCF nursing alumna whose commitment to advancing nursing science extends beyond her own scholarship to mentoring future generations of researchers. Turnage is active in Sigma International Honor Society of Nursing, serving on the board of UCF's Theta Epsilon Chapter since 2016 and as president from 2020-22 where she has welcomed countless new undergraduate and graduate student members. Her research focuses on immunizations and public health, as well as the health of parental caregivers of children with autism spectrum disorder. In addition to her autism-related research, Turnage works tirelessly to improve the lives of caregivers and individuals with autism spectrum disorder as an advocate and through service on leadership boards for national and international autism organizations. Recently, she was part of an interdisciplinary UCF team that won the Pabst Steinmetz Fund Art & Wellness Innovation Award for the project, "Fables versus Urban Legends: Storytelling about Vaccines at the Intersection of Ethnography and Epidemiology," which educated new parents about the importance of timely infant vaccinations. Her service to others is a core value of her character, evident by her dedication to the community and the nursing profession as a leader and researcher.
Service Award
Recognizes nurses for participation in local, national, or global volunteer work, community outreach activities, and military service that promotes global health and addresses disparities.
Myra Sherman '01BSN, '04MSN, '11DNP, ARNP-BC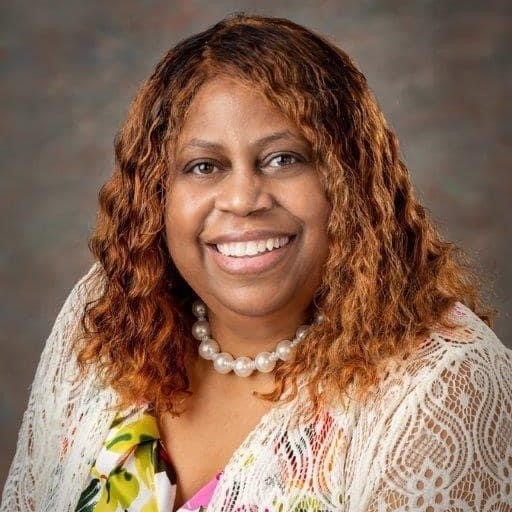 As a nurse practitioner, Myra Sherman delivers primary care to a wide range of patients. Care and compassion are second nature to her as she not only administers healthcare to the community, but serves as the first female pastor of the Reddick Church of God — a role she performs lovingly and often without pay. Her role as pastor extends into the community, where , ensures local school children have backpacks and supplies when family finances are tight, and helps grieving families for whom she offers no-cost funerals. Sherman has also served as a prison minister for 12 years and is in her second term serving on the Reddick Town Council. Equal to her dedication to the community is her dedication to nursing. She is a member of many professional organizations, including the American Nurses Credentialing Center, Marion County Nurses Association, Parish Nurse Organization, Florida Nurse Practitioner Network, Florida Nurses Association, Black Nurses Association and American Association of Critical Care Nurses. In addition, she serves as a nurse mentor and preceptor at UCF College of Nursing. Her compassion for service, and commitment to caring for others personally and professionally, exemplify what it means to be a Knight nurse.
Charge On Award
Recognizes nurses for elevating the profession to new and extraordinary heights by using unique skillsets to implement creative or entrepreneurial ideas that advance nursing beyond the bedside.
Marie Smith-East '20PhD, DNP, PMHNP-BC, EMT-B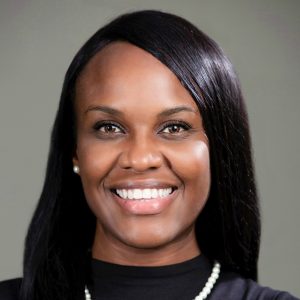 "The stories of patients whose lives are improved by mental health nursing care inspire me every day," says Marie Smith-East, a board-certified psychiatric mental health nurse practitioner, entrepreneur, educator and researcher. Her innovative research focuses on geographic access to healthcare using Geographic Information Systems, particularly for those with schizophrenia spectrum disorders, and has been cited in one of the top medical journals. In addition to operating her own telemedicine practice, she is co-founder of OspreyPsych Telehealth — a psychiatric mental health student nurse practitioner practice that allows students to practice psychiatric assessment, diagnosis and treatment through telehealth. She is also supporting the next generation of mental health nurses with an endowed scholarship in the UCF College of Nursing. To support local youth, she recently started a nonprofit organization in honor of her late mother. The organization's summer music program provided the opportunity for BIPOC (black and indigenous people of color) youth to learn to play musical instruments. Her community service also includes volunteering with the "on-call team" of the Schizophrenia and Related Disorders Alliance of America (SARDAA), which honored her with its 2019 Volunteer of the Year award in recognition of her four years of volunteer work assisting individuals and their families from all over the world. With a commitment to do extraordinary things in teaching, service, health policy and research, Smith-East will continue to "Charge On" and make a positive impact.