Armor Up, Knights! Face Coverings are Required. Take the Pledge. Office Hours: The College of Nursing's front office is currently open to visitors Monday through Thursday from 9:30 a.m. until 4 p.m. (closed 12:30-1 p.m. for lunch), and 9:30 a.m. until 1 p.m. on Fridays. Phones are answered Monday through Friday from 8 a.m. until 4 p.m. Advising Appointments: Prospective students may still schedule advising appointments. Virtual appointments are available via phone or Zoom. Please stay safe, wash your hands and continue to monitor the university's Coronavirus (COVID-19) website for updates.
Leading the Charge in Nursing Education, Practice and Research
The University of Central Florida has been leading the charge in educating the next generation of nurses for 40 years. Ranked among the best in the nation and accredited by the Commission on Collegiate Nursing Education, the UCF College of Nursing offers online and on-campus degree programs at the bachelor's, master's and doctoral levels.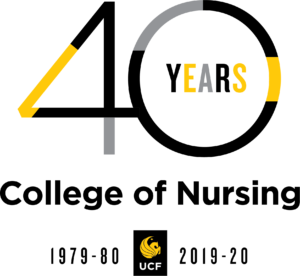 Through nationally recognized faculty, innovative research, evidence-based practice and community service, the UCF College of Nursing prepares nurse leaders to meet the world's ever-changing healthcare needs.
Celebrating 40 Years of Excellence
A small cohort of faculty and undergraduate students made history in fall 1979 to begin nursing at UCF.
Our 40-year history of excellence is the result of the valuable contributions of those early trailblazers, and the thousands of students and alumni, and countless leaders who have followed in their footsteps.
Re-Save the Date! The 40th anniversary gala has been rescheduled to May 15, 2021. Learn more.
Nationally Recognized. Nationally Accredited. Learn More
Choose Your Path
Access to Excellence
Renowned UCF Faculty. Esteemed UCF Degrees. Options Designed for You.
---
View All News
Let's Get Social
---
COVID-19 Health tips from experts at UCF's Academic Health Sciences Center: Click here.