Thank a Nurse: Nurses Month 2020
Whether you're old or young, healthy or battle health problems, we all have interacted with a nurse. They touch lives each and every day, caring for their community with clinical skills and heartfelt compassion.
Now, more than ever, it is important to take a moment to thank a nurse.
This year's national Nurses Week, May 6 – 12, is more significant than ever. It marks the 200th birthday of Florence Nightingale, the founder of modern nursing, which has led the American Nurses Association to extend the recognition week to the entire month of May.
It is also being celebrated during the Year of the Nurse, designated by the World Health Organization to bring more awareness to the profession.
And, as we all know, Nurses Month 2020 is taking place during a global pandemic where nurses are serving on the front line.
---
How You Can Thank a Nurse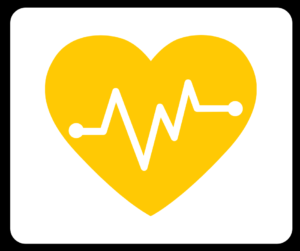 Join the UCF College of Nursing in thanking nurses for all that they do.
---
Share Your Story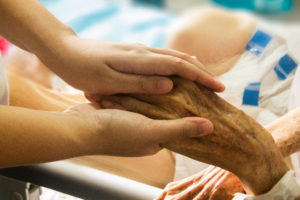 Sharing stories are powerful. They bring people together. They connect us, inspire us and warm our hearts.
We invite you to share your story of a nurse who has impacted your life to share with others.
Submit Story
Submit Video Message
Thank you, Haley!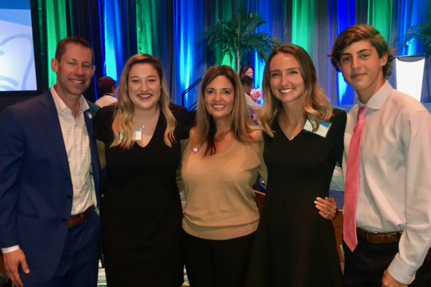 Adam
Goldstein
"In 2018, my son was in a serious golf cart accident. He fractured his skull and suffered a traumatic brain injury. As a father I felt guilty, helpless and hopeless. In the pediatric ICU, I met Haley… a confident, bright and compassionate RN – and a KNIGHT NURSE! She was taking unbelievable care of my son. She transformed my fear and doubt into hope and optimism. Her care over that 10-day period made all the difference for us."
Thank you, Annabeth!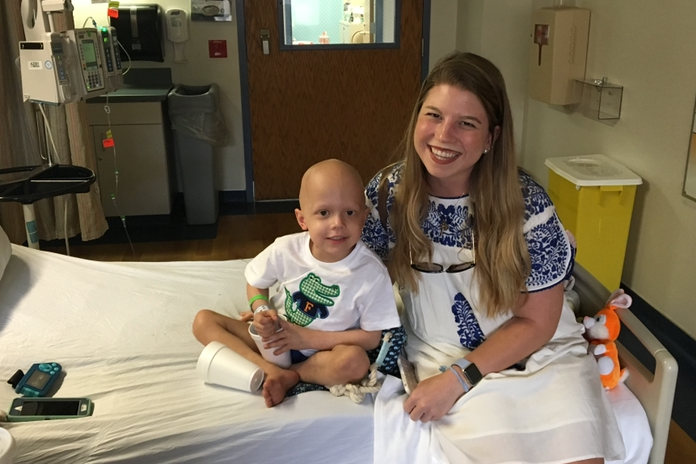 Rebecca
Huddleston
"Annabeth put her heart and soul into caring for my son when he was in the pediatric ICU at Shands Children's Hospital. He had stage 4 Lymphoma, and she cared for his sick and fragile body like he was her own. She nurtured not only him, but us, his family, as well. We will forever be grateful for her level of care that she gave to our entire family."
Thank you, UCF Nurses!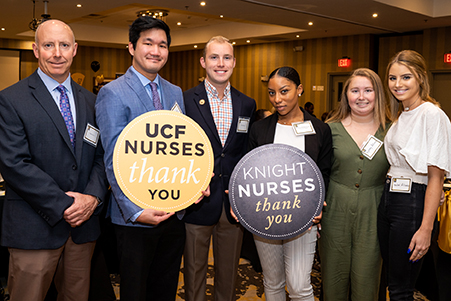 Wade
Alliance
"My wife, Elaine, was a nurse for over 20 years. When she was pregnant with our youngest child, she was diagnosed with cancer. We traveled across the U.S. for treatment during her 15-year battle, and by far, the best care she received was here by UCF nurses. We established a scholarship for undergraduate UCF nursing students because we never wanted the work that she did in the field of nursing to fade away."
Thank you, Mackenzie!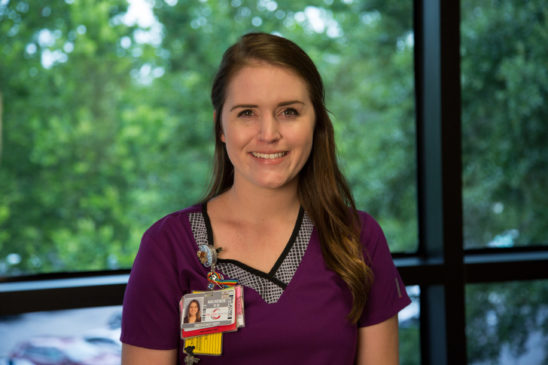 Sarah
Dodson
"When I got a call that my niece was in the ER, I panicked, remembering the many hospital visits with my own sick child. As I drove to meet them, I received an update – she was in good hands with a top notch nurse. That nurse was Mackenzie '16BSN, a past recipient of a scholarship given by our family in memory of my daughter, Marlie, who died of brain cancer at age 8. I felt this peace come over me. That was our first full circle moment, of seeing a recipient in action and now caring for our family member."
---
Support Future Nurses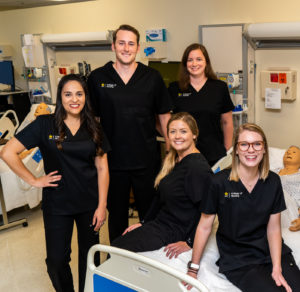 Nurses are needed now more than ever. And now, more than ever, we need to support the next generation of nurses.
The COVID-19 pandemic has brought about many challenges for our nursing students, including job loss or reduced work hours that are impacting their ability to pay tuition.
When students are able to safely return to on-campus learning, they will need to strengthen their skills and knowledge for this rapidly changing healthcare environment. Innovative simulation-based learning will ensure students are fully prepared to provide real-world care.
Help us continue to educate the next generation of Knight nurses with a gift to the UCF College of Nursing in honor of a nurse who has made an impact in your life.
Donate Now
---
Why I Give to the UCF College of Nursing: Wade Alliance Donor Wade Alliance shares why he supports student scholarships at the UCF College of Nursing.
"We never wanted the memory, or the work that Elaine did in the field of nursing to fade away."
#Nursing #Scholarships #WhyIGive #UCFNursing #UCF
The Impact of Nursing Scholarships We invite you to watch this brief video to hear from our students and donors on the profound impact giving has made in their lives.
Like Amanda, Patrick, Suzanne and the Alliance Family, you can positively impact the health of ...
---
Knight Nurse Recognition during Nurses Month