Released on May 28, 2020
"The greatest good to society is to serve those with the least," says Assistant Professor Michael Valenti, a mental health nursing provider, researcher and current president of the board of the American Psychiatric Nurses Association, Florida Chapter.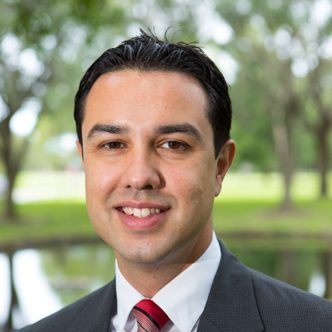 In his Psychiatric-Mental Health Nursing course, Valenti prepares undergraduate nursing students to care for people of all ages with mental illness, mental distress, and substance use disorders. He teaches best practices in assessing and treating the mental and physical health needs of individuals, families, groups and communities.
The course focuses on providing care for the whole person, addressing personal attitudes and biases, decreasing social and self-stigma, assessing and addressing shame and guilt, and viewing recovery as a journey rather than end-point.
"The goal is for students to develop and apply evidence-based holistic, culturally competent, person-centered, and trauma-informed care to all of their patient interactions, regardless of practice setting," Valenti adds.
Through clinical partnerships with behavioral healthcare service providers across six Central Florida counties, students are exposed to a full scope of psychiatric-mental health nursing practices. There's an additional focus on community services in underserved and vulnerable communities where students gain an appreciation for the whole-health connection – integrating primary and mental healthcare.
"I encourage students to integrate the competencies learned in my psychiatric-mental health nursing course to all of their other clinical courses," Valenti adds.
Addressing the Opioid Epidemic
In 2016, both the U.S. Surgeon General and Florida Department of Health recommended revising and enhancing education as part of their plans to address the opioid epidemic. Valenti assembled a community advisory board of people with personal and professional experience with substance use disorders. The board helped uncover opportunities to enhance curriculum content to improve care for people with opioid use disorder.
Valenti was awarded a UCF Program Innovation grant to develop a learning experience to improve nursing care for people with opioid use disorder. Students participate in a clinical simulation with a live actor who is also a certified recovery peer specialist. Following the formal debrief of the simulation, students learn more from the specialist and gain an understanding of their role as a member of the healthcare team.
In addition to educating undergraduate nursing students, Valenti chairs psychiatric-mental health nursing graduate research projects. Among these is Georgina Hollenbach, a current DNP student who is working on a system-level change to improve access to vital psychiatric-mental health services for high-risk patients.
Removing the Stigma
"Unlike many other health disorders, psychiatric-mental health issues are heavily stigmatized," says Valenti. "There are many barriers to accessing quality mental health care and people with serious mental illness are among the most vulnerable and underserved in society."
"Optimal mental health and wellbeing is essential to every human being. By educating nursing students, I am able to bring psychiatric-mental health issues out of the shadows and normalize mental health assessments and screenings for all patients."
Has the UCF College of Nursing Positively Impacted You?
The mission of the College of Nursing at the University of Central Florida is to prepare nurse leaders and patient advocates through excellence in education, research and service.
Find out how to give back to your college, today!
More Stories