Released on October 7, 2021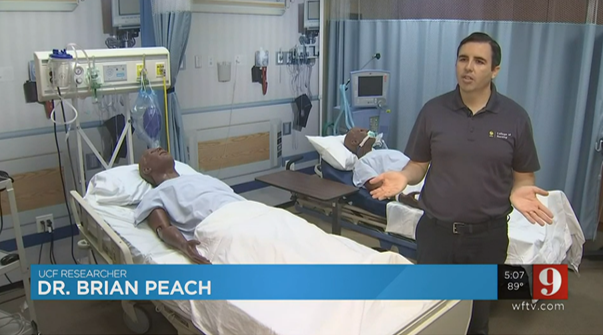 Angela Jacobs of WFTV 9 spoke to Assistant Professor and clinical care nurse Brian Peach about a new research study on post-ICU syndrome in COVID-19 patients.
"It's almost heartbreaking as an ICU nurse because you want them to have a meaningful life after they're discharged, and unfortunately, many of them don't," Peach said.
Watch the Video
---
Seeking Study Participants to Complete Questionnaire
To participate in the study, contact Dr. Brian Peach by email or call 407-823-5460.
Adults, at least 18 years old,
Hospitalized in ICU with ARDS or COVID-19 between January 2020 and June 2021,
At least 1 month removed from hospitalization,
Had a breathing tube in throat attached to a ventilator, and
Reside in Brevard, Lake, Orange, Osceola, or Seminole County in Florida
Has the UCF College of Nursing Positively Impacted You?
The mission of the College of Nursing at the University of Central Florida is to prepare nurse leaders and patient advocates through excellence in education, research and service.
Find out how to give back to your college, today!
More Stories