Released on August 12, 2022
UCF Alumni announced its Shining Knights Award recipients for 2022 — 11 winners celebrated for their commitment to the university in the categories of the Michelle Akers Award, Distinguished Alumni, Honorary Alumni, Young Alumni, Distinguished Student and the Champion's Award. Among this year's honorees is College of Nursing alumnus and Knight nurse Kenneth Dion '91BSN.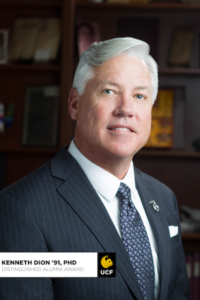 Distinguished Alumni Award
Highest annual award granted to a graduate of UCF.
Kenneth Dion '91 is a 40-year veteran of the healthcare industry. He is the president for Sigma Theta Tau International, the international nursing honor society. He most recently served as assistant dean for Business Innovation and Strategic Relationships at Johns Hopkins School of Nursing. A member of the Dean's Advisory Board and the Millican Society, he is a loyal supporter of the UCF College of Nursing.
Read More
Has the UCF College of Nursing Positively Impacted You?
The mission of the College of Nursing at the University of Central Florida is to prepare nurse leaders and patient advocates through excellence in education, research and service.
Find out how to give back to your college, today!
More Stories