Released on December 15, 2021

Medilepsy, developed by McKnight Doctoral Fellow Michelle Tall '17MSN, effectively helped adolescents with epilepsy and their caregivers self-manage the chronic disease in a study.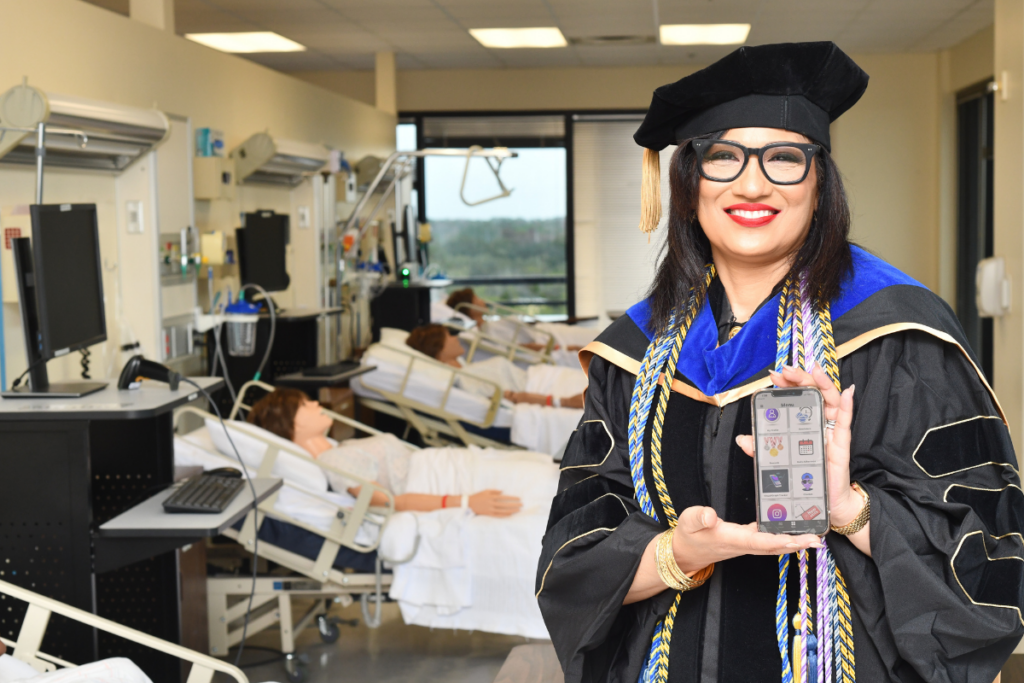 Epilepsy, a chronic neurological condition, effects 3.4 million people in the U.S. and 50 million worldwide. For nursing PhD graduate Michelle Tall '17MSN, it's something she knows all too well as her son Josh has a rare epilepsy condition.
"It's a tireless battle," says Tall, who was one of only two nurses in 2018 awarded a McKnight Doctoral Fellowship for her research. The family, at one point, had to travel to New York every month for Josh to be evaluated and treated by a specialist.
Today, Josh's epilepsy is well managed and he is now a senior in high school. But the experience inspired Tall to create something to help other patients and caregivers – the Medilepsy app.
Tall developed and tested Medilepsy in a research study for her nursing PhD dissertation at UCF. The iPhone app is for adolescents and young adults, ages 16 – 24, with epilepsy. It is designed to help patients make the difficult transition from caregiver-managed to self-managed care.
The app helps patients adhere to their medication schedule with reminder notifications, learn self-management skills, set goals and earn personal rewards. Caregivers are also notified each step to intervene if needed.
Additionally, Medilepsy includes educational information about medication side effects, suggested questions to ask a doctor, tips to help patients and families transition from a pediatric model of care to adult, and a private social platform to provide a sense of community.
While recruiting participants during the pandemic posed its own set of challenges – many offices were closed or had strict guidelines to enter and speak to providers – Tall persevered. She successfully recruited participants thanks to social media, reaching out to local and national epilepsy organizations, epilepsy bloggers, advocates and influencers to share the study.
"The nursing PhD program required hard work, passion and commitment to my research," says Tall. Her dedication paid off.
The study included patients and caregivers from 16 states, and had promising results. Participants showed significant improvement in appointment keeping and managing medications. Feedback from study participants was also positive. Participants especially liked the text messaging feature and overall reported Medilepsy was a reliable resource to provide support on medication adherence and transition needs.
After graduation, Tall plans to apply for grant funding to build an interdisciplinary team to enhance the app to include Android users and expand testing internationally. She also plans to develop similar apps to help adolescents, young adults and families self-manage other chronic conditions, such as autism, asthma and diabetes.
"Ultimately, I would like to contribute to chronic disease and self-management science to support patients and families worldwide," she says.
"This degree will open doors to endless possibilities," adds Tall. After graduation, she also plans to seek a faculty position at a research institution, grow her nonprofit, The Epilepsy Leadership Foundation, and launch another nonprofit, The American Epilepsy Nurses Association.
Has the UCF College of Nursing Positively Impacted You?
The mission of the College of Nursing at the University of Central Florida is to prepare nurse leaders and patient advocates through excellence in education, research and service.
Find out how to give back to your college, today!
More Stories