Released on March 21, 2022

The nurse executive developed collective mindfulness skills training for nurse leaders to influence a culture of safety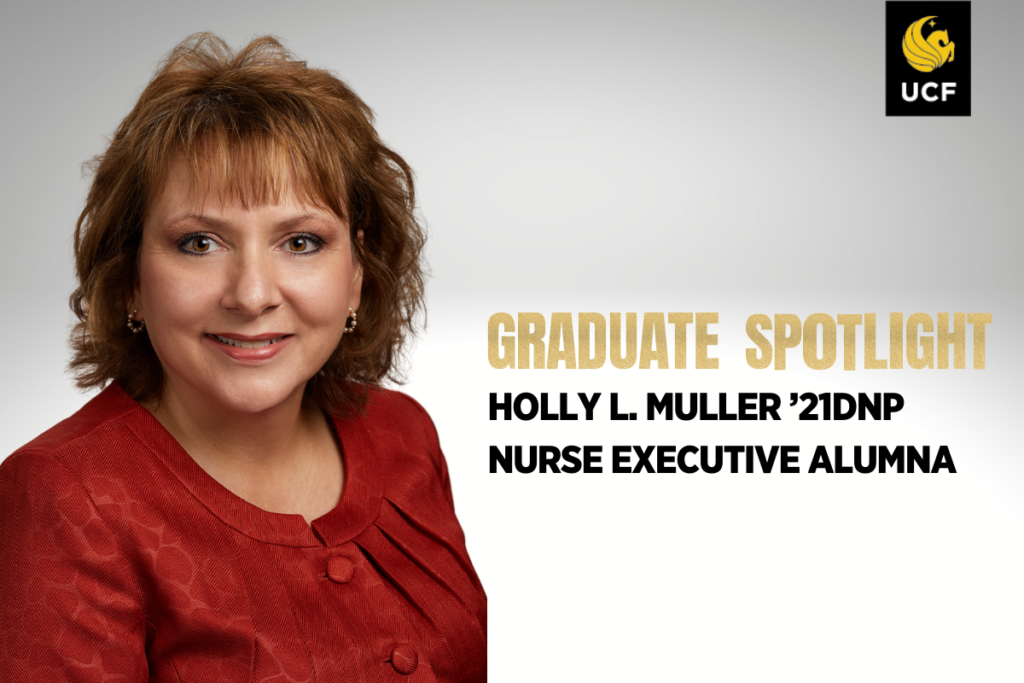 "My initial career interests were in nursing, physical therapy, or osteopathic medicine," says Holly L. Muller, DNP, MHA, RN, CRRN, NEA-BC, Chief Nursing Officer at Orlando Health Orlando Regional Medical Center. "I chose nursing and have never regretted that decision."
"I love being a registered nurse, and respect and appreciate the unique impact we have on the care of our patients and their families," she adds. "Nurses are uniquely trained, with a distinct body of knowledge that enables us to advocate and care for our patients with a comprehensive view of their health needs."
Muller's nursing career began as a bedside nurse in neurology, where she became an active participant in governance practice councils and professional practice activities. Those opportunities sparked an interest in nursing leadership and since that time, she has held numerous leadership positions.
Passion for Developing Nurse Leaders, Improving Safety
Muller is passionate about developing nurse leaders in their leadership practice, and became interested in the science of safety in 2009 when she was introduced to the Institute for Healthcare Improvement.
"The ability to transform clinical processes and the work environment to better support patient safety resonated with me, and aligned with the challenges I was experiencing as a registered nurse and healthcare leader," says Muller.
For her doctoral scholarly project, the Fall 2021 Nurse Executive DNP graduate developed a training program for nurse leaders to develop collective mindfulness skills to influence a culture of safety. In the 10-week educational workshop series, nurse managers learned collective mindfulness skills and how to apply them.
"The biggest takeaway was that the project's quantitative and qualitative results validated that the nurse leader participants benefited from the educational intervention and that the content was meaningful to their work," she says. "The application to practice exercises within the intervention allowed the nurse leaders to work as peers to solve real-life safety problems."
"Her work is important because nurse leaders are responsible to create an environment of quality, safety, and performance excellence," says Associate Professor Annette Bourgault who served as Muller's project chair.
Orlando Health Orlando Regional Medical Center plans to continue the workshop series, inviting assistant nurse managers and newly hired nurse managers to participate in this program later this spring.
Pursuing a Nursing Doctoral Degree
"As a lifelong learner and healthcare executive, it was personally and professionally important to pursue my DNP, and role model the importance of advanced practice education to other nurses," says Muller on her decision to enroll in the Nurse Executive doctoral program. "UCF has a stellar reputation both within the community and the state, and was the ideal choice."
"The program has enabled me to advance my professional practice, enabling me to more effectively lead the practice of nursing and advance patient health outcomes."
In May, Muller will be relocating to New Mexico to serve as the senior vice president and system chief nursing officer for Presbyterian Healthcare Services. "I believe that attainment of this DNP degree prepared me for executive leadership advancement, and has had a favorable impact on my career."
Has the UCF College of Nursing Positively Impacted You?
The mission of the College of Nursing at the University of Central Florida is to prepare nurse leaders and patient advocates through excellence in education, research and service.
Find out how to give back to your college, today!
More Stories