Released on August 1, 2017

By UCF College of Nursing
Honored for her significant contributions to critical care and nursing education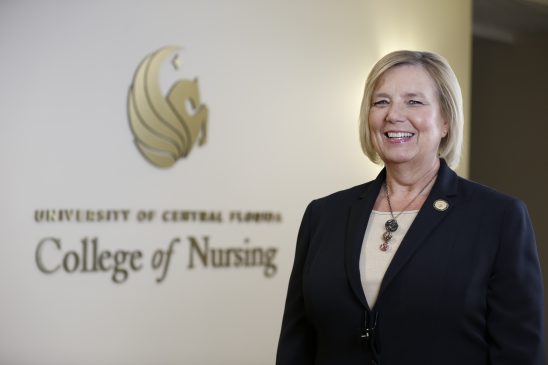 Mary Lou Sole, a widely published nurse scientist, Orlando Health Endowed Chair and dean of the University of Central Florida College of Nursing, has been inducted into the International Nurse Researcher Hall of Fame of Sigma Theta Tau International (STTI) Honor Society of Nursing.
Sole and the 22 other honorees from Australia, Canada, Finland, Taiwan, the United Kingdom and U.S. were inducted at the STTI 28th International Nursing Research Congress in Dublin, Ireland, on July 29. The award is the highest level of recognition available for nurse researchers, honoring those who have achieved significant and sustained recognition, and whose research has improved the profession and the people it serves.
"Dr. Sole has contributed significantly to the body of nursing science," said Cindy L. Munro, past recipient of the STTI Nurse Researcher Hall of Fame award and associate dean of research and innovation at the University of South Florida College of Nursing. "Her intervention research has improved patient care and her mentorship has enhanced the research capabilities of nursing students across all levels."
"I am honored and humbled to join a renowned group of researchers around the world who work diligently every day to generate evidence for nursing practice that ultimately contributes to better patient outcomes," said Sole who was honored for her contributions to critical care nursing and nursing education.
A certified critical care clinical nurse specialist, Sole has focused her research over the past three decades on preventing complications and improving outcomes of critically ill patients who are placed on a ventilator. Her research, which has been awarded more than $4 million in funding to-date, has influenced the standard of nursing care in the U.S. and in the international critical care community.
As an educator, mentor and researcher, Sole is dedicated to developing the next generation of nurse leaders. Using simulation and technology, Sole has created innovative strategies to improve student learning in the clinical setting as well as the classroom.
Her research has been published in more than 100 peer-reviewed publications and presented at conferences throughout the world. She currently serves on the editorial boards of AACN Advanced Critical Care, American Journal of Critical Care and Heart & Lung, and is the editor of one of the most widely used undergraduate critical care nursing textbooks in which she has also authored several chapters. In addition, Sole has served as a member of two National Quality Forum task forces and expert panels of the National Institutes of Health. Throughout her career Sole has been honored with numerous awards, including American Association of Critical Care Nurses (AACN) Distinguished Researcher and Researcher of the Year from the National Association of Clinical Nurse Specialists.
Sole has a diploma from the Ohio Valley General Hospital School of Nursing in Wheeling, WV, a BSN from Ohio University, a MSN from The Ohio State University, and a PhD in nursing from the University of Texas at Austin. She is the second faculty member at the UCF College of Nursing to receive this prestigious honor from STTI. Karen J. Aroian, professor emerita and former Chatlos Foundation Endowed Chair in Nursing, was inducted in 2013. Additionally, Mona Shattell, professor and chair of the Department of Nursing Systems and the Hugh F. and Jeannette G. McKean Endowed Chair, was inducted in 2020.
Has the UCF College of Nursing Positively Impacted You?
The mission of the College of Nursing at the University of Central Florida is to prepare nurse leaders and patient advocates through excellence in education, research and service.
Find out how to give back to your college, today!
More Stories