Released on July 29, 2022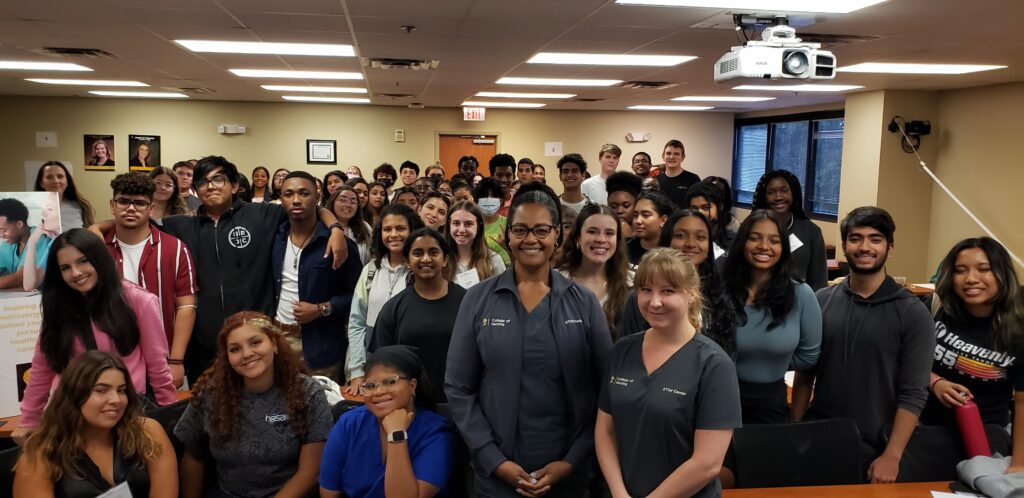 Organized by the UCF College of Medicine's Office of Diversity, Equity and Inclusion, the week-long Health Leaders Summer Academy helped students chart their career paths to healthcare professions. They learned about health-centered education tracks and programs at UCF, tour university campuses and facilities, and engaged in activities designed to increase interest, awareness and passion for science and medicine.
New this year, the ODEI partnered with UCF's College of Nursing, College of Health Professions and Sciences, and the School of Global Health Management and Informatics to host 57 participants — ninth through 12th-grade students from Orange, Osceola and Seminole counties — who completed over 25 activities, workshops and presentations. At the medical school, they learned CPR and suturing, assessed the health of medical manikins and trained with a robotic surgery simulator.
Students also received a tour of the College of Nursing's STIM (Simulation, Technology, Innovation and Modeling) Center. There, they learned how to transfer a patient from a bed to a stretcher, how to properly wash their hands (with glow germ), and used the Virtuali-tee, a 3D augmented reality T-shirt that showed how the body works in real-time, to view their own heartbeats.
"Our (nursing) students taught them about moulage and they applied DIY bruises to each other, which they promptly texted to their parents to scare them," says Heather Peralta. "Our students also taught them how to take vital signs and how to do a cranial nerve assessment."
Read More
Has the UCF College of Nursing Positively Impacted You?
The mission of the College of Nursing at the University of Central Florida is to prepare nurse leaders and patient advocates through excellence in education, research and service.
Find out how to give back to your college, today!
More Stories