Released on April 12, 2022

The Burnett Honors College scholar and Florida native, who shines in her studies and on stage, was selected to sing the national anthem at a national convention.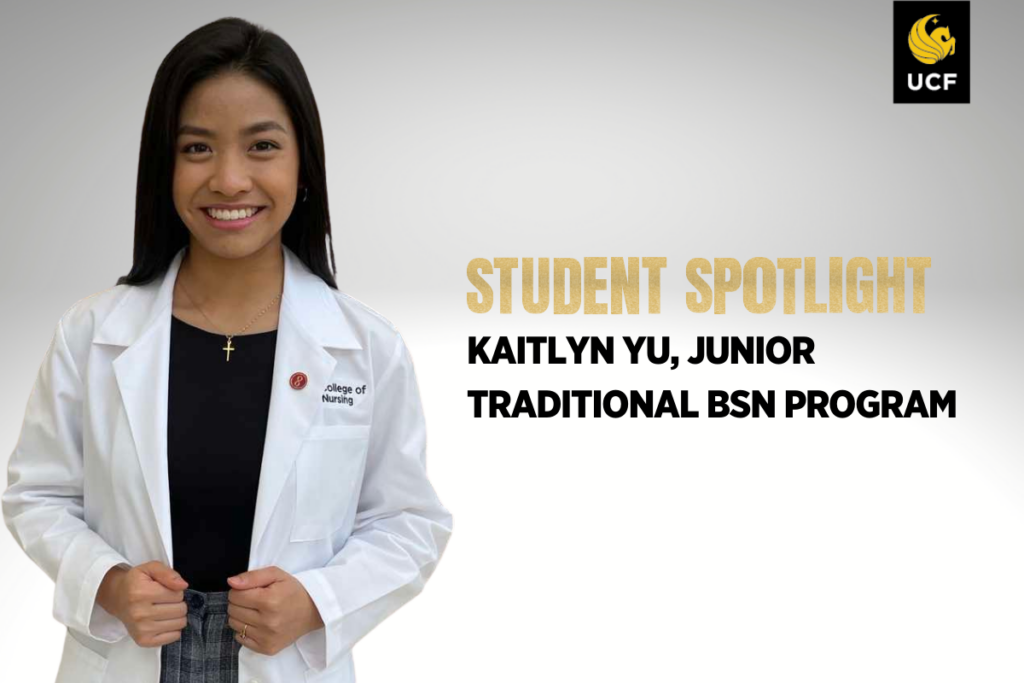 Last week, Kaitlyn Yu sang "The Star-Spangled Banner" in front of hundreds of fellow nursing students, faculty and leaders from across the country at the National Student Nurses' Association 70th Anniversary Convention in Salt Lake City, Utah.
For Yu, a junior in the Bachelor of Science in Nursing program at UCF Orlando, the spotlight – and difficult song – came naturally. The Florida native has been singing and playing the piano since she could speak and sit upright.
"When I chose to pursue nursing, I still had a desire to use my musical abilities in some capacity," said Yu. "This opportunity to sing the national anthem at the convention means a lot to me. It is a great honor to not only represent my university, but also my country and my God."
Growing Up with Music
"Music is very special to my family as it is something we all share and cherish," said Yu. "We would sing a prayer before every meal in Fookien (Chinese) and participate in congregational worship at Sunday service."
"In addition, my sister, who's my ultimate duet partner, and I would do covers of our favorite songs and perform them for our parents and extended family in the Philippines through FaceTime."
Her musical performances extended beyond her family at age five when she began classical piano lessons and performed annual recitals. She joined the school choir in third grade, earned a spot in the highly selected Florida Vocal Association All-State Chorus in seventh grade, and performed in musicals and competed in regional, state and national choral competitions throughout middle and high school.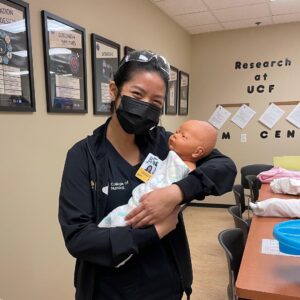 Healthcare a Family Affair
"Despite my fondness of music and the performing arts, I chose to pursue a nursing degree because I wanted to equip myself with the skills that I knew would both serve others well and facilitate my calling as a Christian to serve Jesus Christ," said Yu.
Just like her enjoyment of music, a career in healthcare was inspired by her family. Yu's father is a doctor, her mom is a physical therapist, and her duet partner and sister is in medical school.
"After researching different roles and their responsibilities, I chose nursing," she said. While she has not decided a specific specialty yet, she plans to eventually become a nurse practitioner working in a hospital or clinic setting as well as use her skills in volunteer capacities on mission trips.
Exceptional Opportunities at UCF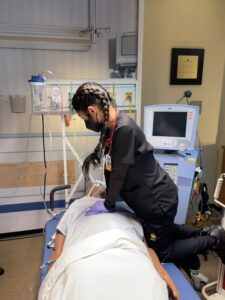 "UCF's nursing program is arguably the best in the state," said Yu. "Additionally, it's not far from my hometown, the performing arts programs are exceptional, and the scholarships offered were incomparable."
Yu has seized the opportunities offered and shined already in her time at UCF. She is an alumna of the LEAD Scholars Academy, and a current student in the Burnett Honors College where she's a mentor in their mentorship program and an Honors Orientation Ambassador. As a sophomore she served as co-captain of the Association of Pre-Nursing Students' Knight-Thon team and is now president-elect of the Student Nurses' Association at UCF Orlando. In addition, she serves as Bible study co-leader and a worship team band member of the Baptist Collegiate Ministry.
"Attending UCF has been an incredible experience both in my professional and personal development," said Yu. "My experience in the College of Nursing has exceeded my expectations. It is more rigorous, more overwhelming, more exciting, more involved and more welcoming than I thought it could be."
"I've found camaraderie within my cohort and true support from faculty and staff. There's no other place I'd rather be."
Has the UCF College of Nursing Positively Impacted You?
The mission of the College of Nursing at the University of Central Florida is to prepare nurse leaders and patient advocates through excellence in education, research and service.
Find out how to give back to your college, today!
More Stories