Released on October 20, 2020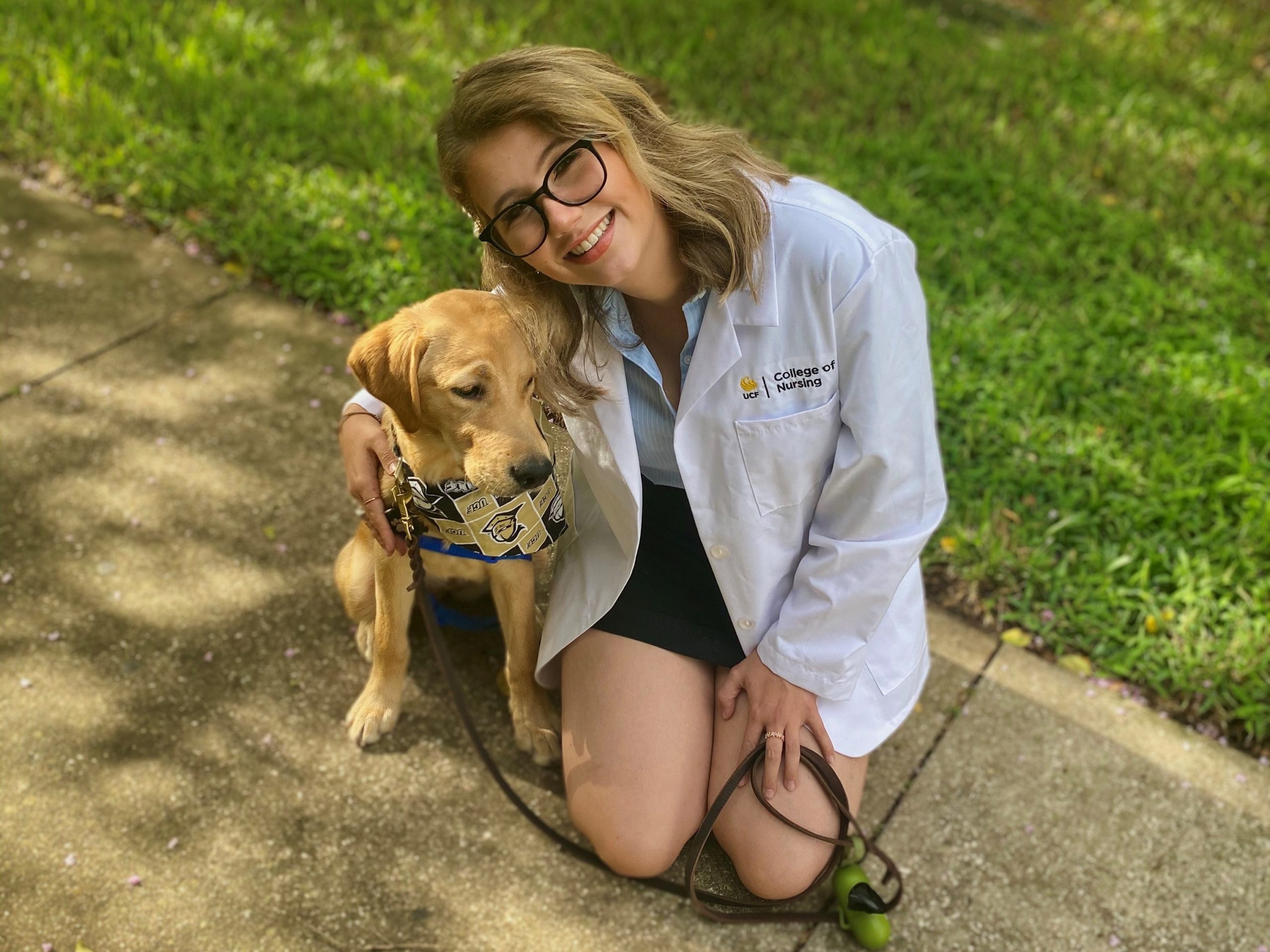 After overcoming many challenges, Marlee Rose Linnell is following in both of her parent's footsteps to pursue a career in nursing. By her side is a four-legged pup who is also learning to care for others.
Growing up, Marlee Rose Linnell would visit the hospital where her mom worked the night shift as a labor and delivery nurse. "I remember sipping little apple juice cups and watching the organized chaos in absolute amazement," she recalls.
She wasn't the only one in the family inspired. In middle school, her dad enrolled in nursing school while continuing to work in sales. "My dad chose to pursue his passion, even if it wasn't the easier path, and that left a significant impact on me," says Linnell, who began her nursing studies in the Traditional BSN program at UCF this fall.
Unexpected Challenges
Her own path to nursing has not been easy. A high-achieving and driven student, Linnell attended a private college after high school with dreams of becoming a doctor. While there, she began to battle intense anxiety and depression, and eventually came home to work on her mental health.
She worked as a nanny and substitute daycare teacher for a year before enrolling at UCF. "The experience reaffirmed my love for children and babies," she said. "I decided I wanted to be a caretaker and an advocate, so I changed career paths to pursue nursing."
Then last summer, a few weeks before her sophomore year, her dad tragically and unexpectedly passed away. "I spent a year battling my mental health and my grief, but I did it," she said. "I know my dad wanted me to be here, and my mom was a hero holding our family together and helping me study."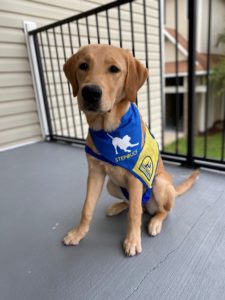 A Canine Connection
"It was through the Service Dog Training and Education Program at UCF (STEP@UCF) that I began to love school again," adds Linnell, who now serves as the group's fundraising and events chair.
STEP@UCF helps educate about service dog awareness and etiquette. Students can be a general member, or a puppy sitter or puppy raiser through its partnership with the national nonprofit Canine Companions for Independence. Canine Companions for Independence provides assistance dogs free of charge for children, adults and veterans with disabilities.
I knew I wanted to get involved to one day advocate for my patients with disabilities and their assistance dogs.
This spring, after completing training and evaluations, Linnell with her cousin Lindsey who also attends UCF became puppy raisers. Their puppy, Isabel IV, is one of 12 other puppies being raised by UCF students. "She's seven months old now and has learned so much. UCF is the perfect place for the socialization training to expose her to different environments, sounds and smells," said Linnell who will also help Isabel IV learn 30 basic commands.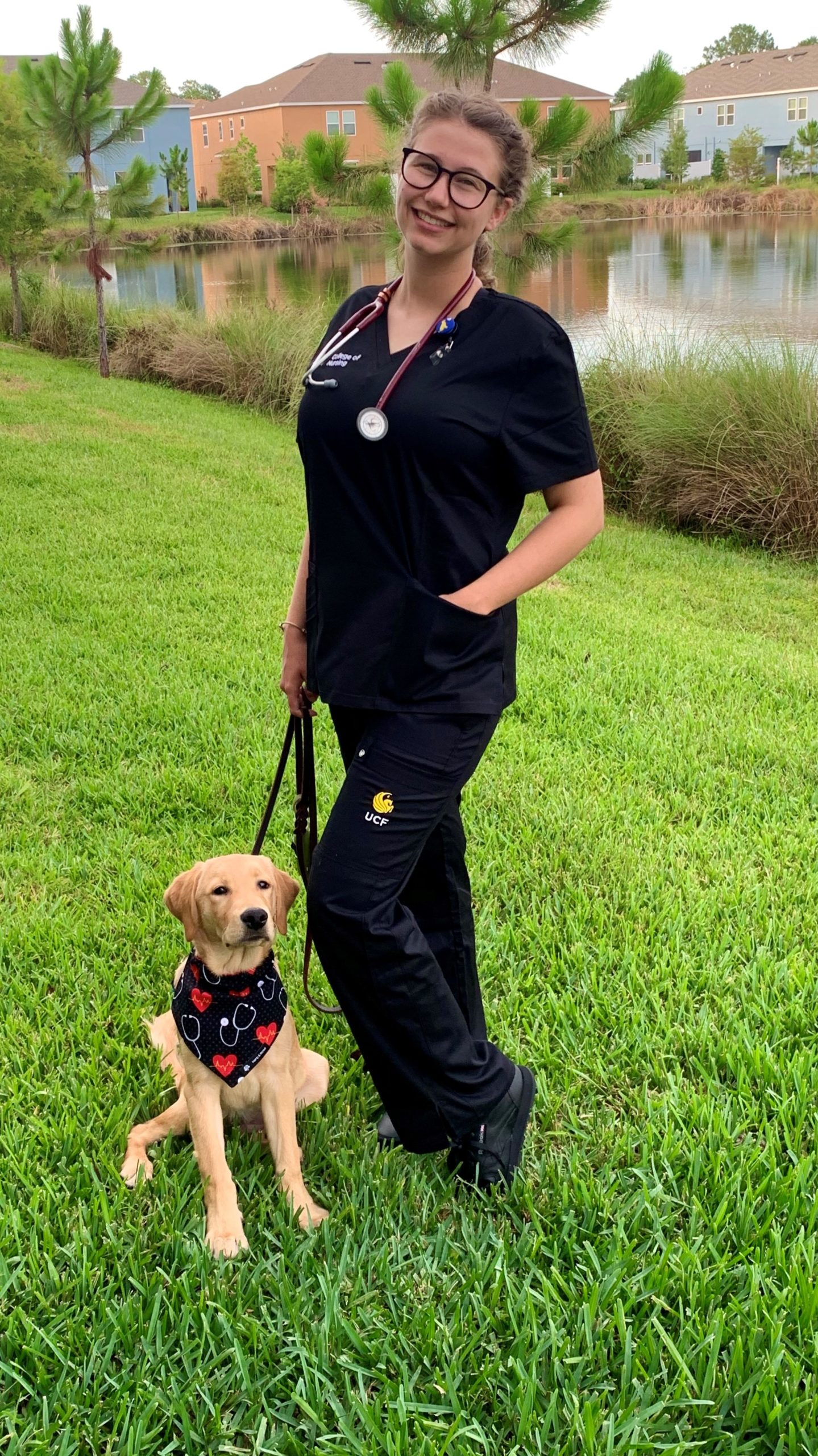 Destined to Help Others
Isabel IV will be raised by Linnell and Lindsey for nearly two years. Then she will go to professional training before graduating as an assistance dog to help an adult, veteran or child with disabilities.
Linnell will also spend the next two years learning to care for others in the nursing program. Still a high achiever, Linnell is nearly a straight A student and also in the Burnett Honors College. She plans to eventually work as a nurse with families and pursue a graduate degree.
"Puppy raising is a huge dedication of time and love," she adds. "I have been given the opportunity to prepare Isabel to change a life of someone else, but she has already changed me. I have had to practice being selfless and patient, and I know this experience will make me a better nurse."
Free Mental Health Resources for Students
It's always important to take care of your mental health, especially during stressful and hectic times. Counseling and Psychological Services (CAPS) at UCF is an accredited center offering free mental health resource for students to help resolve personal challenges and significant life changes, while minimizing the interruption of academic pursuits. Learn more about CAPS.
Has the UCF College of Nursing Positively Impacted You?
The mission of the College of Nursing at the University of Central Florida is to prepare nurse leaders and patient advocates through excellence in education, research and service.
Find out how to give back to your college, today!
More Stories