Released on March 22, 2021

Fellowship honors outstanding leadership and achievements in the profession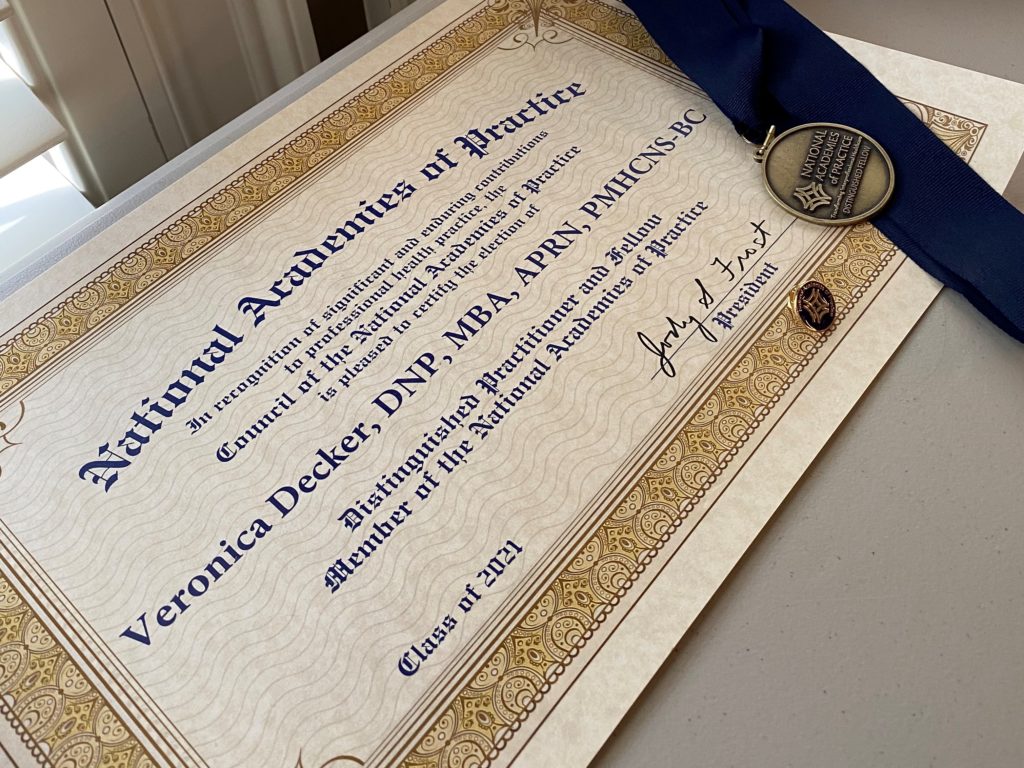 The National Academies of Practice (NAP) has inducted Veronica Decker, DNP, MBA, APRN, PMHCNS-BC, FNAP, assistant professor in the UCF College of Nursing, in the Class of 2021 Distinguished Fellows (FNAP). Fellows were recognized in a virtual induction ceremony during the NAP Annual Meeting & Forum on Friday, March 19, 2021.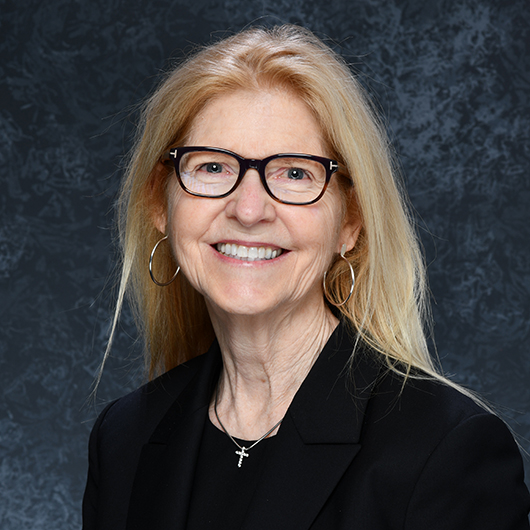 Decker was honored as a Distinguished Practitioner and Fellow for her significant and enduring contributions to the nursing profession. The fellowship also recognizes healthcare leaders who are committed to interprofessional practice and accessible, affordable healthcare for all. Distinguished Fellows work collaboratively as an interprofessional community to influence and promote national health policy, legislation, quality healthcare, and research.
Decker's career spans four decades, three of which are in healthcare leadership, research and educational roles. Her primary focus has been on improving outcomes and treatments for patients with cancer by examining clinical, psychological and social clinical care practices. Her book, "Coping with Cancer: A Patient Pocket Book of Thoughts, Advice and Inspiration for the Ill," is still widely read today.
Currently Decker is working with interdisciplinary partners to conduct research with veteran cancer survivors. In addition to her faculty appointment at the college, she serves as advisor to Vector Oncology, a consultant for a breast cancer quality improvement project with Florida Hospital, a member of the Cancer and Mental Health Collaborative, and a reviewer for Issues in Mental Health Nursing and Clinical Journal of Oncology.
"NAP's values, which stress collaboration, interconnectedness and inclusivity, align perfectly with my own," says Decker. "I look forward to working with the members of the Academies to prepare nurses for the next possible healthcare challenge, such as the one we continue to experience with COVID-19. Nurses, comprising the largest group of healthcare professionals, are poised to deliver not just frontline care anymore but telehealth care."
As such, maybe the best preparation we can provide our nurse leaders is knowing how to seek the interconnectedness between all healthcare providers to achieve our global goals.
Decker has a DNP from Wayne State University College of Nursing, MS in psychology from Winona State University, and BS in nursing and psychology from the College of St. Teresa. Her MBA from the University of Notre Dame and a specialty in clinical leadership also aid her in designing and teaching graduate-level financial and economic leadership skills to the next generation of nurse managers, directors and executives.
Decker is among 21 distinguished national faculty fellows at the UCF College of Nursing.
Has the UCF College of Nursing Positively Impacted You?
The mission of the College of Nursing at the University of Central Florida is to prepare nurse leaders and patient advocates through excellence in education, research and service.
Find out how to give back to your college, today!
More Stories