Released on June 16, 2023

Through a study abroad opportunity to Chiapas, Mexico, UCF nursing students learned valuable global lessons in interdisciplinary collaboration and health disparities.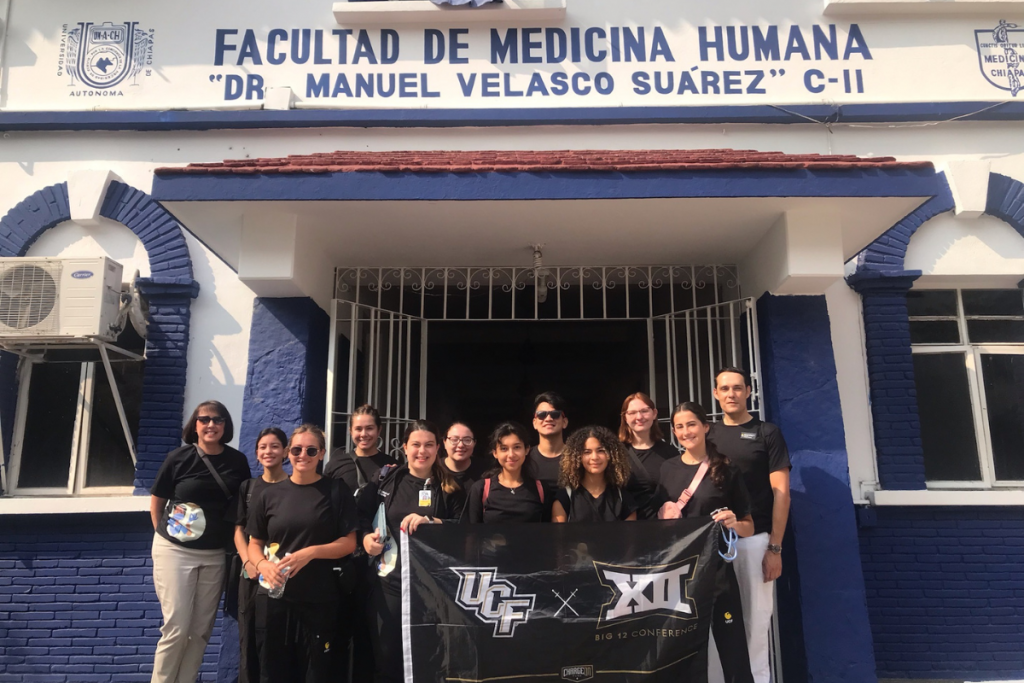 This summer, 10 UCF nursing students studied abroad with UCF Abroad to gain an international perspective of health and healthcare in Chiapas, Mexico, and provide an intercultural exchange between UCF and partner organizations in Mexico.
"This was truly a trip of integrated learning and bridge building with partnerships forged and international bonds formed for both our students and the College of Nursing," says Sandra J. Galura '12PhD, a nursing assistant professor who co-led the study abroad trip.
Thanks to service-learning partnerships with the National Autonomous University of Chiapas' Medical College (UNACH) and She Wins Mexico NGO, UCF nursing students learned first-hand about health systems in urban Mexico as well as cultural and healthcare practices in indigenous communities where there is a lack of access to healthcare services.
Through coursework in advance of the trip and hands-on experience in Chiapas, students learned about the cultural norms and divisions between Mexican communities and specifically, those related to women's health as the state experiences poor infant and maternal health outcomes.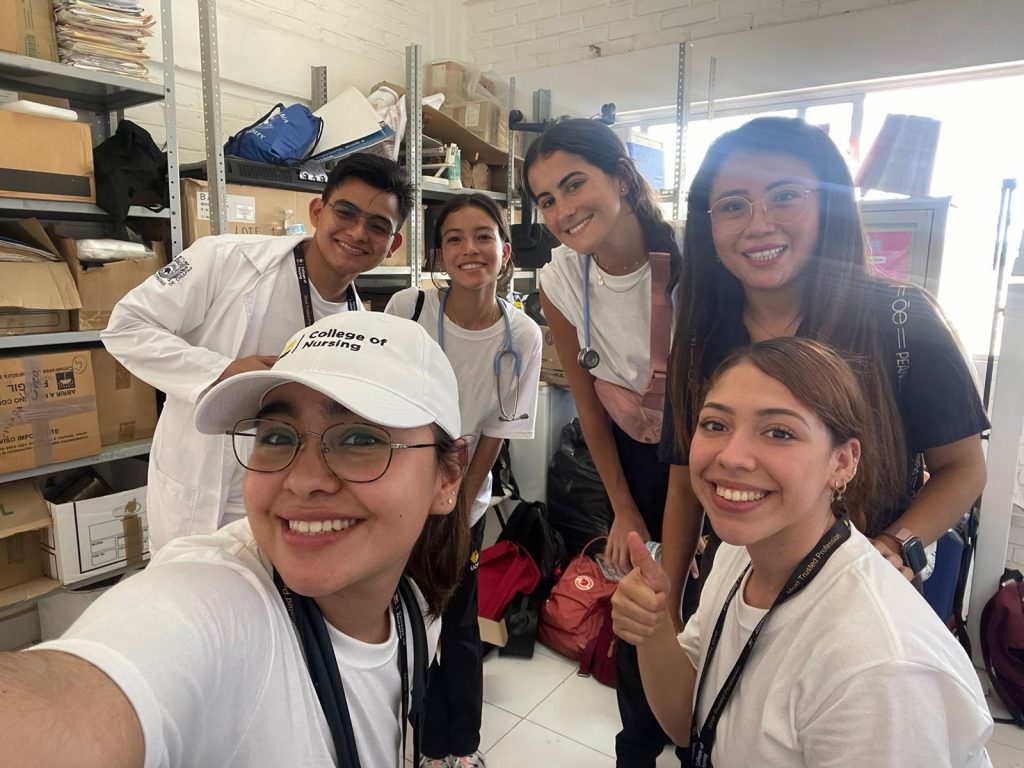 In Chiapas, UCF nursing students collaborated with the UNACH medical students in community health promotion and women's health clinics where they learned from one another. The students also taught elementary school-aged children about health-related issues, played soccer in a local sports festival, and explored both urban and archeological sites in Chiapas.
"The biggest takeaway from this experience was the friendships that we made," says Lauren Walker, a Traditional BSN student who participated in the trip. "The UNACH medical students welcomed us with open arms and provided us an in-depth perspective of their culture — how they lived and what they did."
The group also included undergraduate students in the accelerated BSN and pre-nursing programs.
"I didn't expect to make the friendships that I did, and I wouldn't trade it for anything," says pre-nursing student Madeline Garrison. "I learned that we're really not that different from the UNACH medical students. We have a lot of the same hobbies, same interests, and same goals in terms of wanting to help people and be the best we can be."
In addition to gaining cultural insights, students gained hands-on clinical learning in global community health — working in environments with limited resources and caring for patients across language and cultural barriers.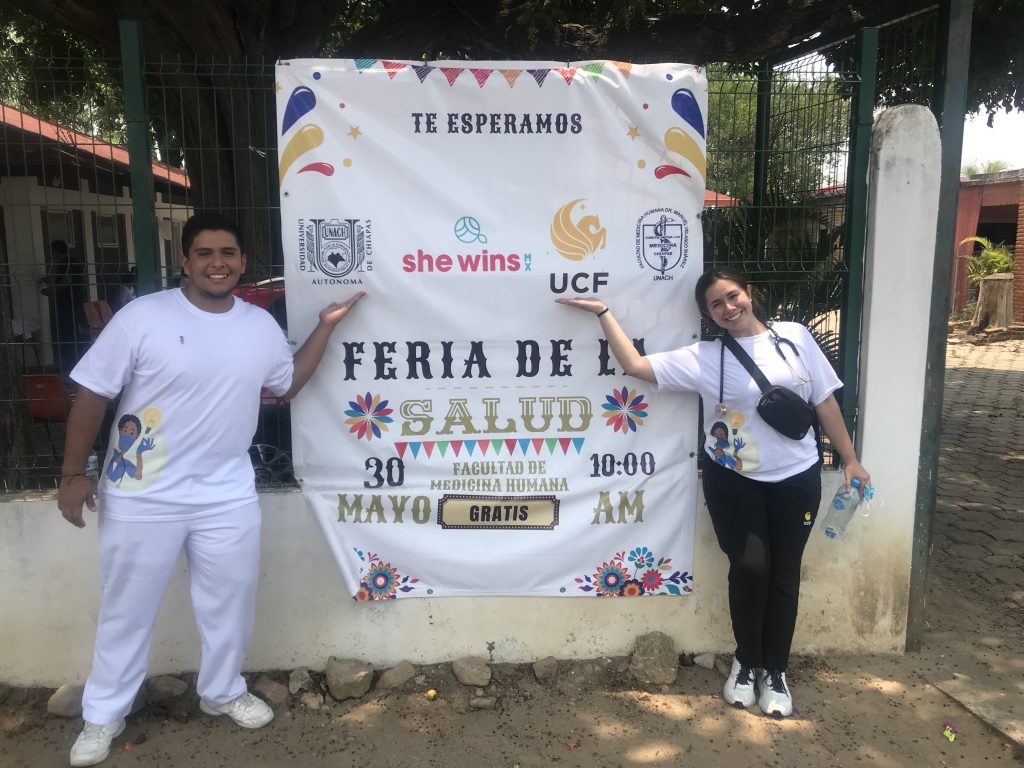 "The understanding and learning that they gained will undoubtedly guide their American clinical practice, in addition to helping them grow as global citizens," says Sotos G. Djiovanis '20MSN, a nursing instructor who co-led the trip.
In his first career as a musician, Djiovanis lived and worked in Mexico. "It was an honor to share my love of this nation with the students," he says. "Our students represented an outstanding work ethic, intelligence, and Charge-On spirit. They made me so proud in showing the very best of what both American nursing and UCF are."
Beyond gaining a perspective in international health, the trip gave the students a perspective on their nursing studies and career aspirations.
"Having this experience reminded me of my 'why'," says Walker. "I want to take care of people and serve people, and it was really rewarding to put that into play."
The trip was generously supported with philanthropic giving, which provided scholarships to all of the students who participated. "We are grateful to our donors and the UCF Foundation who supported us," says Galura.
Building upon the success and outcomes from this opportunity, plans are already being made to offer another nursing study abroad trip to Mexico in 2024.
Has the UCF College of Nursing Positively Impacted You?
The mission of the College of Nursing at the University of Central Florida is to prepare nurse leaders and patient advocates through excellence in education, research and service.
Find out how to give back to your college, today!
More Stories