Released on May 22, 2020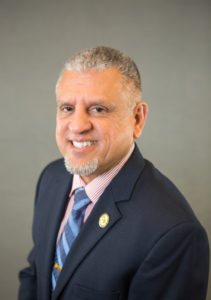 Assistant Professor Frank Guido-Sanz, PhD, APRN, ANP-BC, AGACNP-BC, has been honored by the National Organization of Nurse Practitioner Faculties with a 2020 Outstanding Researcher Award.
The award recognizes a nurse practitioner educator who has contributed to the knowledge development of nurse practitioner practice, education and policy through research.
A board-certified Adult Nurse Practitioner and Adult-Gerontology Acute Care Nurse Practitioner (AGACNP), Guido-Sanz has focused his research on healthcare-associated infections, patient outcomes and quality indicators, the role of advanced practice nurses, combat casualties, and the development and use of innovative technologies and simulation in acute care settings.
"His work strengthens the relationship between the client and clinician by bridging gaps in access for the underserved, expediting assessment and prioritization of care for persons experiencing life-threatening, critical illnesses, and preparing future AGACNPs who acknowledge, understand, and appreciate the uniqueness of every individual," said Christopher W. Blackwell, PhD, APRN, ANP-BC, AGACNP-BC, CNE, FAANP, FAAN, associate professor and director of the Adult-Gerontology Acute Care Nurse Practitioner program at the UCF College of Nursing.
Guido-Sanz' research and innovations have received funding from the U.S. Defense Health Agency and U.S. Department of Defense. Among his contributions, he served as the sole nursing expert on an interdisciplinary team demonstrating effectiveness of augmented reality training on tactical combat casualty care. The results of which were published and presented internationally.
Additionally, he is co-inventor of the Tactile-Visual Wound Simulation Unit, a patented technology to better educate medical personnel on rapid recognition of life-threatening combat injuries to help save lives and improve outcomes. His research in the field of nurse practitioner education include using simulation to develop diagnostic reasoning and skills in nurse practitioner students, which was published in Clinical Simulation in Nursing, the journal of the International Nursing Association for Clinical Simulation & Learning.
In addition to his significant contributions as a nurse practitioner scientist and educator, and his faculty appointment at the college, he actively serves his community as a provider. He currently is a lead nurse practitioner volunteer with the Trauma Critical Care Team – South with the National Disaster Medical System, and is a nurse practitioner volunteer with both the Miami-Dade County Medical Reserve Corps and Florida Advanced Surgical & Transport Team. He also holds a nurse practitioner clinical appointment in the Surgical Intensive Care Unit at Jackson Memorial Hospital in Miami.
Has the UCF College of Nursing Positively Impacted You?
The mission of the College of Nursing at the University of Central Florida is to prepare nurse leaders and patient advocates through excellence in education, research and service.
Find out how to give back to your college, today!
More Stories